LittleBigPlanet Karting Review
Play. Create. Swear.
ModNation Racers had great potential. The track editor was a resounding success, offering an incredibly user-friendly toolset, with plenty of additional depth on offer to create anything you could conjure up in your mind. Sadly, the racing wasn't up to the same standards. It handled well enough, but the relentless AI meant a never-ending stream of races where you'd be leading until the last corner, then get your ass blown apart and finish fifth.
Playing online with user-generated tracks provided a fairer experience, but XP rewards were essentially non-existent unless using the original tracks, giving you no incentive to play. Lengthy load times made the game a failure for local multiplayer party sessions too.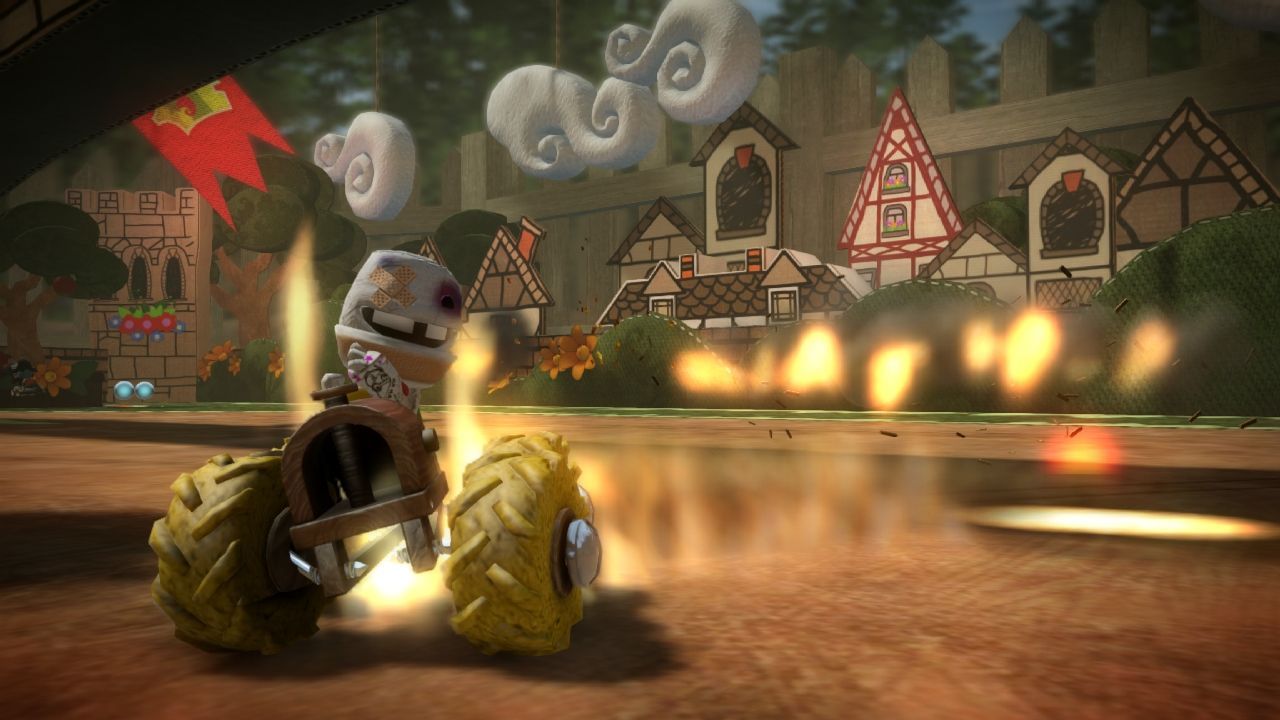 Despite replicating these issues with the recent Vita version, developer United Front Games have been given a lifeline as Sony have handed them the keys to work on new crossover kart-racer, LittleBigPlanet Karting. With a large part of the game already built with the aforementioned ModNation Racers, it made sense to use many of those existing elements to gain a head start.
Before getting stuck into the track editor and user-generated stages, I went into the story mode to try out the UFG levels. There's a story, which is about as superfluous as they come. I'm a gamer who hates skipping cutscenes, but I couldn't bear to carry on watching most of this kooky, babbling bullsh*t. Even as a LBP regular, I reached my limit in record time. As much as I like Stephen Fry, he did my head in with his bedtime story-esque dithering that preceded every event.
Stages are split between races and arena events. Races are very basic karting fare. Drifting gains you boost upon releasing the button and the amount of the movability during a drift was pleasing enough as you're not as locked into a curve as much as say, Mario Kart. Multiple stages of boost are built up, signified by as brief flash and an audio cue, however, the exhaust glow is always the same colour making it difficult to keep track of how much you've accrued. Sonic & Sega All-Stars Racing nailed drifting and boosting and UFG should have been taking notes.
Weapons are integral to the success of a kart racing and sadly, LBP Karting has a collection of duds and blanks. At no point did I get that surge of excitement on getting a weapon from the random pickups, as no clear favourite stood out for me. In this game, a weapon's main function is defence. When you're about to be hit, a warning icon will turn to a shield, fire backwards and you'll deflect the weapon successfully. Sadly, weapon pick-ups on most tracks are miserably rare, meaning you'll defend one only to have another on your ass before you're able to pick up another weapon. The rubber-banded AI means that you're always surrounded by the pack and most weapons lock on. So without one, you will be hit, especially on that last corner.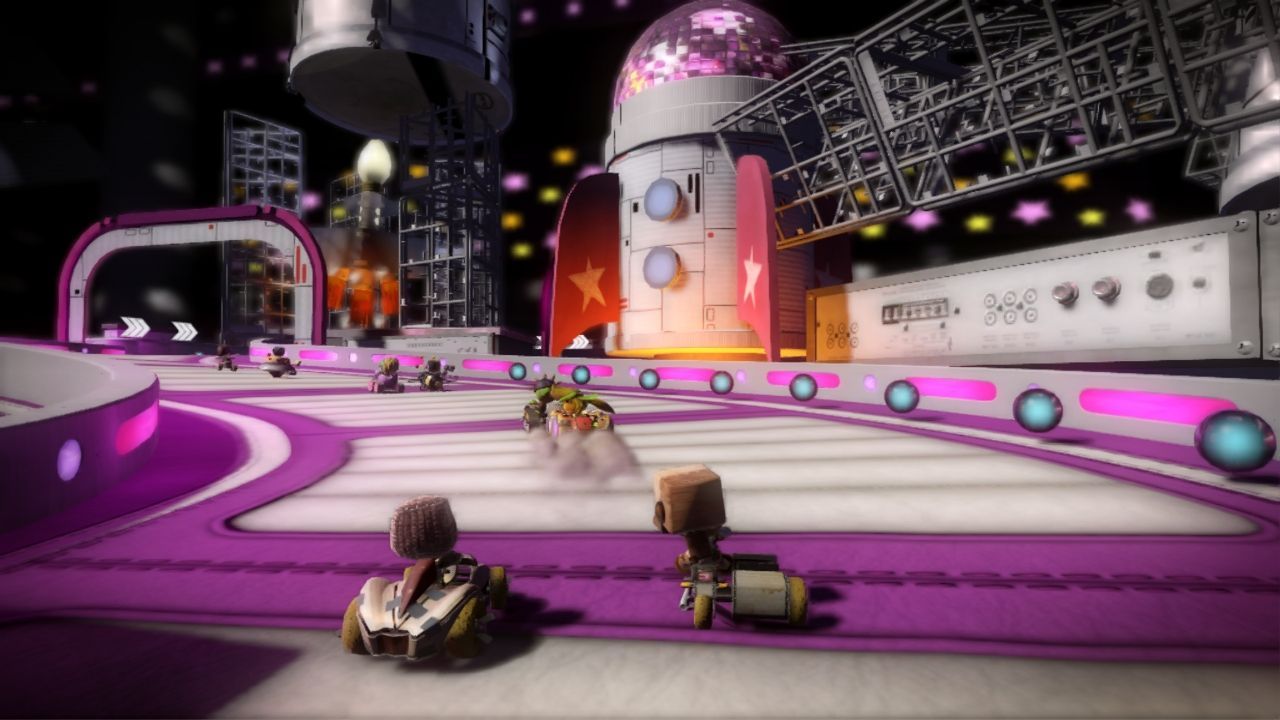 There's a casual setting to appease the frustrated amongst us, but like the late-patched casual option in ModNation, it appears to be a painted-on feature with no impact on the little f**kers accuracy or malevolence. You're better off with the normal setting as your scores will not be uploaded to the leaderboards on casual.
Arena events fare much better, but they only make up about a quarter of the story mode. Here you'll often find yourself in a deathmatch using the weapons to score one-hit kills. The action is thankfully more balanced here. Other modes can include CTF-style modes where you grab an egg with your tether and drag it to a scoring zone or a retrotastic chase where you fire a rapid-laser at a giant worm, blasting chunks from its tail against the clock.
The fun for these arena games is short-lived, but that's where going online comes into play. Completing story stages unlocks online versions and additional minigames. These are much more fun with real people than the bots. One of my criticisms from the LBP series carries on here too though, as the navigation of events is as crude as ever. Looking around spherical menus is an awkward mess, making me feel like a senile cat trying to play with a ball of yarn.
Comments
blog comments powered by Disqus