F1 Race Stars Review
Who knew F1 had the formula for a decent kart racer?
F1 Race Stars is an odd prospect. On the one hand, it's developed by Codemasters, the UK team behind the official F1 racing games and other successful series such as Dirt and Grid. On the other hand, it's a kart racer.
It may seem like a strange direction for the franchise to go...and it is. Furthermore, Race Stars retains all the official licensing and likenesses of Formula 1, so that means you'll be firing out power-ups from a Ferrari with a big-headed Sebastian Vettel at the helm.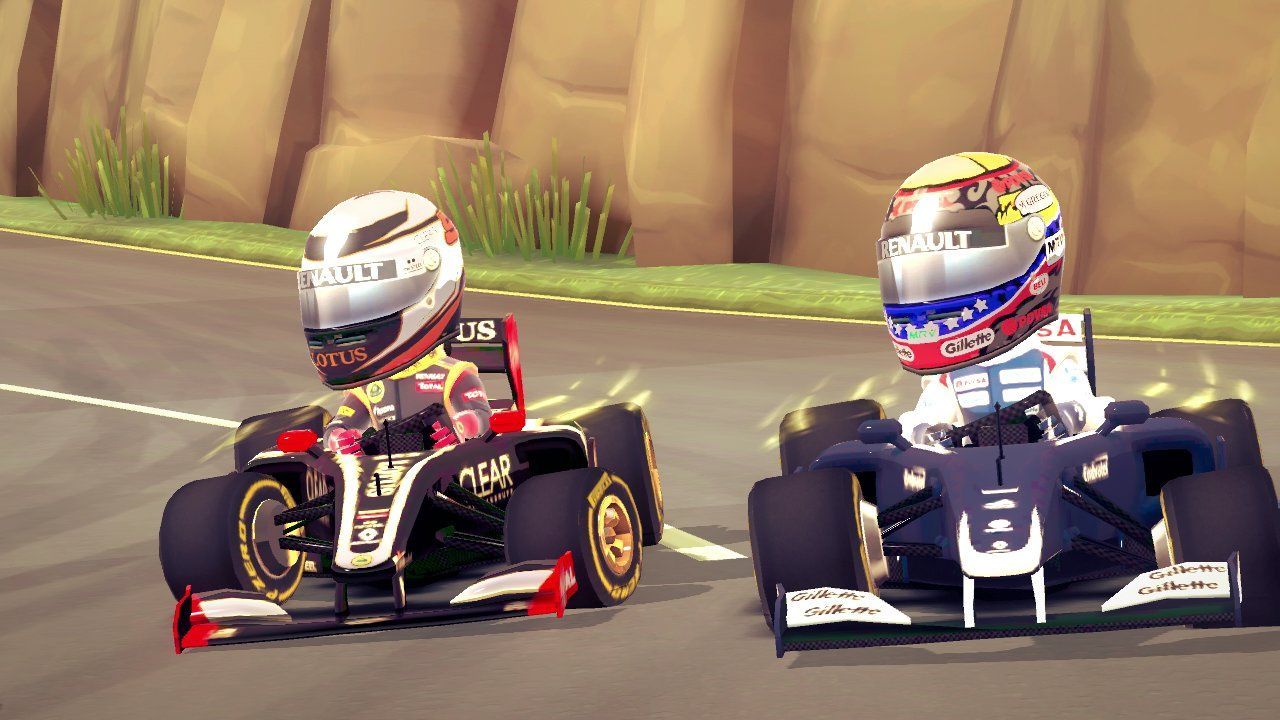 This could have been a recipe for disaster - mixing reality with the insanity of kart racing mechanics might have delivered a confused and diluted experience, but Codemasters have avoided this trap with aplomb. Instead, charm oozes from the game and it's initially a joyous world to race in. Unfortunately, the gameplay doesn't quite match up to the wonderfully detailed style and presentation, with Race Stars lacking the depth of comparable racers.
So with superior kart racers out there (most recently Sonic & All Stars Racing Transformed), why bother considering F1 Race Stars? The answer may seem obvious, but fans of the sport will fully appreciate the efforts made to incorporate many aspects of Formula 1 which you might assume could never work. DRS? Check. Adverse weather conditions? Present. The safety car? Unfortunately, in there as well.
Some of these F1 features make their appearance in the form of power-ups collected during the race, such as the ability to slow down the whole pack by inflicting a sudden downpour, or using DRS to improve your aerodynamics and blast though your opponents. Other events come built in to the tracks, of which there are 11 dotted all over the world. The tracks are over the top characterisations of the countries they are based in, and often a joy to explore with loads of shortcuts and different approaches. There are loop the loops in Japan, huge jumps in Singapore, twisters to avoid in the USA and...puddles to navigate in Britain. Typical.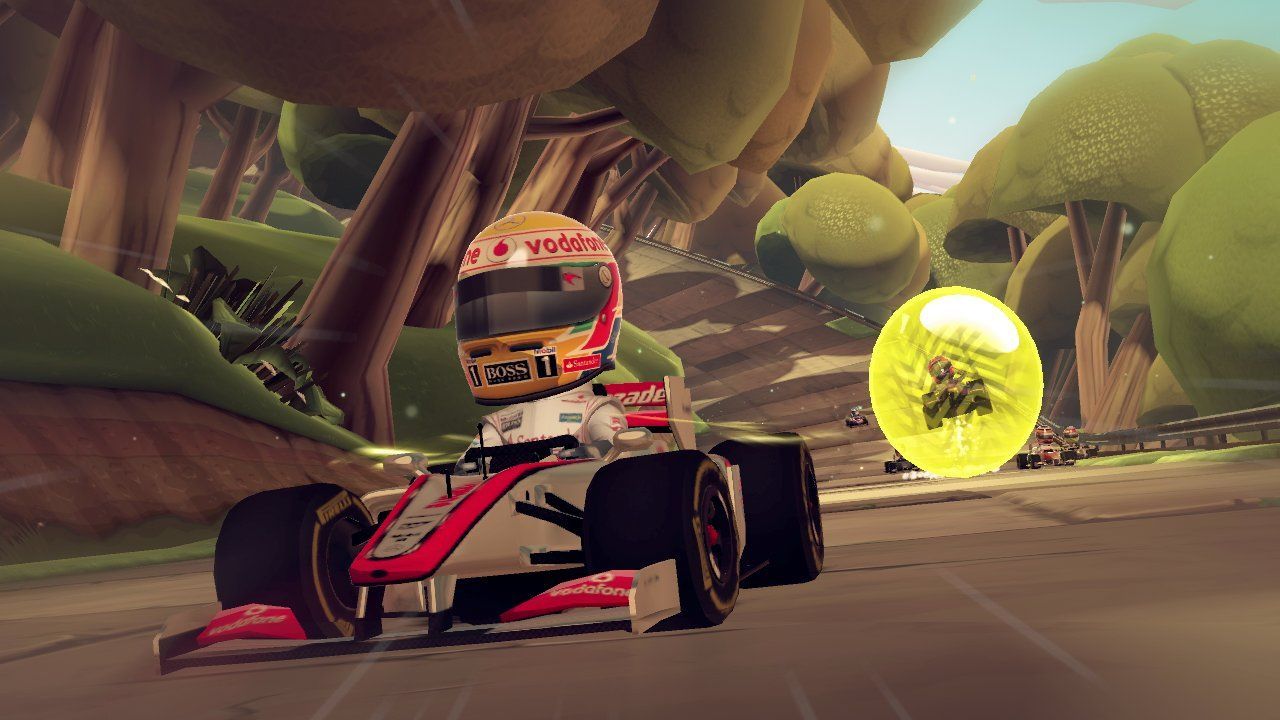 Each track has a couple of pit stops that you'll need to keep a note of, as when you get damaged your max speed lowers. While the pit stops fully fixes your car, they also take a long detour away from the main course. It's an interesting tactic to consider if you can make it to the end without your car's potential full speed, but saving yourself a detour in the process. You'll also find KERS zones on some corners, where you have a chance to tap the right rigger a few of times to earn an extra boost, just something else to thing about during races.
Not that you'll be lacking for things to do, as power-ups frequently come your way. Unfortunately, most of the weapons are kind of disappointing, coming in the form of simple bubbles that can be fired or dropped in the equivalent way to Mario Kart's shells and bananas. Some of the more powerful items include a teleport and, completely randomly, a fizzy bottle which propels you up the field in the same way as a Bullet Bill. These power-ups feel out of place and massively overpowered, which, to be fair, is usually part of the kart racing experience. However, coming back from 10th to grab a podium finish in the last lap is all very exciting, but the weapons don't feel balanced enough to assist in creating a truly level playing field. It's either impossible to catch up, as the game feeds you defensive weapons while you languish in 12th place, or all too easy while you're streaming ahead and the main pack do their best to ruin each other's chances.
Comments