Dead Space 3 Review
A good action game that struggles to reproduce the same atmospheric solo experience as its predecessors.
Dead Space 3 preserves most of the qualities of its predecessors while bringing more environmental variety, increased action and weapon crafting. It features a fully co-operative campaign, but this has an impact on the quality of the single player. The co-op brings interesting hallucinations during two player exclusive missions. The excellent weapon crafting fits logically into the universe and gives constant opportunity for self improvement. This sequel contains all the high stress action and Marker fuelled craziness you've come to expect from the franchise. It also continues the nightmare journey of the core protagonist: Isaac Clarke.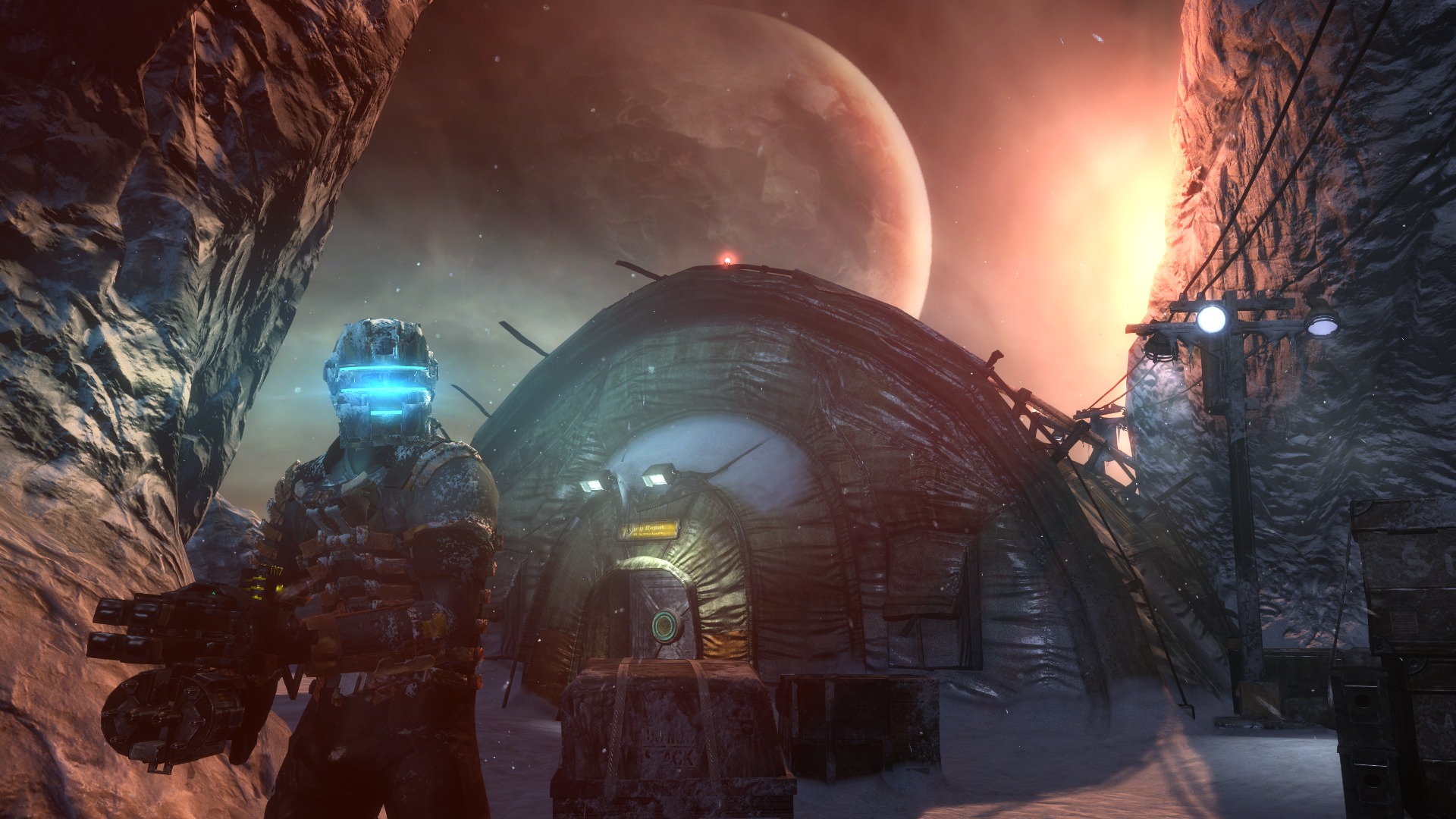 Nobody told Isaac that visor lights attract more attention
Isaac has been hiding on a lunar colony since we last saw him escape from the Sprawl with Ellie Langford in Dead Space 2. He has retreated from life and his relationship with Ellie has crumbled. Ellie has gone missing near an icy planet. She stumbled on something Marker related before communication was lost. EarthGov has come to Isaac for help in retrieving her. Fanatical Unitologists have followed EarthGov to Isaac's location. Their charismatic leader, Jacob Danik, wants to kill Isaac but not before he unleashes a dormant marker on the colony. Their goal is convergence and the key has been buried in the snow for centuries. Isaac reluctantly agrees to go to an ice-covered planet so he can face his demons and save Ellie.
The story revolves around a 200 year old expedition to the frozen planet of Tau Volantis. There is a slow reveal of what happened during this expedition, and this begins with an excellent prologue. Unfortunately it never feels like a substantial world to dive into. There are more major characters in this third game, but they don't spend much time on screen. Isaac's relationship with Ellie is a frequent talking point. It's disappointing that some of the relationship dialogue is uncomfortable due to poor timing, acting or writing. The writing for Jacob Danik, and all things Marker related, is great by comparison. The story is patchy at times but still interesting when it falls back on its strengths.
The narrative techniques have changed slightly. There are very few videos messages in this sequel. It prefers to progress the story with cut scenes, audio messages or text logs. Characters vanish through doors or elevators after cut scenes. You probably won't be able to follow them due to locked doors or a broken ladder. In the rare situations where they are standing around, you won't be able to interact with them. Video messages allowed for story without problems relating to personal space. John Carver is your co-op partner, but he behaves like a side character when you play alone. Carver's actions isolate him from Isaac and the rest of the cast. He'll pop up in cut scenes, after you've made your way to a remote location, and vanish again like a ghost.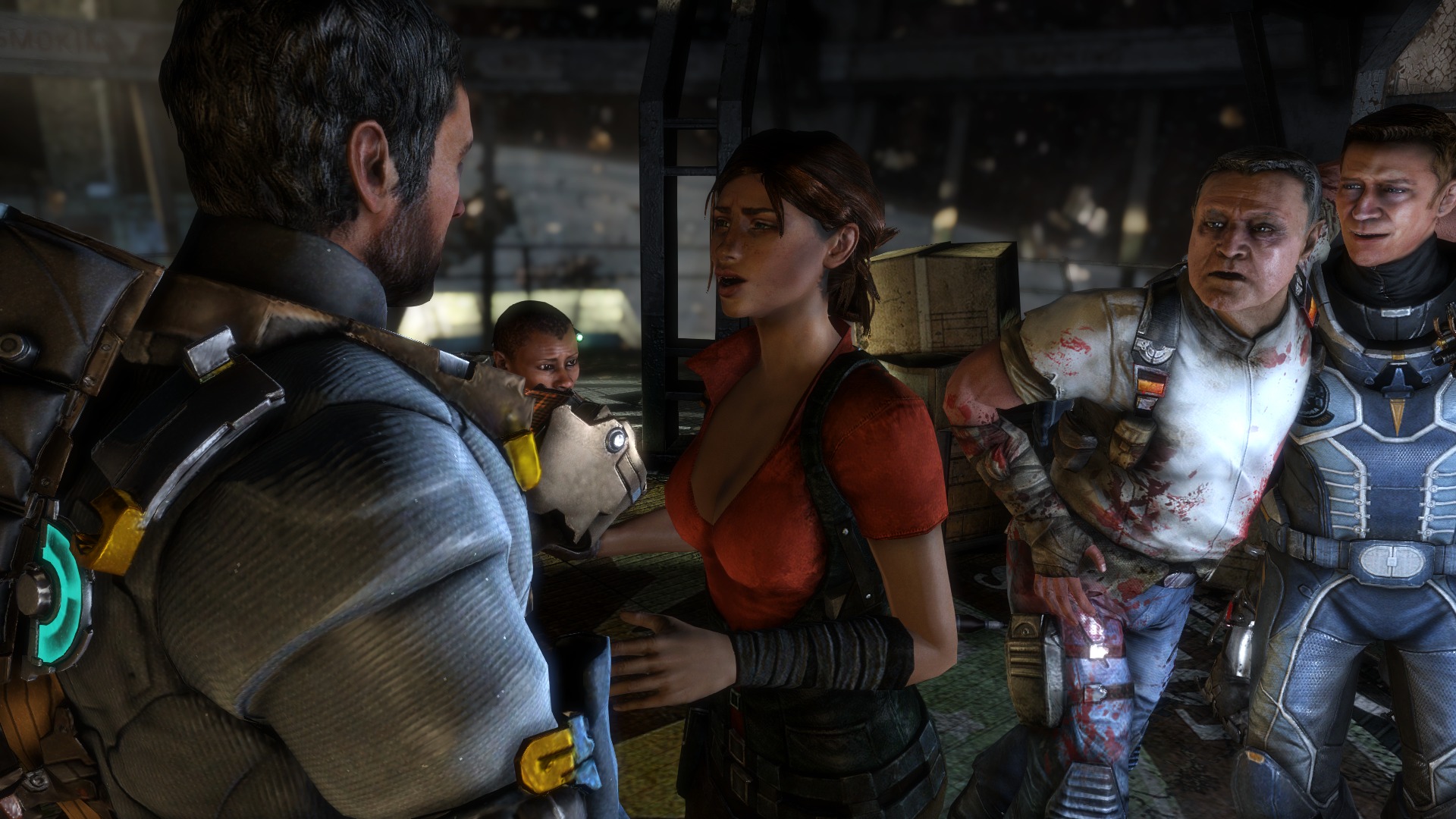 Some camera angles suggest Ellie received more than just a new eye
For solo players, co-op means noticeable references to two player scenarios. Save points are further apart than the previous games. Side missions do not have a single hard save. Quitting the game will force you to restart from much further back than you'll expect. Another co-op problem is having characters reference the lonesome Isaac as part of a group. Electrical engineering stations have two terminals designed for a weak two player puzzle. Two rappelling stations are situated at the bottom of every cliff. There are even HUD messages that ask you to invite a co-op partner to play optional missions. Although they are managed fairly well, the intrusions can take you out of the solo experience.
Comments
blog comments powered by Disqus