Dead Space 3 Review
A good action game that struggles to reproduce the same atmospheric solo experience as its predecessors.
Action in the third game is very intense from an early stage. Open areas may give you a brief opportunity to survey the surrounds before all hell breaks loose. There is limited chance to take up defensive positions in corners. Enemies will most likely flee if you back into a doorway. They might reappear through a vent behind you if you decide to retreat completely. Necromorphs move quickly if they still have all their limbs. A new enemy type practically teleports towards you, even when slowed by stasis. Since enemies spawn from vents all around you, it's difficult to keep them at a distance.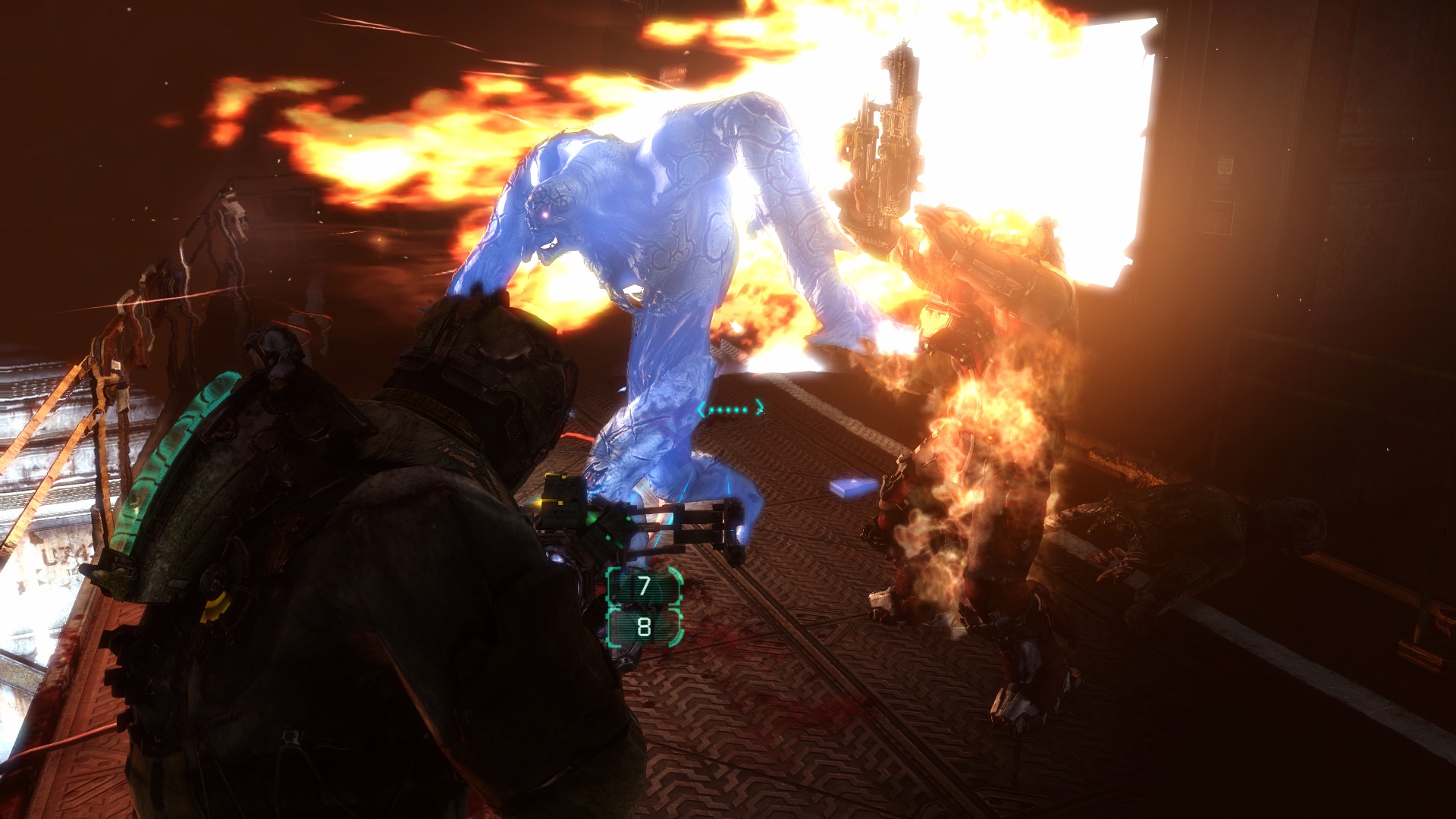 Mr Regenerating Necromorph, we meet again
Facing off against two regenerating Necromorphs is an example of how stressful the action can get. In some of the later chapters, the sheer number of enemies is unrelenting. Dozens of small enemies kept dropping down from the same overhead vent in one of the science labs. A slower pace, or at least smaller bursts of action, could have done wonders for the atmosphere in single player. It would also make the high intensity sections more memorable.
Human enemies feature notably in Dead Space 3. They feel foreign to the series despite Necromorphs being mutated humans. Isaac fights against human Unitologists that carry rifles and rocket launchers. Dismemberment is not required against humans and they are rarely a threat. Increased human encounters near the end take some sting from the game. Luckily the human encounters only make up around 5% of the total game action. The relative infrequency of human enemies prevents them from dominating in a negative way.
There are some moments where the game gives you time to breathe. You'll be free to explore areas in zero gravity, keeping an eye on oxygen and rogue mines. The occasional kinetic puzzle also takes the focus from the action. Puzzles have been pushed to the background though, as there are barely a handful of easy puzzles scattered throughout. Some new puzzles, like the circuits, are bland time wasters. Rappelling up or down cliffs is often clumsy too. Isaac will stumble for no reason and aiming weapons can be harder than it should be. Despite moments of downtime, the tempo isn't managed quite as well as the previous games.
A multi-part resource system replaces credits but doesn't introduce depth. There are six resources, including scrap metal, somatic gel and transducers. Individual ammo has sadly vanished, replaced by universal ammo clips. The game dictates how much of each resource you receive based on difficulty. Small Scavenger bots collect resources when placed in specific locations. You find these locations with a visual indicator and a machine that goes ping. Scavenger bots feel like an afterthought even though they give a constant sense of progress.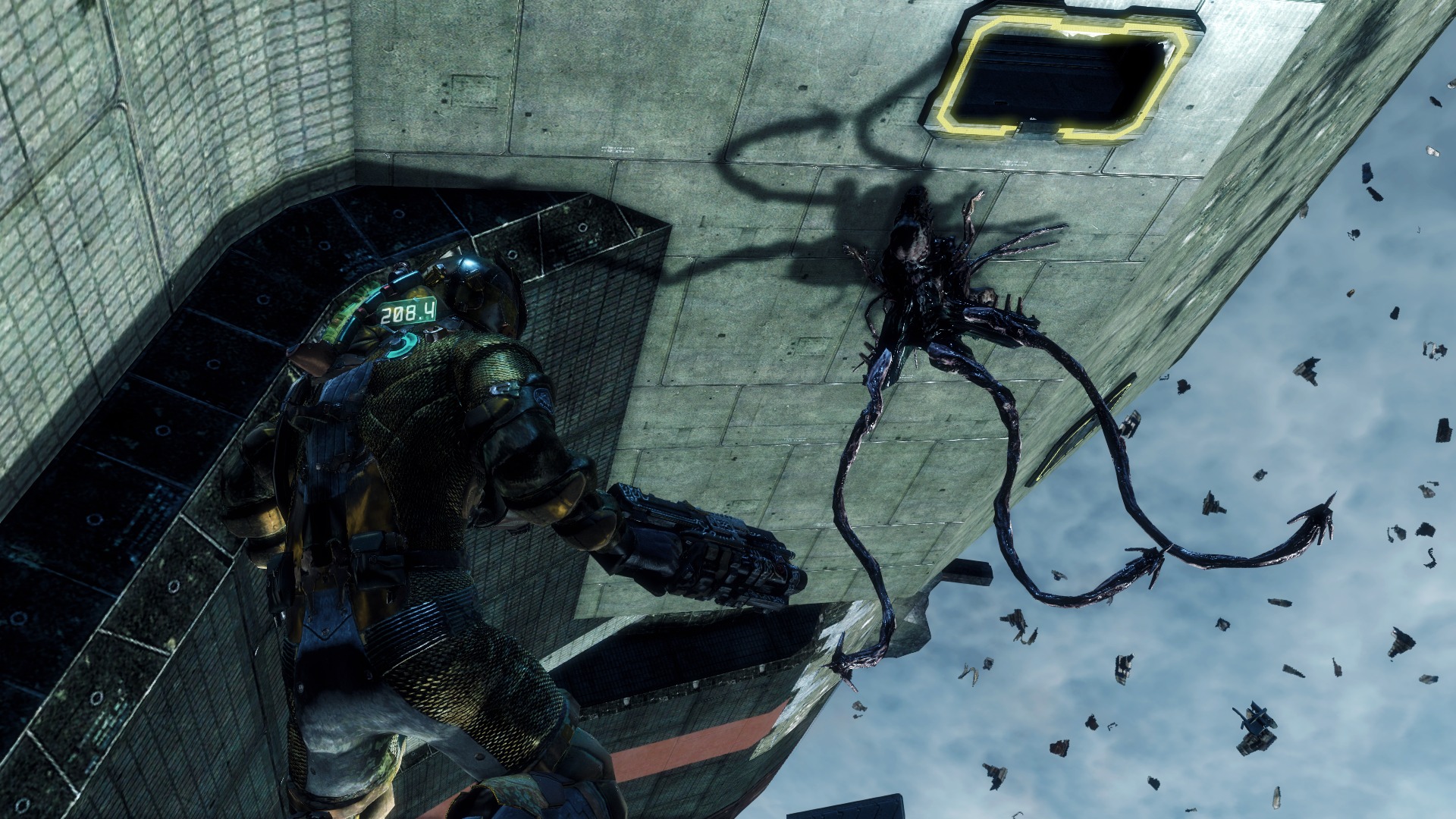 In Space, no one can tell you which way is up
The supply containers and Scavenger bots give you a spread of resources to purchase upgrades, ammo or health. You can trade items to recover resources but that might leave you short when you most need it. You can't covert health packs into ammo. The monetary system in DS2 allowed that kind of flexibility. It's best to hoard resources so you can purchase better weapons and upgrades when things get tough. The number and type of resources is rather superfluous, two or three would have been adequate. More RPG elements involving resources could have made them more worthwhile. The new resource system doesn't add equivalent depth to the game world.
Comments
blog comments powered by Disqus