Dead Space 3 Review
A good action game that struggles to reproduce the same atmospheric solo experience as its predecessors.
Weapon crafting does add more depth to the game. It gives players the chance to mix and match their ideal setup. Weapon designs are based on those from Dead Space 2. For example, the Tesla tool can produce a line gun and a military tool can produce an assault rifle. Each weapon has two tools, so players can join a flamethrower with a ripper blade. Each tool can be upgraded with a wide range of circuits or attachments. This is different from its predecessor's linear, branching series of upgrades. You get a feel for how useful your weapons are. Are they slow to reload, lack damage or just need more ammo per clip? If you aren't using your secondary tool, perhaps it's time to change it. The player is rewarded for learning their own weaknesses and trying to minimize them. Weapon crafting is a natural improvement for the series, giving players more reason to replay.
In the first few hours, resources and weapons were rather limited on hard difficulty. It's difficult to tell if the devilish microtransaction system had any impact, but it would be foolish to ignore the possibility. It's more probable that resources were spent on health and ammo. Co-op is a good way to fill your inventory and sell off excess items for use in the single player. There are enough resources if you horde items, open every container and stomp every corpse. Initial game progress may be slower because the game is 30-50% longer than its predecessors. Despite the slow start, you'll have plenty of resources to craft good weapons before the conclusion.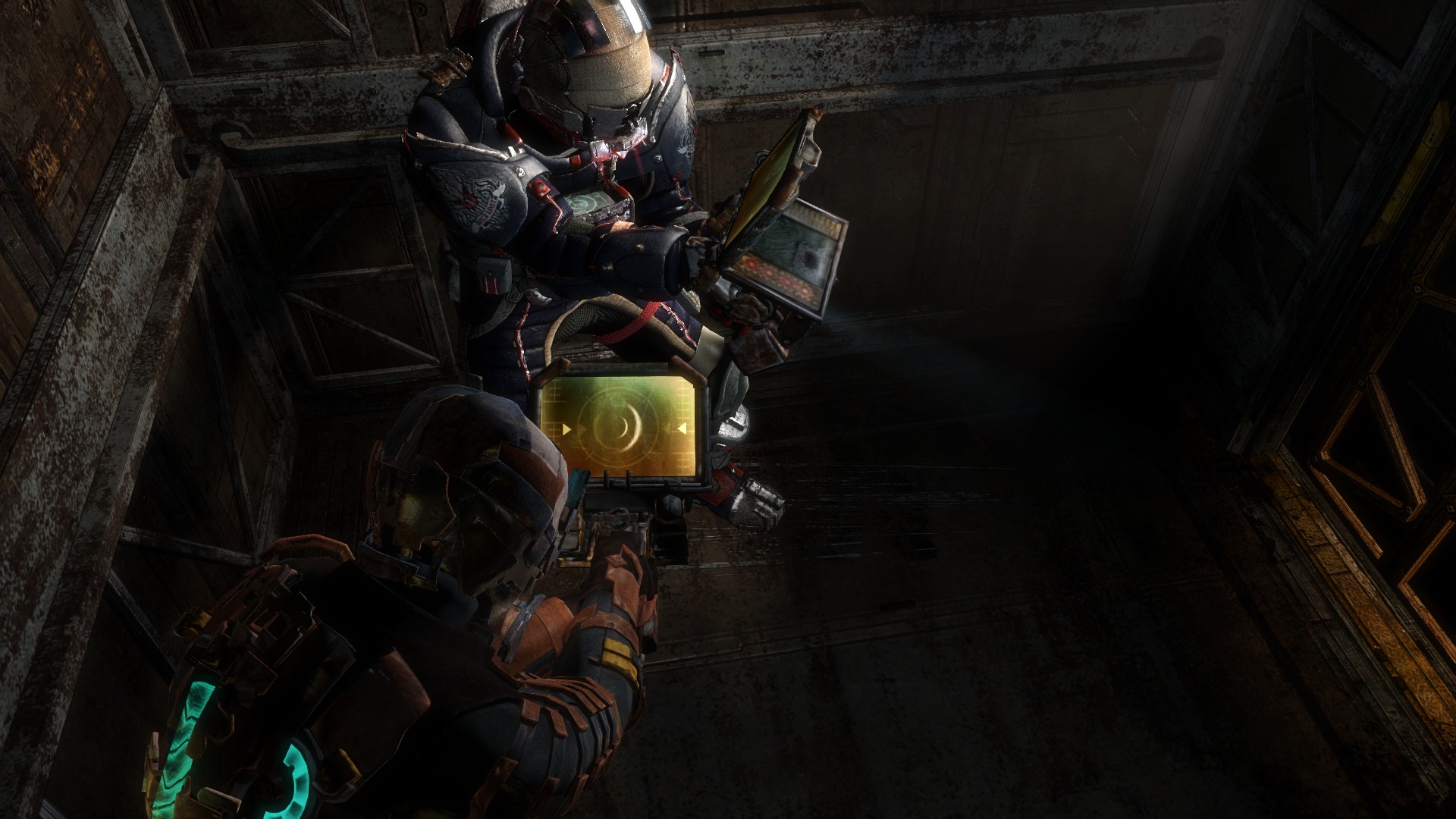 Two guys in an elevator, playing with their bots
Dead Space 3 has more action and a co-op mode to appeal to a wider audience. Unfortunately this hurts some of the elements that made the series great to begin with. It is still a faithful sequel. It just doesn't quite nail the finer details in single player. Co-op is great when the action escalates during side missions. Carver's hallucinations are a clever way to use the co-op mode. Simple space exploration liberates the franchise but it's not around long enough. Weapon crafting is a clear improvement for the franchise and gives players something to experiment with. There are still some jump scares but most of the stress comes from high action sequences. Dead Space 3 is good sequel that implements co-op well but doesn't quite match the single player experience of the first two games.
Our ratings for
Dead Space 3
on PC out of 100 (
Ratings FAQ
)
Comments
blog comments powered by Disqus