Infamous: Festival of Blood Review
A new twist on a familiar adventure that's worth undertaking
InFamous: Festival of Blood is considered by many to be DLC for the great InFamous 2 which released earlier this year. However, some will be happy to know that it is, in fact, a standalone title aimed at getting more potential fans to check out the franchise. Selling for just $10 on the PSN Store, this two to four hour experience is everything that you like about the series, wrapped with a new look and some minor additions. If you enjoyed either of the InFamous titles, Festival of Blood is a safe bet.
The story in this downloadable title actually takes place in an alternate, fictional setting as being told by Zeke, one of the main protagonists from the series. This allows the game to escape to a new reality that would otherwise not mesh well with the established mythology of the franchise. New Marais is celebrating a very Halloween-like festival, and Cole finds himself rescuing some stranded partiers from the catacombs which have suddenly collapsed. There, he is suddenly overpowered by a group of monsters and his blood is used to revive their leader, the Bloody Mary. She bites Cole, thus also infecting him into becoming a vampire.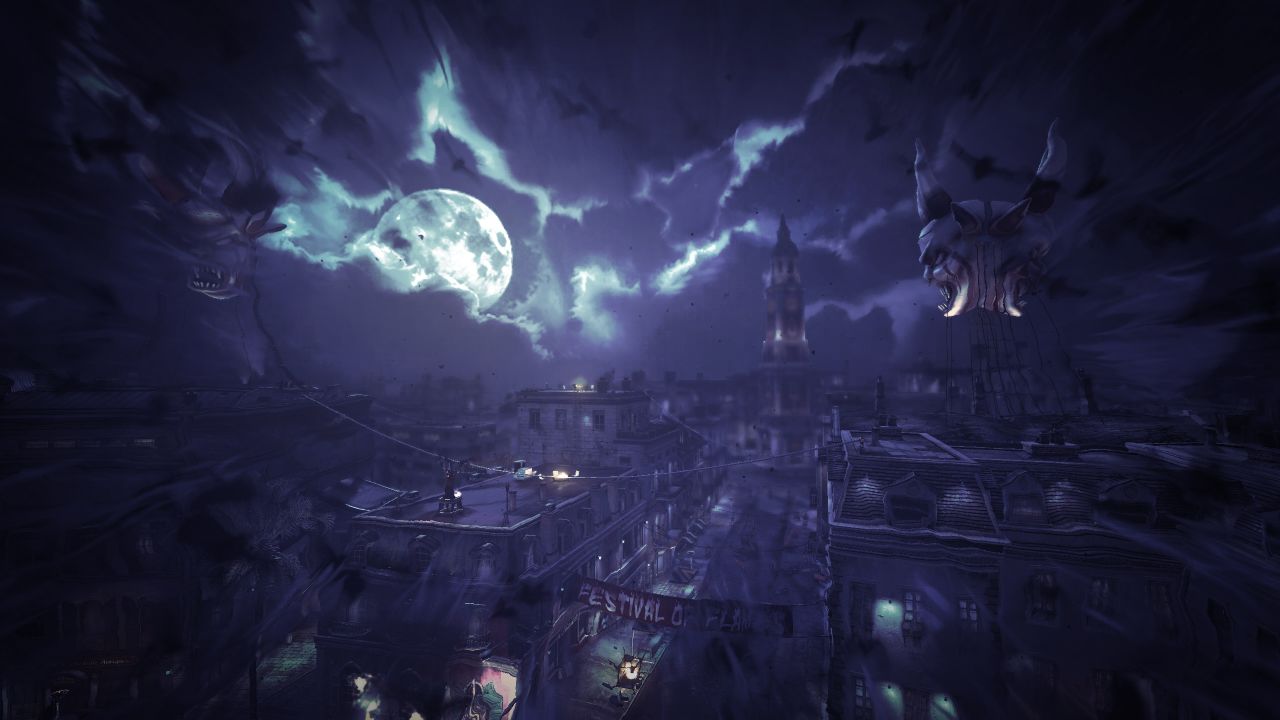 With only hours left until sunrise, the characters must discover the truth behind Mary and how to defeat her. This is a similar mechanic that was used in InFamous 2 to track the approaching Beast and player's progress through the main missions. Festival of Blood tells an entertaining and fairly straightforward story, slowly revealing the plot via the game's signature animated cutscenes, which still look great. A few signature one-liners and jokes are great, with the characters being just as entertaining as you remember. After completing the story missions, the game does allow you to continue and play in the world.
Most of the mechanics in Festival of Blood will be instantly familiar to those who already know Cole, as there are no changes to player controls since InFamous 2, meaning smooth and fun combat and platforming. Because Cole is a vampire, there is now an additional health and ability meter which can only be filled by biting civilians or collecting vials of blood around the island. Cole's sole enemies in this game are various breeds of vampires, which behave very similar to the enemies in InFamous 2 – some are ranged, some are melee, and have very similar looking attacks. Firstborns act as minibosses, requiring a lot of firepower to take down and also having the unique ability of creating zombies, to further complicate things for the protagonist during a heated fight. Perhaps the most notable shortcoming of the new enemies is that they have very limited personality and sound effects, which often makes you feel disconnected from the combat.
Comments
| | |
| --- | --- |
| #2 Nov 4, 2011 17:06:35 (Nov 4, 2011 17:06) | |




FiverBeyond

Ditto for sirdesmond, although for a different reasons: I like seeing games that provide a solid experience in a short timeframe. Sadly, I probably won't have the chance to try Festival of Blood out, but I love the idea of releasing a stand-alone, high quality title that can be played through in a single evening.

As long as it has some replayability, that is.



| | |
| --- | --- |
| #1 Nov 4, 2011 02:21:32 (Nov 4, 2011 02:21) | |




sirdesmond

I really hope this trend of weird, non-canon game offshoots continues. Undead Nightmare and this are both really cool, but I'd love to see some similar spin-offs that aren't Halloween themed.