inFamous 2 Review
A sequel that does almost everything right, inFamous 2 is among the best PlayStation 3 exclusives to date
inFamous 2 is a great example of developers understanding that, if it ain't broke – don't fix it. The original title from Sucker Punch was released back in 2009 as a pleasant surprise, an original IP that was packed with content, an intriguing story, and above all – original and fun open-world gameplay. Accomplishing that wasn't an easy task, especially for a superhero with no pre-existing comic books to create the lore and an existing fan base. inFamous pulled it off, and with the sequel now in stores, it's great to see that the developers managed to retain both the fun and excitement of the game, while introducing enough new elements to make it feel fresh again.
The story of inFamous 2 continues right where the original left off, which means there's little room for explanations. If you haven't played the original, much of the back story will be missing and many of the later references to previous characters and events will be meaningless. So to get to know Cole, you should play the original adventure first in order to get caught up with the story, but also because it remains a good game to this day. At the outset, Cole comes face to face with the Beast, an evil entity that seems set on destroying everything and everyone in its path. Being unable to defeat the Beast, he and his best friend Zeke set out to New Marais thanks to an FBI agent involved with the Ray Sphere project. There, their goal is to make Cole more powerful in order to defeat this threat.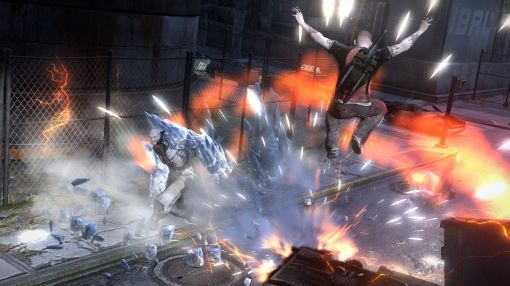 A number of characters come into the story this time around, all fairly well fleshed out and interesting in their own right. Many of the characters play a pivotal role in the game's events, and are not just passers by. There was also a surprising amount of well timed slapstick humor that works amazing well to spice up the dialogue, and is a step away from the overly serious original. Much like before, Cole will have many choices presented that are either Evil or Good, which is perhaps a bit bland compared to the complex choices in something like the Witcher 2. But hey, this is an action superhero game, so coloring moral decisions in black and white fits the setting. If anything, this provides the game with at least one more replay value, and unlike the original inFamous which only differed in cutscenes, the sequel has substantially different situations and gameplay objectives based on decisions made. Overall the story is quite enjoyable, though it lacks an impacting twist that made the original inFamous' narrative memorable.
inFamous 2 retains the open world sandbox gameplay with style. Everything that made the original game a fun experience is still here. For melee combat, Cole has a new Amp weapon this time around which apparently helps to focus his attacks – though it has little actual impact on the gameplay. Everything is as you remember it to be, with smooth combat animations, takedowns, and inability to block. The powers and character progression has been revamped a bit, now relying available XP, story progression, and stunts performed. Stunts have been incorporated into the unlock system rather than be a side bonus as in the last game, so unlocking some of the powers to be used requires Cole to perform certain combat moves and takedowns. It works well and stunts are on the easier side, though it seems odd that stunts are only counted towards an unlock once the power has been discovered, and not in retrospect.
Comments
blog comments powered by Disqus