Dead Rising 2 Review
Come down to the mall this Saturday, fresh zombies are in stock
Following the somewhat unexpected success of the Xbox 360 exclusive Dead Rising, Capcom has decided to bring the sequel of the slow zombie action title to all platforms. With Dead Rising 2, players can expect to see some familiar gameplay that made the original game a hit, while some tweaks have been made to the formula to extend the experience in some ways. With a new protagonist and storyline, and a huge location filled with zombies, the developers managed to achieve the whacky action title they were hoping for. The gameplay is generally fun in free roam, but when you factor in the time limit and the boss fights, things can become fairly frustrating quickly. Dead Rising 2 brings back the classic slow zombie-killing formula with relative success, and there is fun to be had in both single player and coop.
The plot of the game kicks off five years after the event of the original game. The zombie outbreak has been apparently contained, but instead of completely eliminating the monsters, people have decided to turn them into a form of entertainment. Former motocross champ, Chuck Greene is a part of such an entertainment event. In a free-for-all to kill as many zombies as possible inside an arena, Chuck competes with others in order to earn cash. He uses the money to buy Zombrex – an antibiotic of sorts that slows down the process of turning into a zombie – for his daughter, Katey. She needs the pills because she was narrowly bitten by her mother when the first outbreak occurred, and thus must continually take the pills in order to stay human. Chuck's relationship and interactions with his daughter are probably one of the best portrayals of such a relationship in recent times.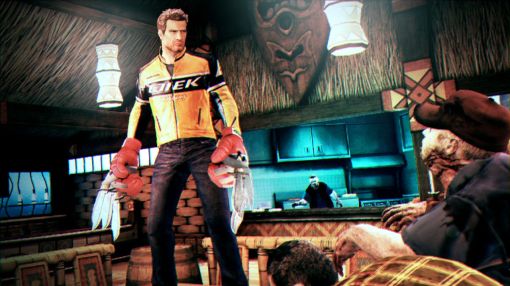 After the show, a bomb goes off and all the zombies are released free from their cages, quickly overwhelming the show's attendees and thus another outbreak begins. Chuck quickly finds his daughter and takes her to a secure location, which serves as the home base for the majority of the game. Once there, Chuck realizes that he has been framed with setting the zombies free, and must prove his innocence if he is to escape jail. The rest of the story plays out with some nice twists as Chuck comes across other survivors and eventually unravels the conspiracy against him. Dead Rising 2's story is more focused on the actual people and their actions rather than the zombie outbreak itself, which gives the plot more strength to carry a solid narrative.
Dead Rising 2 takes place entirely in a mall and surrounding area amneties, but that doesn't mean there's little to see or do. All buildings and shops can be entered and often interacted with as in a real mall. Of course, everything is also free so there are limitless possibilities for Chuck's outfits. All locations are realistically designed, with shops ranging from clothing apparel to toy outlets and many more. Once you've found yourself a decent set of shoes and a fancy hat (which get covered in blood rather quickly), it's time to step outside.
Comments
| | |
| --- | --- |
| #1 Nov 4, 2010 11:14:43 (Nov 4, 2010 11:14) | |




cove

Cool. Think I'll get it

thanks Alex.