Dead Rising 2 Review
Come down to the mall this Saturday, fresh zombies are in stock
The developers did not hold back in filling the game world with zombies. Imagine if everyone in a packed mall turned into a slowly shuffling zombie, and you get a good idea of what to expect here. The locales are literally filled to the brink with zombies, making it often impossible to simply walk or run by the crowd. These slow zombies will attempt to grab Chuck at any opportunity, and breaking free requires you to mash the zombie away in a sort of quick time event. Since fighting with fists wouldn't get you very far, the game excels at making almost every object in the game a weapon of some kind. Huge part of the gameplay appeal comes from using the most random items – statues, park benches, drills, buckets, cash registers – to take out the zombies surrounding you.
While that's fun in itself, there is also a robust combination system that lets Chuck put certain items together to create handy-man style weapons. Chuck can either find or invent the weapon combinations, and they can be created on lab benches found throughout the game world. Take a baseball bat and a box of nails, and you get a spiked bat. A boxing glove and knives produce a very sharp punch, and a bucket with a drill makes for a fancy death hat for the zombies. All of the items you find and create have a limited amount of use, so its often a good idea to carry around a few weapon sets, though the inventory is limited.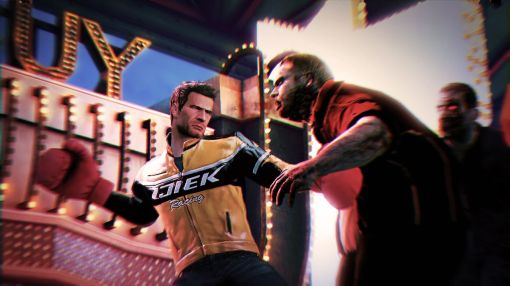 Once you've had your fun with random zombie abuse, it's time to take on the main game. Dead Rising 2 takes place in the above-mentioned mall, which is an entirely open sandbox. Missions are given to you via a radio, and they all have a certain time limit before they expire. As such, players will need to make some choices in what missions they undertake, and it's nearly impossible to get them all in a single playthrough as the game's timer counts down. The army is set to arrive within 72 game hours to stop the outbreak, putting a limit on the length of the game. Story and side missions vary only slightly in their context, and often require Chuck to find and rescue a survivor and progress the plot via conversation. There's also a timer that requires Chuck to find or purchase a new pack of Zombrex and bring it to his daughter in order to keep her from turning, so that's yet another timer to keep track of.
What has been described so far is a very fun experience, but there are also some major annoyances in the game. For one, many fans who are looking for the game to let them spend the time and explore the world will be disappointed by the game's overall time limits as well as mission-specific timers. Chuck also has a dastardly low amount of health for the first few hours as you level up, so constant near-death escapes are unavoidable. Health is restored by eating food, but while doing so you're susceptible to another zombie strike. There are also random survivors wandering the world, which are optional to rescue and bring all the way back to the safe house – a trip that's usually more frustrating than it's worth.
Comments
| | |
| --- | --- |
| #1 Nov 4, 2010 11:14:43 (Nov 4, 2010 11:14) | |




cove

Cool. Think I'll get it

thanks Alex.