Dead Rising 2 Review
Come down to the mall this Saturday, fresh zombies are in stock
The game's bosses are also incredibly frustrating – since Chuck is very slow and cannot run, most of the boss fights are based on quick un-blockable attacks and take a very long time to kill. There are some extremely annoying boss encounters in the game that you'll be forced to replay over and over until you find a safe spot to do a ranged attack with a rifle, but then it simply feels like you're cheating the game out of a challenge. Since boss battles are required to progress, be prepared for a lot of trial and error. And since you'll be dying a lot, it doesn't help that the game lacks any kind of checkpoint system. To save, you must visit a bathroom location in the mall – if you get carried away with the zombie kills and forget to visit one, dying an hour later will revert all your progress since the last save. This almost breaks the desire to play, especially when faced with a boss battle that's significantly far from your last-saved location, forcing you to take the same trip over and over.
To help with some frustrating missions and bosses, the game does feature online Coop mode. This lets players invite someone else (who appears as Chuck, thus creating twins) into the single player game and continue from that point on. The two players begin their progress from the point where the host has left off, and makes boss battles and general goofing around fairly enjoyable. If a player goes down, their partner can simply revive them with some food and continue on. Also included is competitive multiplayer, in the form of the zombie killing show that Chuck is part of during the start of the game. Four players can participate, competing against each other for the most kills inside an arena full of undead. Players will be able to use weapons and vehicles, as well as various items to slow down their opponents. Both online modes are fun and work as intended, though there is not much gameplay variety in the competitive mode.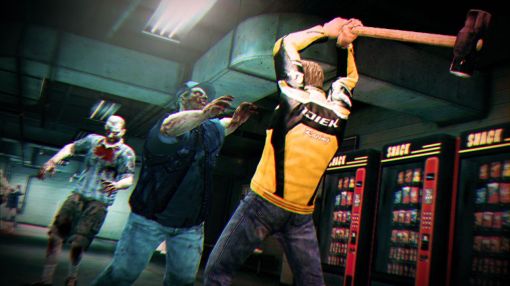 As mentioned before, Dead Rising 2 is a fairly detailed game, and the graphics engine does justice to the environments. Textures are richly detailed and the light and visual effects are more than satisfying. You can watch Chuck's clothes get covered in blood and it looks good, but some of the zombie kills and blood on the floor can look filtered and unrealistic. Still, the game is a well-done port for the PC with a wide variety of settings and the ability to run great on all range of hardware. Mouse support is implemented well, and with some tweaking there are no problems with controls at all. The voiceover is good for the most part, as the primary characters all have a solid performance, though some of the minor characters have very basic dialogue. The sound design is appropriate to the setting, though there is not much to listen to in a mall full of the undead. Probably the biggest issue on the technical front are the loading screens. There is a loading screen in every single area of the game, and before and after every cutscene. The process isn't very long, mind you, but it's long enough to keep constantly noticing that there are simply too many of these screens.
The developers set out to achieve a sequel that capitalized on what the original did well, and they succeeded. Dead Rising 2 plays like an action survival game, with a large environment full of zombies to explore. You can visit any store, dress up silly and kill zombies in the most absurd ways – but once that's over, the timed nature of the game and its missions can be annoying to some players. Most of the side quests are not diverse and often produce too little of a reward to bother with. The online coop takes some of the frustration from certain single player elements, and the competitive multiplayer can be fun, if not varied. The game is well presented, though not perfectly executed with endless amounts of loading screens and some poor textures. If it's zombie killing with a twist you're looking for, Dead Rising 2 will deliver – but with certain gameplay issues that some players may simply not look past.
Our ratings for
Dead Rising 2
on PC out of 100 (
Ratings FAQ
)
Comments
| | |
| --- | --- |
| #1 Nov 4, 2010 11:14:43 (Nov 4, 2010 11:14) | |




cove

Cool. Think I'll get it

thanks Alex.