The Darkness II Review
A violence-filled adventure that provides a well presented but less memorable experience than its predecessor
It has been almost 5 years since the atmospheric and emotionally involving
The Darkness

was released. With a new visual style and development team behind it, The Darkness II looks to continue the franchise and its unique setting and mechanics. This is a title that offers much of the tightly controlled and engaging action of the original, with a visual style that emphasizes the series' comic book roots and violence to match. And though it never quite reaches the highs of the original, this is none the less an engaging sequel that can be fairly easily enjoyed by newcomers and at least appreciated by diehard fans.
As a direct continuation of the story from its predecessor, the game does an adequate job of recapping the events of the original game. Obviously, since this is a sequel, beware of spoilers. Players assume the role of Jackie Estacado, now two years after the events of the first game, when Jackie has suffered the loss of his girlfriend Jenny, exacted revenge on his mobster family and has taken the helm of the criminal organization. He has also managed to keep the Darkness (an entity which has granted him demonic powers) locked away, not letting it take control of his actions. However, when he is suddenly ambushed, the Darkness has to be released in order to save Jackie's life and exact revenge on his attackers.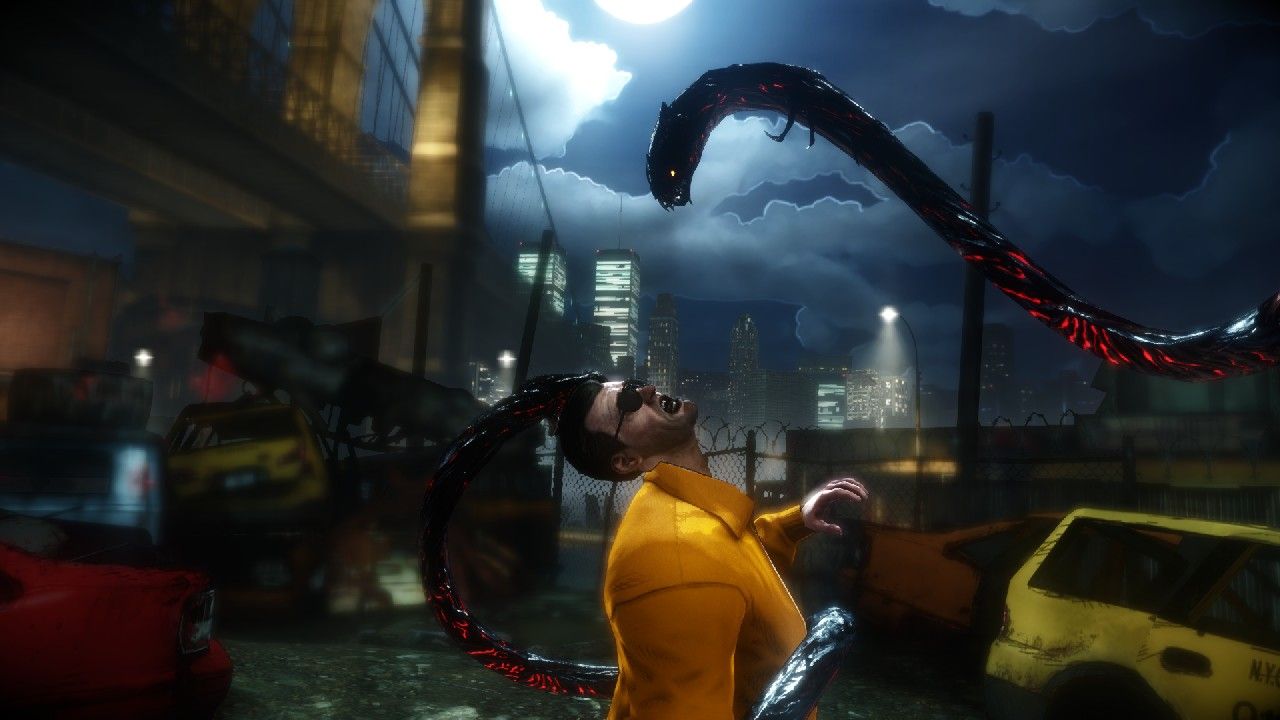 As events unravel, Jackie finds himself on the heels of an organization known as the Brotherhood. Led by a scarred man named Victor, the group seeks to capture Jackie and capture the Darkness for their own use. Jackie, meanwhile, is fighting not only the Darkness but also his own inner demons and memories of Jenny that seem very real. Overall, the plot is engaging, with multiple twists and turns and some rather emotional situations. While it is more dramatic and imaginative than most shooters, it never quite reaches the same impact as the memorable scenes of the original – in fact, many of the plot elements will seem eerily familiar to fans. It seems as though the game follows roughly the same scenarios and events, just with a different spin and new set of characters. This makes it accessible to newcomers, but fans may be a bit annoyed. There are also two endings – but one is so illogical and disappointing that fans will hopefully see the clear choice when the time comes.
The open world concept in has been replaced with a much more linear level design in The Darkness II. There are no more side quests, no exploration of dark city streets, instead simply following a linear series of events much like other modern shooters. It's a change in gameplay design that's easy to criticize, with better pacing being one of the very few redeeming factors. At the very least, The Darkness II does have some fairly open environments, so it is not a hallway shooter for the most part.
Comments
blog comments powered by Disqus