The Darkness II Review
A violence-filled adventure that provides a well presented but less memorable experience than its predecessor
The Darkness II features an expansive RPG-like character progression system. With each kill, depending on how creatively it is performed, players earn dark essence points which can be redeemed on a very wide variety of special skills. By spending points at special upgrade beacons, players can unlock new abilities – from improving weapon efficiency to significantly expanding the darkness powers. Powers range from vortexes - which can suck in enemies - or distract them with the swarm. Some key abilities actually allow the player to perform executions on enemies in order to benefit – by grabbing a vulnerable foe, players get a choice of health, ammo, or other bonuses that they wish to receive by performing the execution. This adds an actual reason (beyond the gore) to perform executions during battle.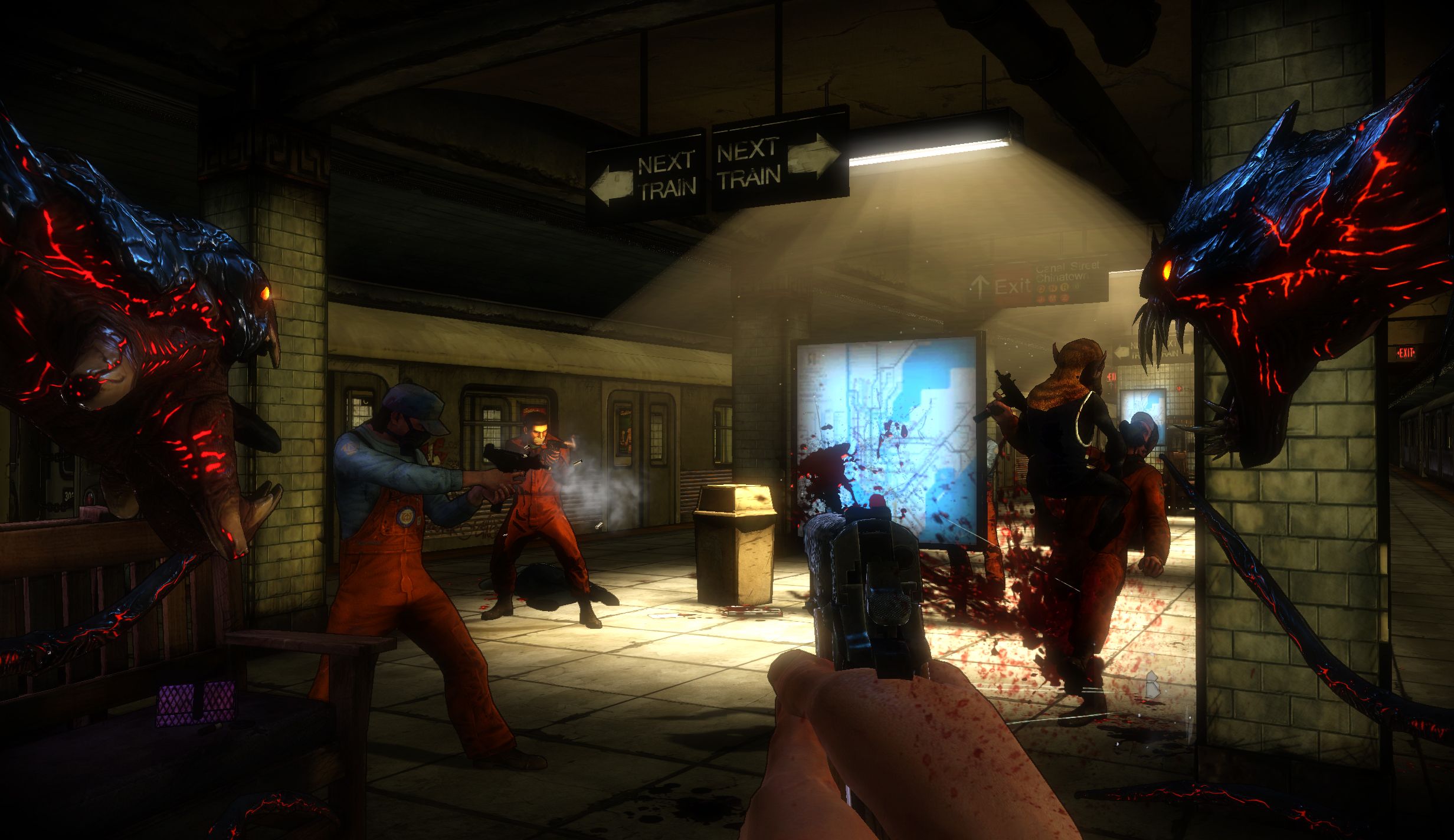 A key area for a game titled The Darkness is, of course, the conflict of light and shadow. While the original played very much like Splinter Cell at times, with sharp contrast between lit and dark areas, The Darkness II throws it away in favor of a more relaxed system. There are very few pitch-dark areas in the game, instead everything is clearly visible and light sources simply stand out in the environment a bit more than other props. It's a change that goes a long way in reducing any atmosphere that the game was hoping for. Rather than being a passive and strictly a source of inconvenience, it is now a weapon in the hands of the Brotherhood that isn't contained within a defined area. Light can be apparently harmless as you come across light bulbs, and there is no way to tell which sources of light will actually impact you. The Brotherhood takes full advantage of the medium, using light grenades and mobile projectors in order to corner and disorient the player. In contrast to the original game there are no hard lines or edges where the darkness begins and you can feel safer. This change in the system works because of the game's new linear and combat-focused design, but some fans will likely miss stealth elements of the original.
It could be said that many of the gameplay changes that have been mentioned so far are due to the game's completely revamped style. While The Darkness was an ordinary looking title, the sequel has completely changed up the visuals and now looks very much like a comic book with a cel-shaded art style. The newfound style doesn't save the game's textures from looking sub-par at times, along with a rather narrow field of view. With new visuals, as mentioned earlier, much of the atmosphere is lost. Save for a few locations that are specifically meant to be haunting, most of the game feels rather uninvolving. Many levels feel uninspired, such as parking garages and warehouses, and some are actually similar to those in the original game, like the subway station. Essence earned for each kill pops up right on your screen (though can be thankfully turned off), enemies glow with x-ray effects when they are vulnerable to an execution, and the lighting effects are not what they used to be. On a brighter side (get it?) when the player is under assault from light grenades or projectors, the screen blurs and whitens with great effect, inducing a feeling of extremely urgency to get to cover. The executions are brutal, with a variety of ways to dismember your unlucky enemies – and since performing these has a direct benefit for the player in form of health or ammo, there's always a good reason to do them.
Comments
blog comments powered by Disqus