Gotham City Impostors Review
This foray into First Person Batmanning is marred by inexcusable technical issues
Had I told you 3 years ago that a Batman first person shooter was being developed, you likely would have scoffed. At that time, on the eve of the release of Batman: Arkham Asylum, the words "Batman" and "video games" were most fondly associated with NES and SNES titles. But Rocksteady's Arkham games have paved the road for successful, smaller games with the Batman name. That's where developer Monolith stepped in with Gotham City Impostors. Known for the No One Lives Forever, F.E.A.R., and Condemned series, Monolith has quite the First Person Shooter pedigree behind it. Can it make the transition into the competitive downloadable space, and is the game worth your money?
There's nothing sadder than having to start a review discussing the myriad of technical problems that plague a game such as this. Gotham City Impostors seemingly is a game that has not been properly optimized for a mass PC audience. Gamers with both ATI cards and nVidia graphics cards, myself included, have encountered major, game-breaking technical issues.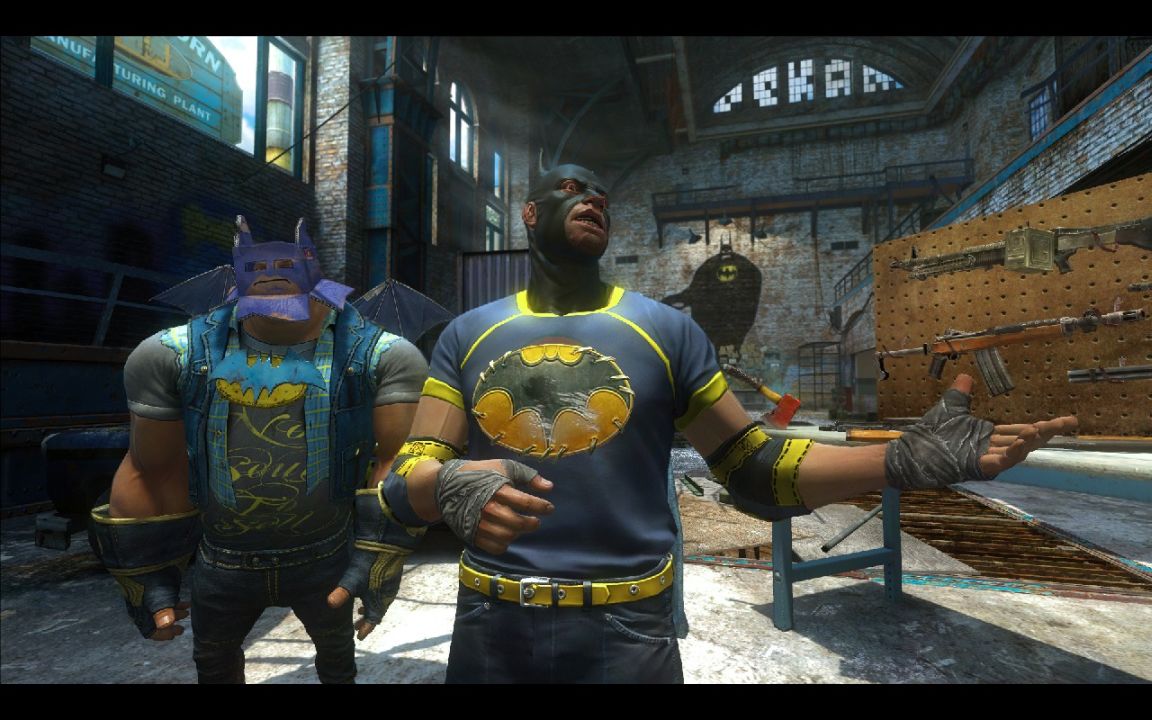 Most glaringly, issues with frame-rate are immediately obvious as soon as the player starts any gameplay mode: from the 3 multiplayer modes to the single player Challenge Mode, and the cinematic, quirky Initiation. Due to my capable, but modest rig, I first assumed this issue was simply on my end, and did everything in my power to reduce Gotham City Impostor's burden. The effects were less than stellar. After reducing resolution and video settings, the frame-rate saw improvement, but not enough to make the game any more playable. Monolith has acknowledged that there are issues, but at the time of posting has yet to announced or issue any fixes. In addition to standard technical issues, the game uses Games For Windows Live. While some gamers, such as myself, have never personally had any issues with the system, I understand that the system is highly divisive. If that's make or break information, players should be aware before purchasing.
After reducing my settings as low as they could go, and getting a meager performance boost, I decided to simply jump in to a few multiplayer matches to see how the system was set up. Unfortunately, here is where Gotham City Impostors falls prey to its second major technical problem: the matchmaking is somewhat broken. Now, this isn't to say that getting into a match is impossible. In my many attempts to join matches, I probably spent an average of 5 minutes waiting to start a match. Finding people to play with isn't what makes this waiting period frustrating: there are often at least 4 to 5 other people waiting for you in a matchmaking lobby, but Gotham City Impostors gives no indication that anyone else is joining that lobby. Thus, the player may be waiting in a semi-full lobby minutes with no activity. Furthermore, Gotham City Impostors repeatedly would inform me that it was starting a match, even with a significantly less than full lobby, and then go back on its word, leaving me to wait it out some more.
Comments
blog comments powered by Disqus