FIFA 22 Review
A solid effort that leaves you wishing for something more
Last year was a strange one for sports, as the fans were missing from stadiums in all the big football leagues across Europe. But as we start to emerge from the global pandemic, thanks to the vaccine rollouts, spectators have begun to return to the big game. With the EA Sports FIFA franchise, FIFA 21 also marked the fairly basic port of the series to the new console generation. It looked better on PS5 and Xbox Series X|S, but didn't exactly make any groundbreaking improvements. With FIFA 22, we enter the era of transition, as the feature disparity begins to expand between current and last-gen editions. However, those differences still don't make a huge difference, and this year's game continues to be a solid, but largely familiar experience.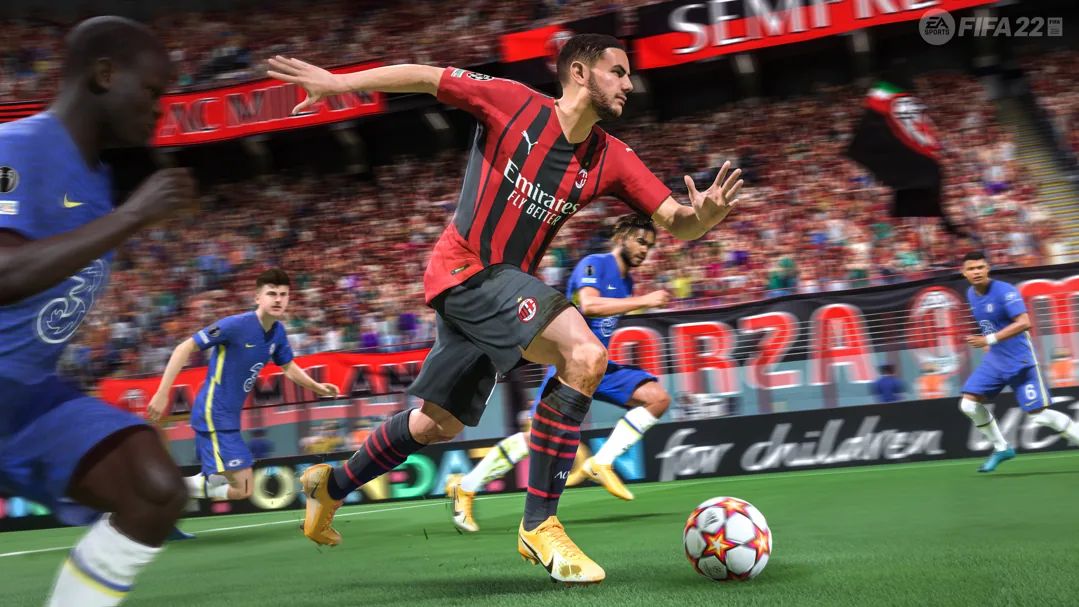 So let's begin where the action takes place, on the pitch. FIFA 22 on PS5 plays a solid game of football. It's not particularly flashy, flawless or totally immersive. It's just solid – that's a compliment to the quality that the series has managed to keep up for the past few decades, but it doesn't offer any big revolution in gameplay. The main feature is said to be new HyperMotion technology, that promises a combination of machine learning, improved animations, and overall full-team AI improvements. In practice, you'd be hard pressed to notice any huge differences in how the game plays. Sure, there are some nice new animations, such as players pointing to each other, teams moving together better as a cohesive whole, and AI performing well in both defense and attack. When jumping your wall for a free kick, you now have to anticipate and jump earlier as it's no longer instant. Another addition is the Competitive Master switch, which removes a bunch of assists and lets you play with a competitive controller preset. But these are arguably incremental improvements you'd expect from a yearly sports franchise – all good, but again not offering any next-gen leaps.
And even so, there are some typical new-year jitters to the game. Goalies are again a source of potential frustration – they have a strange habit of dropping easy balls and having to reclaim them, an animation that is sure to give you a large number of mini heart attacks. They also let in some very easy goals at their near post by deflecting shots inside instead of out. Last but not least, the game seems to be unbalanced for long strikes this year. FIFA 22 features by far the largest amount of goals scored outside the box, as almost everything goes in, or at the very least hits the post. Even the AI is in on it, using low-skilled midfielders to pop some far range goals, as your keeper sort of jumps in the air and lets it go through his outstretched hands. It has been a few years since we got a FIFA game that didn't have any issues on the pitch at launch – thankfully, it will likely be fixed, and the gameplay remains largely enjoyable and entertaining.
One thing that's certainly not possible on last-gen consoles, is the DualSense controller features. FIFA 20 already toyed with the basic ideas, like adaptive triggers becoming harder to press when you control a tired player. This, and more, has been brought over to the new edition. With the new haptic feedback features, you can now feel a lot more detail – such as each step that a player takes on the field, a heavy tackle, and the resonating sound of the whistle. The physical feedback is immersive at first, however any seasoned players will likely find it to be frustrating after a while. The near-constant vibrations in your hand become a nuisance, and may hinder rather than help your play, so you may find yourself turning off this neat, but ultimately distracting, physical feedback.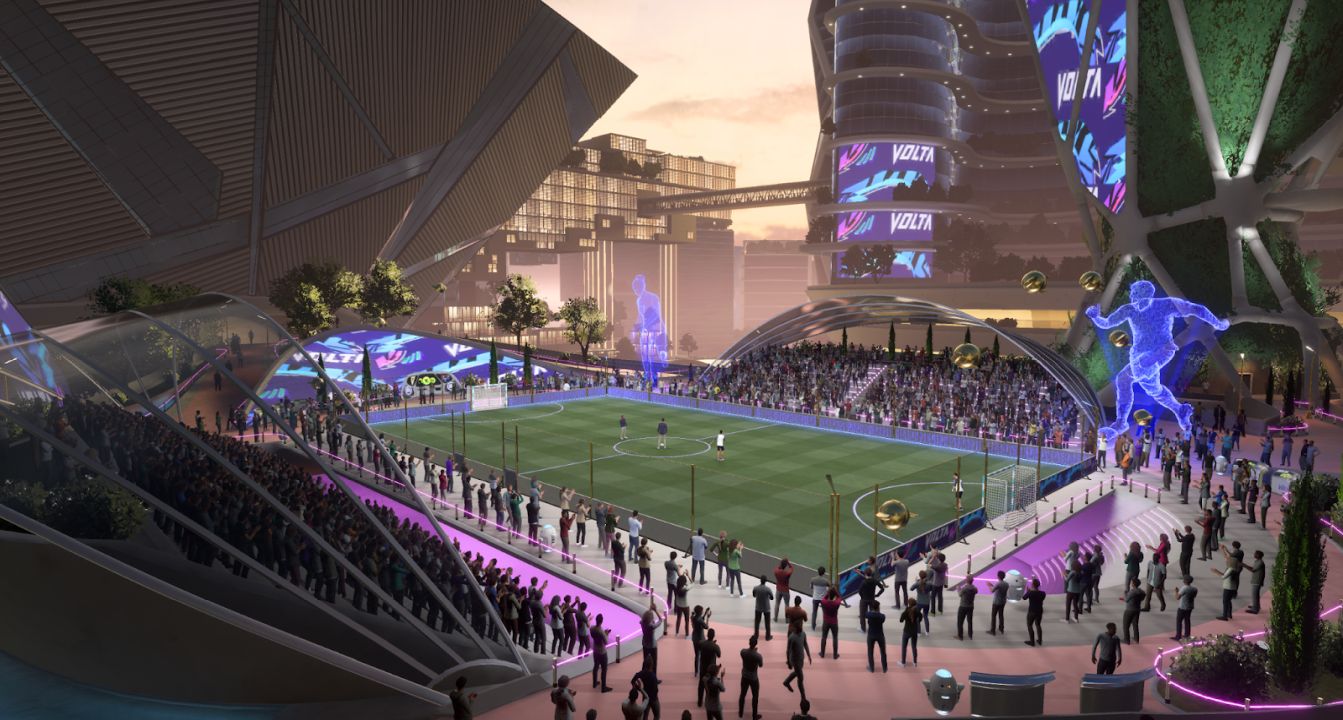 In gameplay modes, Volta Football mode returns for its third year, now dropping any semblance of a career/story mode, and just letting you play in a variety of modes against AI or other players. It's still the mode where you go, if you want to shine as an individual on small urban pitches from across the globe. You can level up your player by improving skills using earned experience, and get them tons of clothing with wild designs and colors to visually stand out. There's a new Volta Arcade mode, where you play a series of minigames of varying quality, either free-for-all or in 2v2 teams. Volta Squad Battles and competitive online play are still available as well.
On the field, Volta takes things further into the arcade realm, as players now pick one of three Signature Abilities – a special skill that's activated once you've played well and filled the bar. The abilities are Power Strike – giving you a huge boost to shooting power and accuracy, Pure Pace – making you extremely quick, and Aggressive Tackle – letting you easily wrestle others off the ball. Activating these temporary abilities is an easy way to gain an advantage. Volta continues to be a distinct alternative to the rest of the more traditional FIFA experience, however it still does not appear to be very popular. Finding matches across most Volta modes takes a while, if it happens at all.
The traditional single player career modes have also got some slight sprucing up. A major new addition to the Manager career mode is the ability to create your own club – something that the competing PES franchise has had for a long time. With a typical high level of polish, the new mode walks you through the steps of generating a lineup for a new club, from the randomly generated players, to your new stadium, club name, and crest. Beyond that, you play in the league and manage the club much the same way as when picking an existing real team. It continues to be a decently deep mode where you have to take care of player contracts, training, take care of morale, and of course play the matches. There is a new way to simulate games – like in EA's Madden and NHL, you get a sped-up version of the match, and are able to jump in at any point. These are nice new additions, though again nothing next-gen groundbreaking.
In Player career, some things have changed as well, but much has remained the same. You will still train by playing the minigames, which can then be simulated in the future, which earns you experience and levels you up. With each new level you get some points to spend in the same skill trees divided by category (i.e. passing, shooting, etc). New this year is the ability to equip up to three passive perks, from a selection of individual boosts such as improved defense/offence in the last 15 mins of a game, and even a few team-wide boosts. Thanks to the new sim option, if your role on the team is to be a sub and not a starter, you can now jump in at the time you get on the pitch, mid-game – a fairly simple and obvious mechanic that was absent until now. When you enter the game, you're again given some objectives from the coach, to earn additional experience and trust. These are mostly unbalanced however, and seem to be randomized and focused on glory-chasing. The objectives can be simple like putting together 15 passes, or something ridiculous like scoring/assisting two goals with just 30 mins left. Even if you play as a midfielder, you are too often asked to be a scorer, as if you're some sort of superstar that can single-handedly decide the game – again, with less than 45 minutes to go.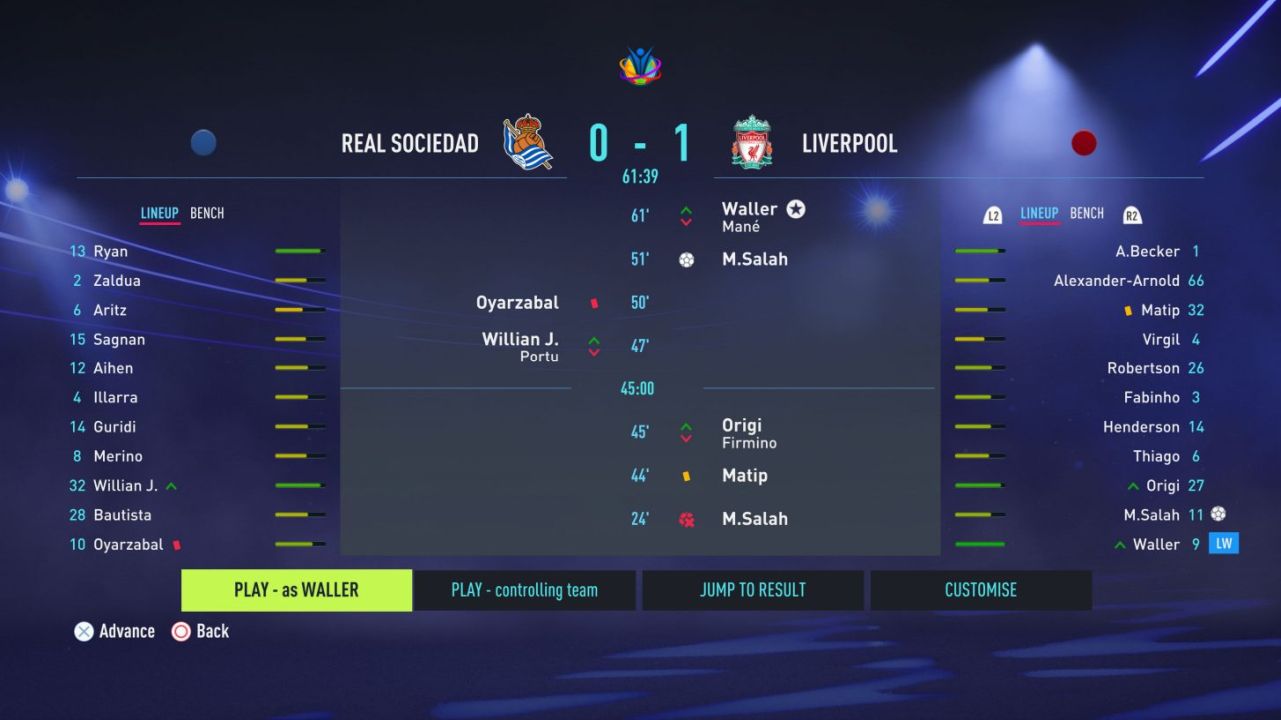 Still, even failing these objectives are no big deal since you still get experience, and the coach trust system is easy to abuse. As long as you do your training, the coach will be happy, and you can even simulate all games, thus accomplishing nothing, and still be in the starting lineup. The mode is clearly not meant to be simmed – you get some very weird results, as if the game thinks your team is down a player, and some shocking results frequently occur. In fact, the sim engine seems to be "off" across all career modes, with very surprising and unrealistic results no matter what league you play in.
Heading online, your progress in Pro Clubs mode is quite similar to the experience of developing your player in offline career. Your player has the same skill trees to progress through and perks to unlock, by playing games with your team or via random drop-in matchmaking. There are a few preferred position presets that you can select from, which adjusts your skills accordingly for the role, so not everyone is competing to be a striker (though they try to anyway). Most of the changes in this mode come from expanded stadium and team customization options, much the same as in the Career mode club creation. Created women players are now allowed to play in Pro Clubs, bringing a strange but welcomed bit of diversity. Despite a renewed focus on this mode in recent years, it still takes a while to matchmake for a drop-in game.
Last but by far not least, is FIFA Ultimate team. FUT remains to be the major, possibly main mode for a lot of players these days. By letting you gradually put together a team of stars, worrying not only about their rating but also their chemistry, and then competing across a variety of modes, there's certainly a lot to do here. There are some notable changes to how your progression will feel this year; namely around getting new player packs and the luck of the draw. New in FUT – and also other management modes – are the extended stadium customization options. In addition to the stadium colors and TIFOs, you can now pick things like additional flags and decorations, colors of the nets and pitch lines, and even a club anthem and crowd chants. You can still put together a very good team without spending a dime of real cash – there's lots of challenges to complete that award you coins and player packs, and it feels like the coin rewards have improved this year so you can build up a tidy sum to spend on packs or player transfers from the user marketplace. It also feels like you can get better players this year – perhaps it's just luck – but we were able to pull quite a few superstars, something that rarely if ever happened in previous years. And with all the returning modes – from solo Squad Battles to online competitive Division Rivals - there's tons of ways to use your dream team.
On the other hand, the mode still has some of the ongoing issues from years past. As we've touched on in previous FIFA reviews, FUT is moving faster and faster, and this year it really doesn't seem like you even go through a stage of having bronze/silver quality level players. You earn so many coins/gold player packs quickly, that you have a good team within just an hour or two of play. There is absolutely no feeling of growth – you instantly get to the part where you need to fine-tune an already competitive team. It's great for those who are eager to be the best, but the sense of accomplishment is totally lacking.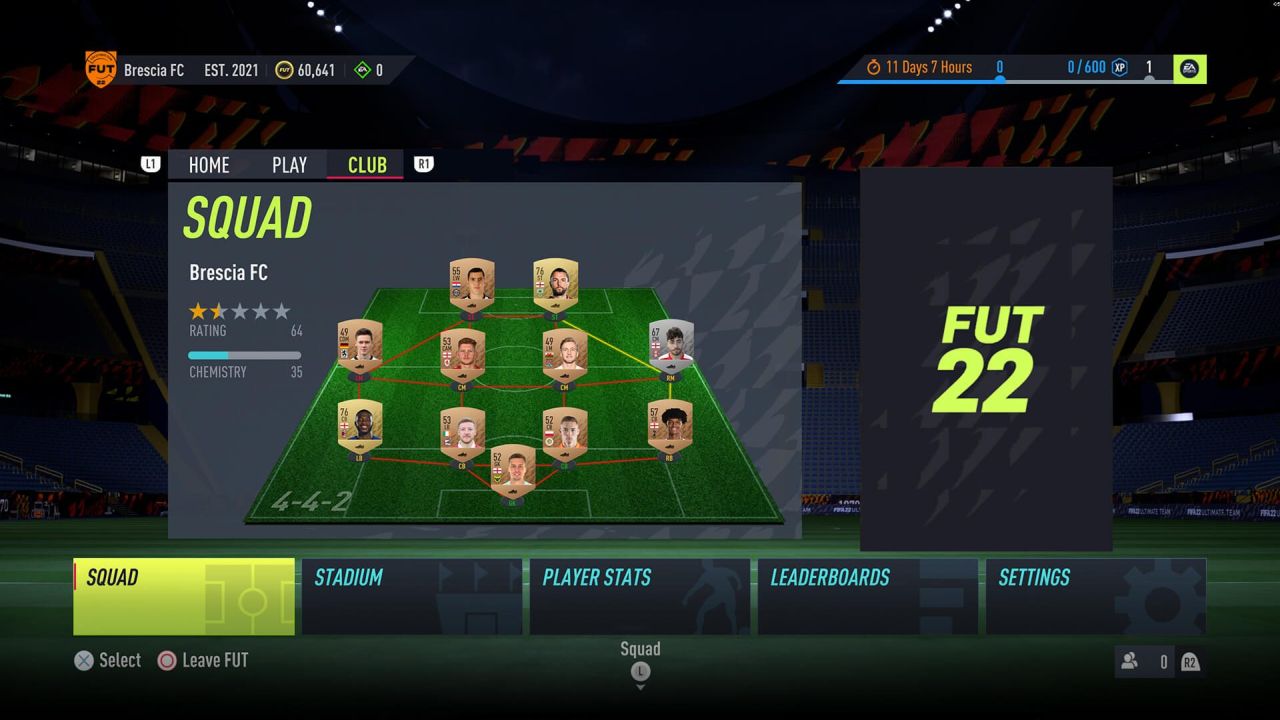 The FIFA franchise has always thrived on its authenticity, and it continues to be a very lifelike representation of the sport. All of the major teams, players, leagues, and competitions are here, from the Premiere League to the Champions League, though there are a few odd outliers, like teams in Serie A where competitor Konami nabbed the exclusive licenses for PES (now eFootball). There are some quick additional clips and cutscenes – such as the player dressing room reactions in Player career mode, and on-pitch celebrations after a big late goal.
However, just like in its gameplay and modes, FIFA 22 does not feel particularly next-gen in its presentation. Sure, everything is crisp and high detail on the pitch, but the animations and cutscenes are largely of last-gen quality. Those new very brief additional cutscenes simply dilute what is an otherwise aging broadcasting presentation. Looking at the textures outside of the stadium, and even the sky or special effects like fireworks, easily reveals that not much effort was put into the backgrounds.
Having lost a multitude of commentators a few years ago, we're down to just one pair of announcers, who don't feel like they have a ton of lines. There's also the addition of Alex Scott, who replaces Geoff Shreeves for reporting scorelines from other matches; her lines are short and overly enthusiastic. Elsewhere, the soundtrack is possibly the weakest in years, feeling quite repetitive with too many songs featuring the same beats over and over. While it was once a leader in its broadcast-like quality of presentation, the game feels like it's slipping behind the current standards.
FIFA 22 may be the game that starts the feature segregation between old-gen and new-gen consoles, but it's not exactly starting off on the right foot. The features that are exclusive to next-gen are either forgettable or non-impacting, such as the new cutscene bits and some advanced animations, or you'll turn them off anyway, like the DualSense feedback. It's still a good football sim that's highly authentic and has plenty of content to get involved with – from offline career modes to FUT – but it hardly brings anything revolutionary to the table. Add in the aging presentation (technical aspects aside), this isn't the thrilling start to a new console generation that many were hoping for.
Our ratings for
FIFA 22
on PlayStation 5 out of 100 (
Ratings FAQ
)
Comments