FIFA 21 Review
Not quite a rapturous send off
While sporting events in the real world had to take a back seat, with the postponement of leagues / cups, and a delay of the EUFA EURO competition, at least fans could look forward to getting their football fix through video games. Despite the global situation and many developers likely working in unusual conditions, EA Sports went ahead with the launch of FIFA 21, albeit slightly later than in recent years. The annual sport sim offers some new modes, a lot of streamlining, and the occasional technical issues, all alongside the typically enjoyable gameplay.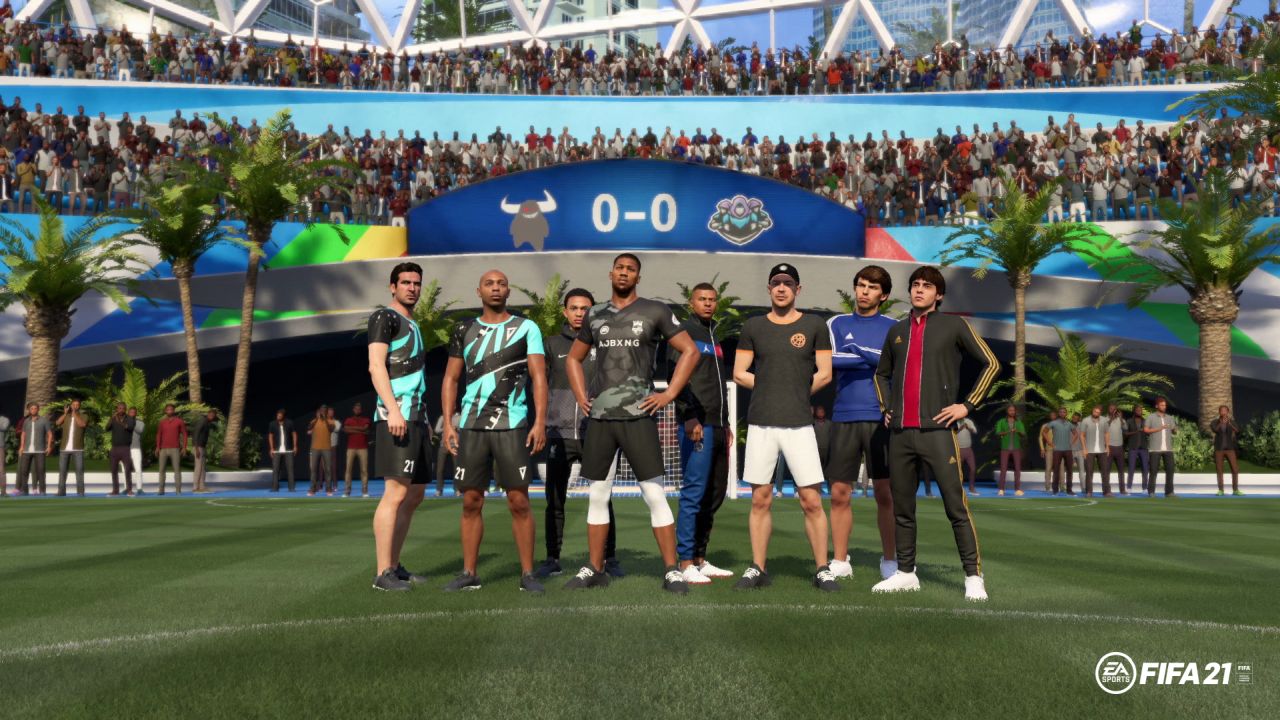 The major new feature introduced in FIFA 20 was Volta Football, a FIFA-Street like experience that let players enjoy a variety of tightly contested matches on small pitches, where tricks and clever passing was the focus. It was expansive enough to almost warrant a standalone experience, and it returns in FIFA 21. This year the mode has been extended in some ways, and shrunk in others. The gameplay remains largely the same – you're still able to play in teams from 3v3 to 5v5 across a variety of rule sets. Worldwide arenas from last year return, alongside 6 new spots to practice your dribbling skills, from small to large and with/without walls. You manage your squad lineup, and can recruit superstars such as Kaka to join, though only one Icon character can be on the pitch at a time.
The story campaign has been pretty much skipped however, as you simply play a couple of matches and a short tournament to establish yourself as a competitive squad. Instead, there are now more options to play online such as Volta Squads for 5v5 cooperative play, or Featured Battles which is similar to FUT's Squad Battles. Everything you do will earn you new rewards, either with direct customization item unlocks or via Volta coin currency. The customization items still focus on the bright and colorful clothing pieces that match the more energetic and freeform gameplay found in Volta, alongside an entirely separate and equally fitting soundtrack. Volta Football continues to be a well executed alternative to traditional football, even if it strips down the narrative aspects.
FIFA Ultimate Team, meanwhile, has received quite a few updates for 2021. The mode still tasks you with creating the best squad you can and venturing online to compete for coins and player card packs. One major change is the fact that ongoing player fatigue (and associated Fitness cards) has been removed from the mode, which means you no longer have to worry about player energy levels between matches. Other streamlining elements include removal of Staff Coaches and training items, and an updated injury system that now has more details about the type of injury a player has. The game is still decently generous with the return of the Objective system and giving players card packs at least initially, though things do slow down after a while and you need to start playing many matches to earn coins to spend.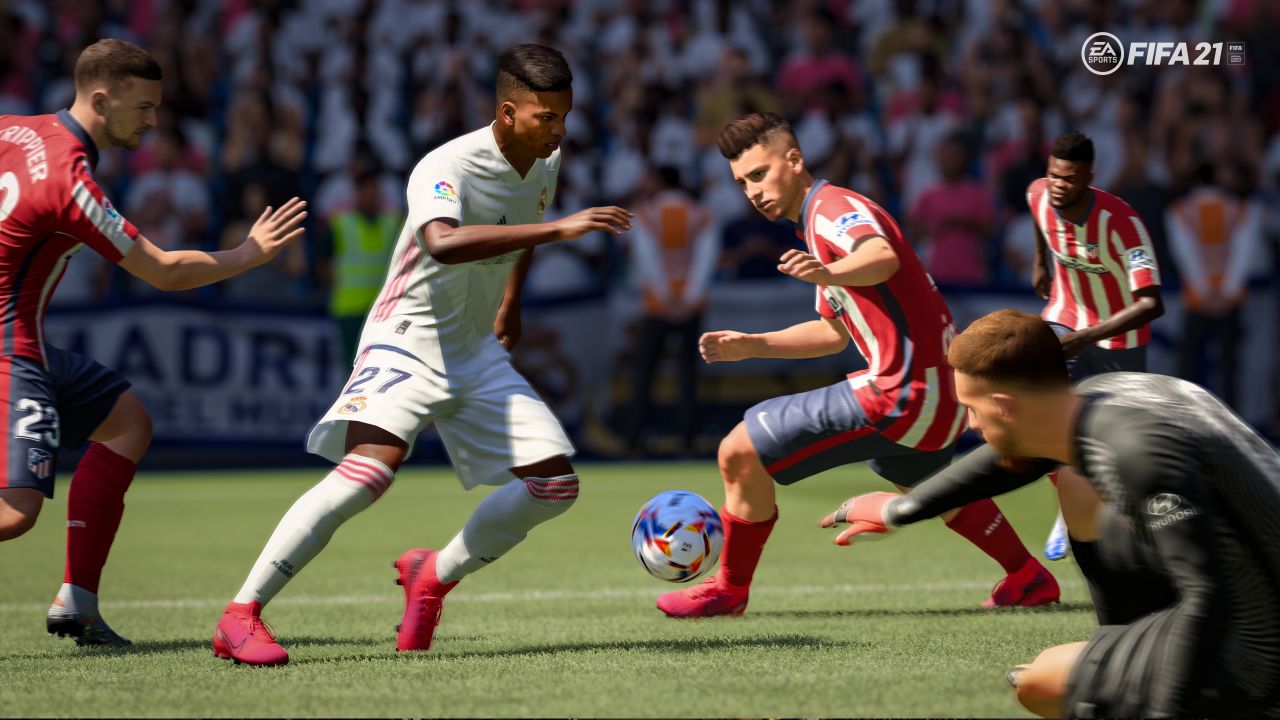 A new addition to FUT this year is the ability to have your own stadium to customize. Borrowing some ideas from EA's NHL series, this system gives players a standard stadium which can then be tweaked with different logos, colors, seat colors, TIFO's, and even trophies on a grand stand. All of these items are unlocked via packs and through in-game accomplishments. You can even select goal songs and fan chants; it's not quite as expansive as the NHL approach, but for a first time debut, the custom stadiums are a neat addition. The mode also gets its usual menu restructuring and more shortcuts; now it's possible to go right to your squad and stadium with up/down on the D-Pad.
FUT continues to offer a few different ways to play both online and against the CPU. The addictive Squad Battles keep being the go-to source of weekly action and good rewards, while online play in Division Rivals and earning a spot for the Weekend League remains competitive. You can also take your squad into new FUT Friendlies House Rules and Co-Op matches, which don't affect your player stats/experience and feature custom rules from the similar offline House Rules games, such as special balls and player attributes. FUT Events are community-driven rewards that grant some customization items to everyone. There's also now an option to use Squad Battles vs. AI to get your Division Rivals placement, without going through qualifying against other real players (results and chosen difficulty determine the placement). However you play, FUT continues to offer a wealth of options, for solo, co-op, and competitive players. It's worth mentioning though, that players still seem to be drawn to the same most popular traditional match types – so others like the co-op modes in FUT or matches in Volta saw very long matchmaking times, and often simply failed.
The offline Career mode hasn't been getting much attention in recent years, and FIFA 21 continues this trend. Taking the reins of your favorite team to guide them to glory remains addicting and time consuming, though this year's game introduces some ways to speed up the experience. The dull training system has been overhauled – with automatic selection of players and practice sessions so that your squad grows consistently and at the same pace. There are lots of new practice minigames, and you only have to complete them once – after that, your players will automatically get that performance grade in the future, even if you simulate the session. Training is how players can gain the new Sharpness level, which temporarily improves stats and performance. You can now set guidelines for how you want the players to develop - towards certain play styles, or even new positions. Youth Academy now has players from the start, and they can also be guided in their growth.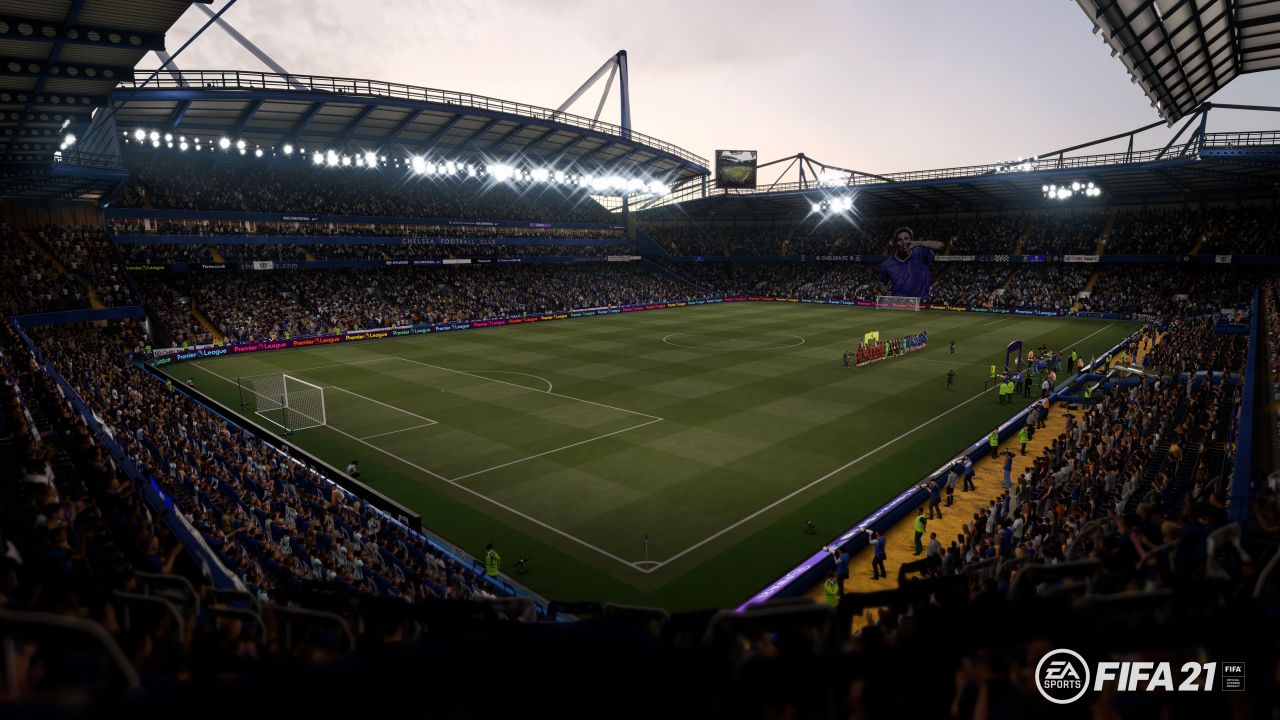 The Sharpness level comes at the cost of frequent training and energy levels. The fatigue has been increased, so players don't recover nearly as much between matches, and squad rotation is a bit more important than in the past. If you find the team is too exhausted, there is a new simple calendar management system to set how many training days you want, how much recovery time there is after a game, and so on. As for the matches themselves, there is now a new Sim option that allows you to observe the game from a 2D perspective and intervene when necessary, like in NHL or football management games. It's a nice option to have if you don't want to just instantly simulate the match. The management of your team day to day remains the same otherwise – sadly other AI managers still made ridiculous trades all the time, like Dominic Calvert-Lewin being sold right away. On the other hand though, the AI is now much more receptive to loans and even offer you interesting deals that involve player swaps. With the various tweaks, Career mode remains a deep and engrossing endeavor, even if there is room for improvement.
Whatever mode you choose to play, when you finally get out onto the pitch, FIFA 21 continues to play a great game of football. The changes from last year are quite noticeable; the collision system has obviously been reworked, and there are much fewer instances of players awkwardly falling all over each other. This allows for more creativity and control, and running at the defenders no longer means you're bound to get caught in a stumbling animation. The controls feel responsive and very satisfying on offense, including seemingly refreshed shooting and dribbling. The game also includes new options to enable automatic special moves and even shots if the AI feels you're in a position to do so, which is a strange feature, but it certainly makes things more accessible to some. Even the defense is more satisfying this year, whether you play in legacy or standard mode. Players are better at blocks and interceptions, and the AI does a decent enough job of not letting the opposition get by.
The goalies, normally fairly reliable and consistent, are surprisingly a bit of a mixed bag this year. While they have very notable improvements, particularly in realism, and one-on-one situations, they also have many strange struggles. There are bugs relating to their behavior and animations, such as being unable to perform a goalkick if the opposition is too close, or not raising their arms to make an overhead save or tip the ball over the bar from a corner. These strange moments occur frequently enough to make them a bit more of a potential liability than usual. The same can be said of the opposition AI. Even on higher level difficulties, they make some strange choices. They tackle terribly on defense, and on offense they love to bomb long overhead passes into nothingness. The ball physics can be occasionally wonky as well, with momentum and bounce of the ball often being a bit questionable. While FIFA 21 offers satisfying of football, it seems there is room for improvement when it comes to AI and some animations – a fairly uncharacteristic start for a franchise that's typically strong right out of the gate each year.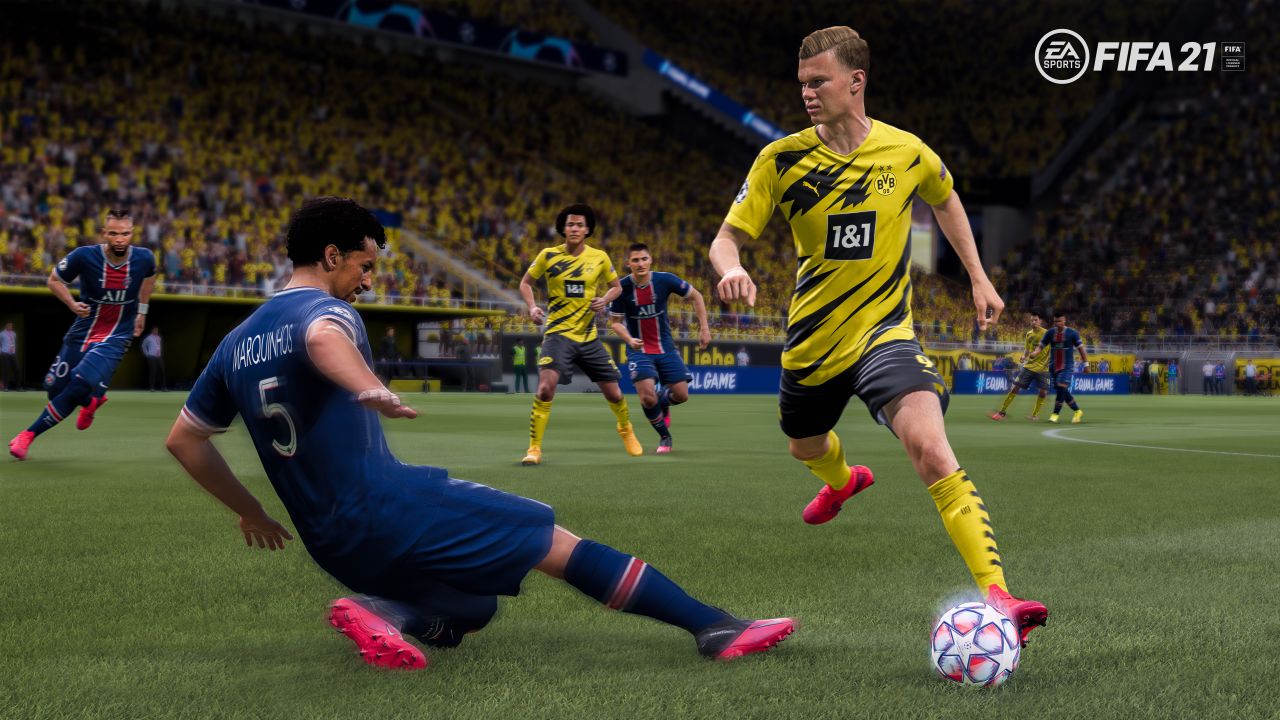 As we approach a new console generation, fans hope that the potentially final release on the current gen platforms will be a sort of best-of compilation. That's not really true with FIFA 21 – while it continues to look solid, the more realistic approach to visuals that competing PES franchise has chosen is starting to surpass the slightly fake looking models in EA's game. Still, if you don't look too closely, the crowds, stadiums, and the atmosphere of the big game remains unrivaled. It's still full of exclusive authentic leagues and players, even as PES continues to steal away Juventus and now Roma. The soundtrack is once again fantastic. But perhaps one downfall in presentation is the single commentary duo of Derek Rae and Lee Dixon for the English speaking world. While the pair do a decent job, they don't quite have as many lines as the decades of updates from Martin Tyler and Alan Smith, whose contract has seemingly come to an end. It was only a short while ago that FIFA offered players the choice of three commentary teams; to see it down to one is disappointing.
Another disappointing aspect is the game's technical performance. Just like the AI, it seems the game isn't in a great shape at launch and didn't have enough time for polish – likely due to the COVID pandemic affecting development. While in-match performance is fine, the game suffers from some serious lag and animation delay across all menus, whether in FUT or offline career mode. At one point, it even got totally stuck and needed a restart.
FIFA 21 is a solid continuation of the franchise, one that chose to push ahead and not take a year off as its competitor PES did. To that end, the result is satisfying, with some great footy to be played, and a wealth of modes that should appeal to a wide variety of players. But some technical issues certainly reveal that the development was a bit troubled perhaps due to the ongoing global pandemic, or due to trying to prepare the next-gen versions; or both. Still, fans of the series should enjoy this year's outing, while newcomers may want to wait for a patch or two - or see what next-gen versions have in store.
Our ratings for
FIFA 21
on PlayStation 4 out of 100 (
Ratings FAQ
)
Comments