Zombie Tycoon 2 Review
A mediocre RTS experience only for those with a fleeting interest in the genre
Zombie Tycoon 2: Brainhov's Revenge is a recently released PlayStation Network action-RTS with the central theme of zombies, as the name suggests. The game features two zombie factions who are in competition with each other as well as AI human enemies. A fairly short and linear single player campaign combined with mutliplayer offerings completes this fairly priced package. Much like zombies, however, the game most often feels lacking a personality or source of fun.
For the sake of avoiding beating the trend further into the ground, let's not dwell on the fact that this is a game about zombies. Really, it's more of a selling point than the game will admit, since pretty much everything in the game could be replaced with a different theme and creatures. Those familiar with Tycoon games will also argue that this isn't a genre entry either – but rather a simplified miniature RTS that has more to do with map exploration than unit management or collecting resources. But then again, the game's main character is named Tycoon so there's a reason to throw that in there.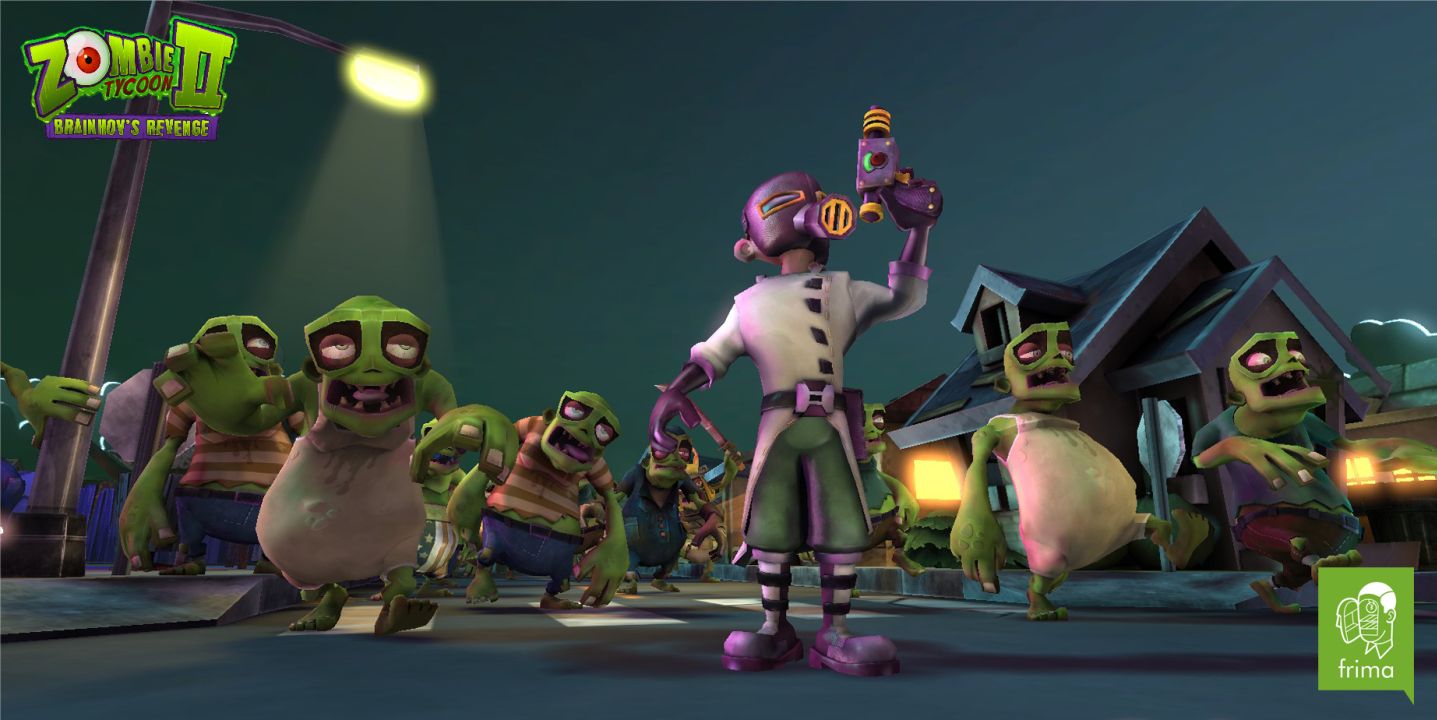 The offline campaign tells the story of a conflict between the Orville Tycoon's classic slow green zombies, and his former boss Archibald Brainhov who is the brain behind the horde of fast blue zombies. For those who haven't played the original game from a few years ago, there's no explanation or story bits provided as to who these characters are or why they are in conflict. The game features no dialogue and a very thin plot, so the only thing that provides any entertainment are the well-crafted animations of the quirky main characters and their undead legions.
You get to play as both these factions during the campaign, though there's not much difference between them. Zombie Tycoon 2 is an RTS in a sense that your time is mostly spent guiding a group of up to four unit types around a map. Each zombie type is tied to your face buttons, so they are ordered by moving the cursor around the map and hitting the corresponding shape. It takes a little getting used to, but the design works for a console strategy title.
Your buttons are tied to two squads of infantry, a monster unit, and your command vehicle. The maps usually feature a number of objectives that need visiting, as well as enemy bases that occasionally produce units. Attacking these houses switches their output to friendly zombies making combat easier. Your command vehicle, meanwhile, can produce reinforcement zombies on the go. There are also special buildings which can change your units' type and function.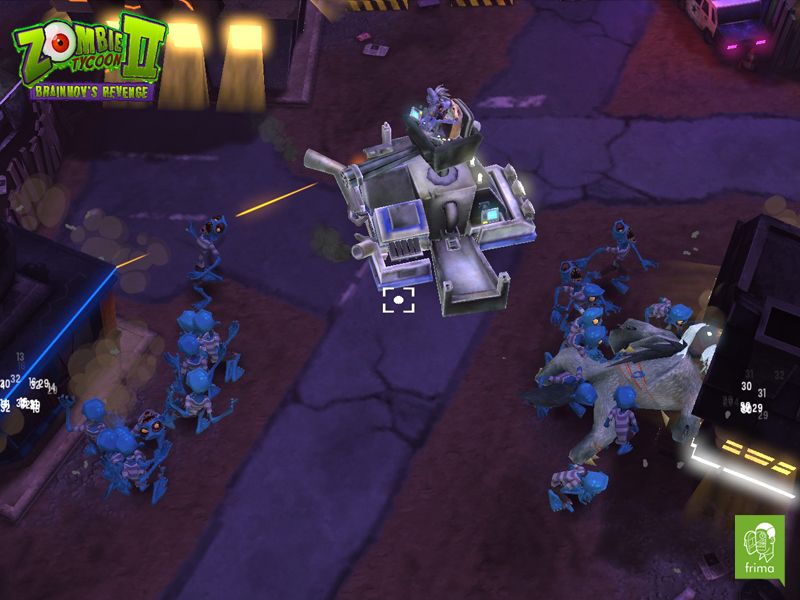 Zombie types are brawlers, engineers, scouts, cleaners, scavengers, and samurai with both factions having each unit type. There are also monster units, two for each faction, who are singular special zombies that have lots of health and four special abilities. At this point, you might think that the game is starting to sound rather complex, but that's far from the truth. Beyond the occasional need for engineers to move an object or your monster unit to help with crowd control via a special attack, the game most often boils down to directing your blob towards the enemy and watching the resulting madness unfold. Not much player input required.
Things don't change much in multiplayer. There is only one map, one game mode, and a very scarce online populace. Once again the general winning strategy is to stick together, so that your commander does not die and can keep reinforcing the zombies around him. As you roll through the map and take over enemy structures, eventually coming face to face with the opposing player, it only matters who can chase down the other commander faster. Sure, utilizing various zombie types and your special monster effectively matters, but it's still a comparatively uninvolving experience.
If it wasn't for the recent popularization of cartoon style visuals, Zombie Tycoon might have stood a chance. But at this point, we've seen it all before, and the only highlight in presentation is the animations of various characters. The developers seemingly attempted to take on a style of Tim Burton, but the actual result looks and sounds rather subdued. Audio effects and the soundtrack are minimalistic and very low key, unable to infuse any style or sense of atmosphere into the game.
The game does feature Cross Buy and Cross Play between the PS3 and PS Vita systems, and maybe the value of the game is sound for the asking price, but there's just one key element missing – fun. A couple of technical glitches also exist, ranging from missing sound effects to stuck units and broken objectives. Camera controls can be awkward and zoom/angle positioning not always ideal.
All said and done, Zombie Tycoon 2 is a disappointing effort. Beyond the animations (that has probably been mentioned far too many times at this point) the game lacks any sense of personality or charm, largely due to uninspired presentation. Gameplay works on a basic level with solid controls, but most of the design that went into the different unit types feels wasted on the blobs of chaos that result anyway. Online play lacks modes and maps, while the single player campaign is short and repetitive. Without much uniqueness, Zombie Tycoon 2 will have a hard time attracting general player interest beyond those looking for a quick and simple RTS on their console.
Our ratings for
Zombie Tycoon 2
on PlayStation 3 out of 100 (
Ratings FAQ
)
Comments
blog comments powered by Disqus