F1 Race Stars Review
Who knew F1 had the formula for a decent kart racer?
This is less of a problem when playing against friends or online. Human opponents are more prone to rash driving decisions than the AI, which leads to frantic and exciting races where everyone's involved. That is, if you manage to actually join a game, which I only did after 12 separate attempts over a number of days, and even then it was versus only one other person. The online is frequently unstable, causing the game to crash four times in my time with the game. Hopefully these are launch window issues, and will be patched out of the game soon, because when you do get into a full 12 player gamer, it's F1 Race Stars at its best.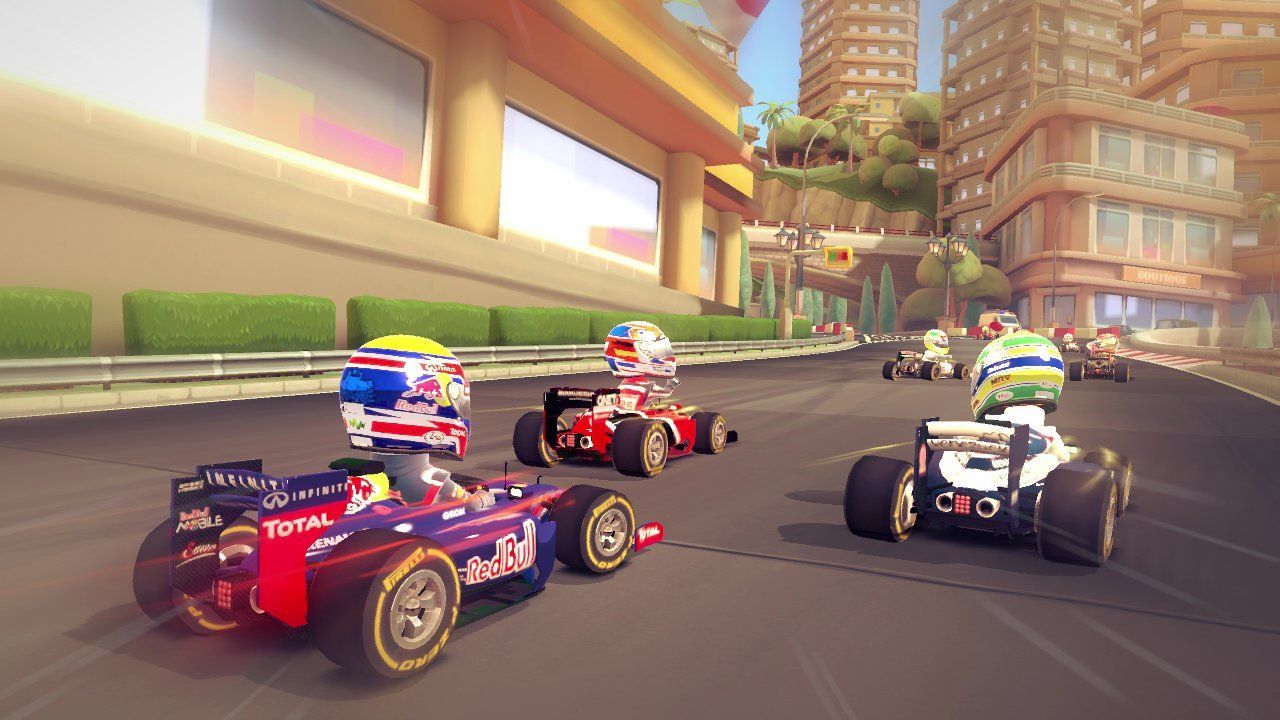 But what about Race Stars at its worst? Well, some of the single player modes attempt to mix up the standard racing formula, but tend to fall short. Racing itself is a smooth experience, Codemasters wisely choosing to retain the tight handling of F1 cars. There's no corner drifting here, and you will need to brake round most obstacles, a strange phenomenon in kart racing. Come off the defined track at all and your car will grind to a snail's pace, so you need to focus on keeping a vaguely efficient racing line - a difficult thing to do given the surrounding chaos. All in all though, it's a nice balance between belting it down straights and taking tight turns, so it's a shame the career mode insists that you take different approaches to racing.
The worst example is elimination, where the player in last place periodically gets booted out the game. Though this is a common mode in many racing games, it just doesn't work when places are exchanged every ten seconds, and it can be brutally unpredictable. The same applies to the Trophy Chase event, where you earn points by driving though trophies dumped on to the track. The trophies only respawn once per lap, so if you're anything lower than third place, there will likely be no opportunity for you to score, ever. It's not fun, and again, dependent on the notion of luck rather than skill. Gate mode encourages you to drive through certain coloured, yep, gates to pick up points, but it usually outstays its welcome and offers nothing particularly thrilling. Another wasted opportunity is the refuel races, where having more fuel on board slows down your top speed, but you have to avoid the risk of running out completely. There should be a lot more strategy to this than there actually is, and turns out to be a dull mode, especially considering the pace of the cars is not very impressive at the best of times. Surprising given we're dealing with the world's fastest sport.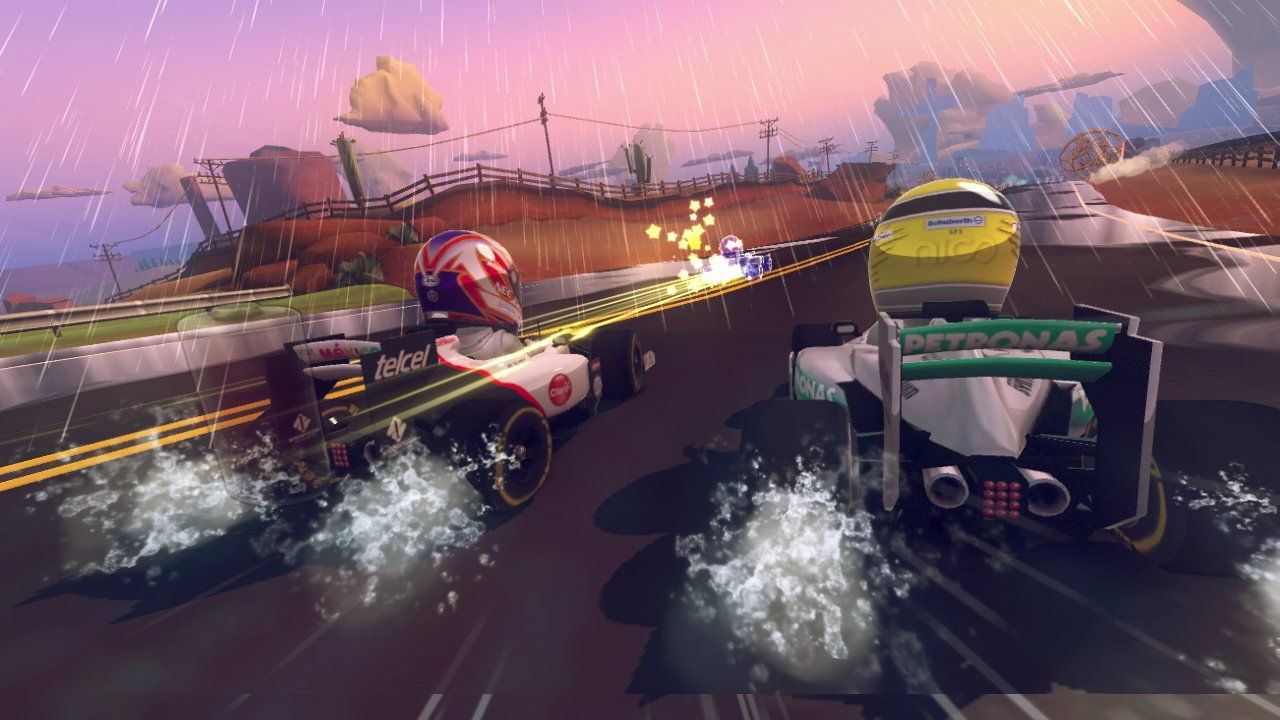 Only one single player mode rivals the excitement of races - Sector Snatch. It kind of plays like the qualifying for the Grand Prix, except the track is split into sections. Whoever completes a section the fastest gains control of that sector, and whoever has control of the most sectors by the end of the laps, wins. It can be brilliantly tense knowing that this is your last chance to get a hot run through a contested sector, with victory hanging in the balance. The only problem can be the pettiness of the power-ups, which will have you wishing they could be turned off for some purer karting fun.
Despite some frustrating moments, these are fairly easy to forgive when you admire the enthusiasm and care that has been put into F1 Race Stars. Given that this is Codemasters' first foray into a very different race experience, they've managed to capture the fun and wackiness of kart racing first time around. Over long periods of play, the single player can feel a little shallow and unrewarding, and some power-up mechanics are a little wonky, but with friends, that won't matter. Kids, too, won't notice these faults, and will probably adore the look and feel of the atmosphere. Though it has its flaws, F1 Race Stars is a solid kart racer, with fun at its core and some interesting Formula 1 twists.
Our ratings for
F1 Race Stars
on Xbox 360 out of 100 (
Ratings FAQ
)
Comments
blog comments powered by Disqus