Resistance 3 Review
A prominent shooter that helps elevate the PlayStation exclusive lineup, but doesn't quite come out on top
Resistance 3 marks the release of the second title this year alone that is both a PlayStation 3 exclusive and a first person shooter with a number three on the end. But, to be fair, Sony has done its best to avoid direct competition between Killzone and Resistance franchises, as that would have been plain bad for business. You can't help but compare the two, however, and so far the Resistance IP has been falling behind its platform competition through the years. With Killzone 3 already in the books, is Resistance 3 able to match it? Read on to find out.
Though it's difficult to avoid plot spoilers for a third title in a franchise, we'll do our best. Resistance 3 sees the arrival of a new protagonist, Joe Capelli. It is told that Capelli carries the antidote to the Chimera virus, an alien entity that has swept the globe and completely overwhelmed humanity. The antidote was given to him by none other than Nathan Hale, the protagonist from the previous two games. Now in the 1950s, Joe is living in Oklahoma with his wife and daughter, hiding out underground and doing their best to survive from the lack of proper nutrition and continuous Chimera patrols. However, Doctor Fyodor Malikov arrives in search of Capelli, and unknowingly brings with him a Chimera Death Squad. Malikov tells the settlement of a great tower in New York which has opened a portal to another world and has began covering the world in an ice age. Their only hope, it seems, is for Capelli to travel there and attempt to destroy it. His wife encourages him to do so, and he departs alongside Malikov.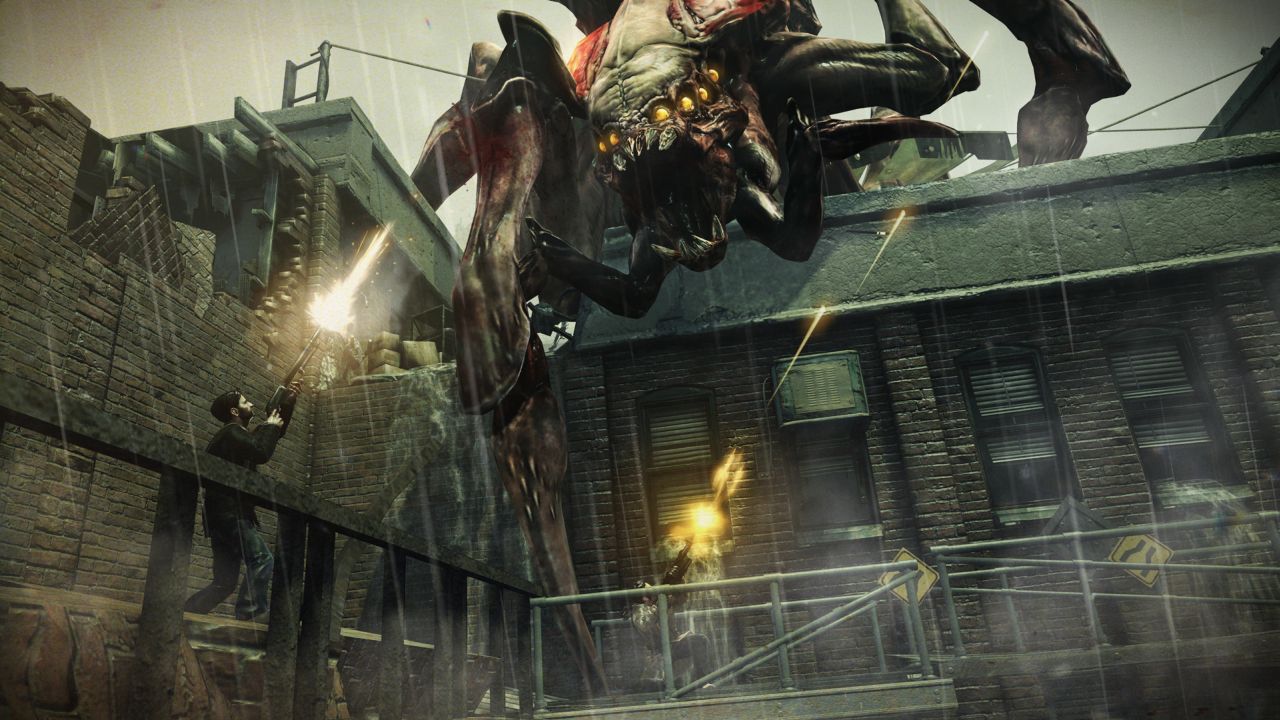 What follows is a detailed account of events as the pair travels across the country, coming across different people and areas, each with their own challenges. Some rather significant events and scenarios are visited by the plot, with deep topics such as what it means to be human, but it falls a bit flat. The developers clearly attempted to create a desperate, emotional story of one man's journey to save humanity, but it doesn't exactly fit when you're single-handedly mowing down hundreds of enemies. Save for an emotional and well made scene in New York near the end, many of the locations aren't very memorable and are even close to what's been already covered in previous Resistance games. Likewise, the ending falls short of Resistance 2, in both presentation and emotional impact. It feels anticlimactic, but hey, at least it wasn't a cliffhanger. The campaign is of similar length to previous titles, that is to say it's a bit short at around 5 hours on normal difficulty. Players can go back and try to collect all letters and audio diaries, but beyond that there isn't much replay value.
As a first person shooter, Resistance 3 is as solid as ever. Based on fan feedback from Resistance 2, the weapon wheel is back, and so is the ability to carry all the weapons you wish at once. This is a welcome change, because the weaponry remains one of the highlights of the experience. From the creative Auger to the classic Marksman, weapons feel great with plenty of weight and power. New for Resistance 3 are the weapon upgrades – depending on how much you use a weapon, it has up to two additional benefits that can be unlocked. For example, using the shotgun will unlock its ability to use fire bullets, while the Auger can gain the ability to fire three shots at once. Perhaps the only downside to the system is that there is no way to readily check what level of upgrades you've unlocked for a gun without digging through menus, or waiting for a contextual progress bar to pop up.
Comments