Killzone 3 Review
Though not a technological leap, this third chapter in the Killzone franchise offers a variety of improvements that add up to an enjoyable shooter
Not only did Killzone 2 prove what the Playstation 3 hardware was capable of, it was also a good shooter that gained a strong following for the franchise. It was the first title in the series on PS3 and showcased some of the best graphics ever seen on consoles. Now 2 years onwards, Killzone 3 has arrived and packs a serious punch just like its predecessor. The graphics remain great, most of the technical issues have been resolved, and with a better narrative and tighter controls, Killzone 3 is indeed the sequel that fans were hoping for.
The story picks up pretty much literally where Killzone 2 left off, so it is strongly advised to play through the previous title to get up to speed. Players once again assume the role of Sergeant Tomas "Sev" Sevchenko, a veteran with the human ISA force. Having just killed the Helghast leader Visari, Sev and his best buddy Rico regroup with a small group of soldiers and attempt to make their way through the destroyed capital and catch an evacuation ship from the hostile planet. Unfortunately things don't go as planned, and the group is forced to stay on the enemy planet for six months. Meanwhile, the story of an internal struggle for power in the Helghast leadership develops. Chairman Jorhan Stahl, a private military researcher, offers the Helghast high command his advanced weaponry if they would be willing to follow his leadership. The council refuses, and Stahl holds on to the technology for his own use.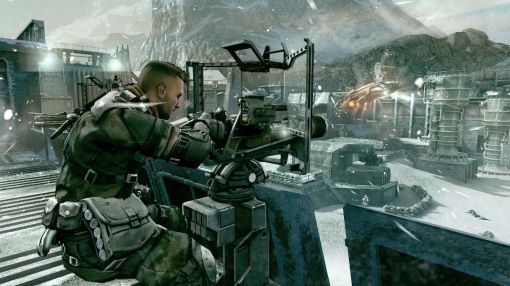 Overall, the story in the game feels much better paced than Killzone 2. The players won't have to wait nearly as long to hop into some advanced armor for on-rails as well as open-world machine warfare. The action keeps the story flowing, though the cutscenes often feel like rough cuts and sometimes don't follow the events directly before and after them. There are still significant gaps in the story as well - how does our group of survivors manage to live for six months in the wilderness of the planet? Perhaps the atmosphere has been deemed safer after years of Helghast activity and someone forgot to tell them, or they just fashion the headgear. As for the conclusion – it is not memorable enough for a supposed last chapter of the trilogy. And let's just say, if you thought Killzone 2's ending was a bit too long and difficult – this time around, it's the opposite.
The action is once again relentless in Killzone 3, but it doesn't have the same desensitizing effect as something like Call of Duty. The battle is often ongoing, but with the series' cover mechanic and better level design this time around, a lot of tactics come into play. It is still viable to attack the enemy head on and occasionally pop out of cover to take shots – or players can navigate the level and find flanking positions while their AI teammates draw the fire. Not to be outdone, the AI is smarter as well and capable of finding cover, firing around corners and attempting to engage the player in groups. There aren't many new types of enemies to be faced in the game (more on this later), and even a few familiar faces from Killzone 2 make a brief return.
Comments
| | |
| --- | --- |
| #9 Mar 9, 2011 12:18:23 (Mar 9, 2011 12:18) | |




kamikaziechameleon

@ nut

I had that sensation in the last game. The awesome scripted moments felt better in first person than with a 3rd person cinema for sure.

| | |
| --- | --- |
| #8 Mar 8, 2011 16:51:46 (Mar 8, 2011 16:51) | |




nutcrackr

@kami: That's my biggest problem with them, at least half are not for story and could have been done in first person mode. Plus lazy story gaps mentioned in the review annoy me.

| | |
| --- | --- |
| #7 Mar 8, 2011 15:20:40 (Mar 8, 2011 15:20) | |




kamikaziechameleon

@nutcrackr

I wouldn't mind so many cinemas but this story in this game is supposedly kinda a dissapointment yet again so it does feel intrusive. No matter I'll buy and play the heck out of this soon enough.

| | |
| --- | --- |
| #6 Mar 7, 2011 19:11:39 (Mar 7, 2011 19:11) | |




nutcrackr

This game needed more movies early on, one every 5 minutes is not enough.

| | |
| --- | --- |
| #5 Mar 2, 2011 20:24:18 (Mar 2, 2011 20:24) | |




| | |
| --- | --- |
| #4 Mar 2, 2011 18:10:53 (Mar 2, 2011 18:10) | |




kamikaziechameleon

I don't think move will really improve a core gaming experience that much.

| | |
| --- | --- |
| #3 Mar 2, 2011 17:43:01 (Mar 2, 2011 17:43) | |




nutcrackr

Sitting on my PS3 ready to go.

I bought it for the Fro.

I'm ready to get into the groove.

Even though I don't have PS Move.

| | |
| --- | --- |
| #2 Mar 1, 2011 15:49:55 (Mar 1, 2011 15:49) | |




kamikaziechameleon

I loved KZ2 and this looks even better. The sp has a kinda pointless story but the experience is really solid and I'm happy with the improvements to the mp. I must go buy it soon as I get through the back log.

| | |
| --- | --- |
| #1 Mar 1, 2011 14:33:06 (Mar 1, 2011 14:33) | |




sirdesmond

This game really seems to have just came and went. I didn't even realize it was out or going to be out soon until I saw this review go up. Maybe it's popular in some circles that I'm just not a part of.