Portal 2 Review
Marred only by its brevity, Portal 2 is an exemplary puzzle game that will have you chuckling and banging your head against the wall all at the same time
A standard playthrough of the co-op campaign will last 4-6 hours, meaning that your overall time spent with the game will be around 10-15 hours. Given that there is almost no replay value, this means that you aren't getting much bang for your buck. While what content there is in Portal 2 is of extremely high quality, you will be wanting more when you finish, yet there is no more. This is the Portal 2's biggest problem: there isn't enough of it. I can't help but feel that a few challenge maps with leader boards would have helped to negate this issue, but as it stands Portal 2 is still a very good buy if you are a fan of the original.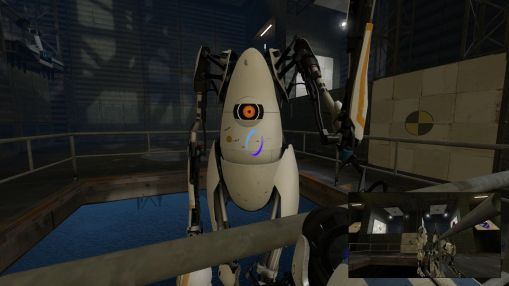 There are times in co-op when suicide is the only option
Visually, the game looks quite good considering the age of the Source engine. A few blurry textures are made up for by fantastic animations and good lighting effects. As with all source engine games Portal 2 is very well optimized and doesn't require top of the line hardware to run well on the highest settings. The only thing that lowered frame rates for me was the liquid-physics found in the puzzles involving gels. The audio in Portal 2 is really where the games presentation shines however. The music, which is mostly fast and electronic, works stupendously with the game, and comes in at just the right times. There are different cues for different music; for instance when you are bouncing on repulsion gel certain music will play, whereas when you are flying through the air from a spring board another motif will cycle. This gives puzzle solving a fun and fresh feeling as you whiz through the air while appropriate music plays.
The voice acting and writing in Portal 2 warrant special attention; the quality of these is easily on par with the highest quality Disney Pixar animated films. The voice work is really great and the three characters whom you hear from the most often will continue to spout such pure comedy gold that you would be wise to sit still and listen while they cycle through their repertoire. This is probably among the best voice acting and writing ever seen in video games.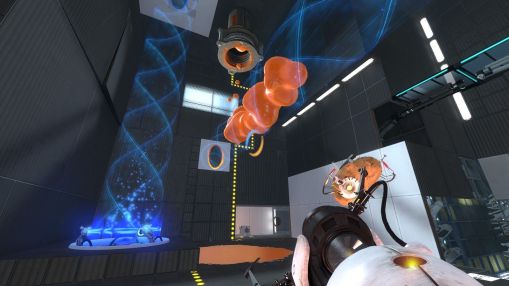 Later levels often include a multitude of variables
In the end, if you enjoyed Portal 1, you will almost certainly love the sequel, and shelling out the full 50 dollars for the game will seem highly worthwhile. If you aren't as wildly enthusiastic about the series, or puzzle games in general, you might find the amount of content to be a bit light considering the price tag. Regardless, what is here is of the highest quality, and the 10-15 hours you will likely spend with the game will provide no shortage of fantastic and memorable moments. Portal 2 is bigger, better and more varied that its predecessor, and is overall an extraordinary sequel and a brilliant and creative puzzle game.
Our ratings for
Portal 2
on PC out of 100 (
Ratings FAQ
)
Comments
blog comments powered by Disqus
| | |
| --- | --- |
| #1 May 2, 2011 19:23:06 (May 2, 2011 19:23) | |




nutcrackr

I think they did a good job keeping it fresh too, the new puzzle devices and areas that aren't just test chambers help make that 6-7hr journey flow really well. I also really enjoyed some of the later co-op levels and would be interested in playing more. I do think that Portal 2 has extremely low replay value though, replaying co-op levels wasn't pleasant. Doesn't really make life easy for those wanting to play co-op later when most everybody has finished it.