Portal 2 Review
Marred only by its brevity, Portal 2 is an exemplary puzzle game that will have you chuckling and banging your head against the wall all at the same time
Valve has an undeniable knack for creating compelling and intriguing game worlds, and the massive underground complex of Aperture Science is certainly no exception. The relative lack of context and background information paired with the seemingly rich history of the facility means that instead of the game simply explaining to you the purpose and history of Aperture Laboratories, you have to piece it together from the dialogue and environments of the game. These environments are far more diverse and dynamic in Portal 2 than in its brief but undeniably brilliant predecessor, and this goes a long way to making Portal 2 the special and unique game that it is.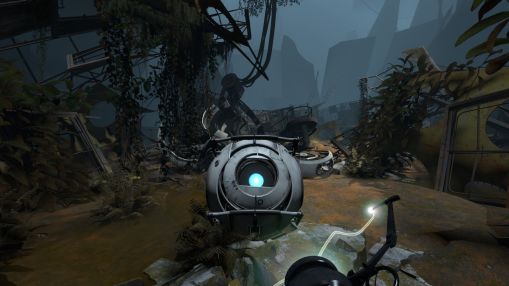 Aperture has descended into disarray in the absence of Glados
Given that Portal 1 consisted of a series of test chambers, it isn't surprising that Valve had to mix this formula up a bit in order to create a longer and more robust singleplayer experience. The direction that they took the singleplayer in, however, is quite interesting. While the element of testing in successive chambers is still there, you now get to see behind the sparkling clean walls of these rooms into the under workings, and even past iterations, of the vast and bizarre world of Aperture. At the beginning of the game you wake up after what seems like a very long time and find the facilities of Aperture in disarray. A new character (or robot rather) called Wheatley guides you through this decaying and overgrown version of Aperture until you stumble upon Glados who soon wakes up and begins the task of cleaning the facility and creating test chambers.
If you thought Glados was mean spirited in Portal 1, she is twice as cruel now due to the events of the first game. Her consistent deprecation of your physique, puzzle solving abilities and seemingly unfortunate future replace any form of praise, but while these remarks are cruel they are often very funny. The bumbling new robot Wheatley provides a great counterbalance to the dry, cruel remarks of Glados, and when the two are in a room together some of the funniest moments of the game occur. Other new characters who you find in the game are all equally well written and absolutely hilarious in their own ways. Remarkably all of these great personalities and characters are found in robots rather than humans, something wonderfully fitting with the world of Portal 2.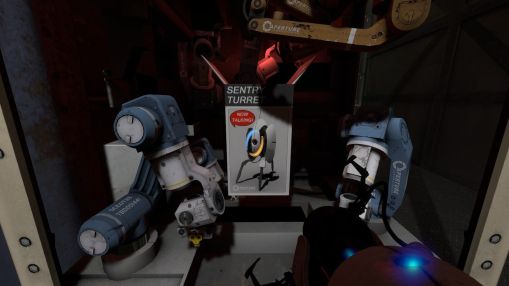 Haven't you ever wondered where sentry turrets are born?
As you progress through the game and the wonderful story unfolds, you will learn of the purpose and the past of facilities without being told about them directly. Rather the environments of the game tell the stories themselves. As the game progresses new environments are encountered; they are all incredibly interesting, varied, and full of the game's trademark wit. Each new area has you solving puzzles in a different way using different variables, and these puzzles are all superbly designed and are the major reason for Portal 2 being such a joy to play. It is difficult to suggest how challenging the puzzles in Portal 2 are since everyone has different abilities when it comes to solving puzzles with portals. How quickly you solve the puzzles on your first go will dictate how long the campaign lasts; for me it lasted about 7 hours and I got stuck a handful of times on some of the levels throughout the game. Typically a standard playthrough will last anywhere from 6-8 hours, which while much longer than the first game isn't exactly impressive.
Comments
| | |
| --- | --- |
| #1 May 2, 2011 19:23:06 (May 2, 2011 19:23) | |




nutcrackr

I think they did a good job keeping it fresh too, the new puzzle devices and areas that aren't just test chambers help make that 6-7hr journey flow really well. I also really enjoyed some of the later co-op levels and would be interested in playing more. I do think that Portal 2 has extremely low replay value though, replaying co-op levels wasn't pleasant. Doesn't really make life easy for those wanting to play co-op later when most everybody has finished it.