Watch Dogs: Legion Hands-on Preview
We get another look at the upcoming open world title
The Watch Dogs franchise has had a rather turbulent history, even after just two entries. The first game was a serious, revenge-focused tech thriller for a lone protagonist. The sequel, meanwhile, switched everything around and offered a much more light-hearted take with a group of young rebels – a change that didn't combine well with their use of deadly force. For the third entry, Watch Dogs Legion, the theme shifts back to a more serious tone, though your AI companion Bagley looks to inject humor into the situation. We first had a chance to see and play this upcoming title back at E3 2019, and the game was originally planned for launch in Spring 2020 - but the launch was pushed back. Although E3 2020 was cancelled, we still had an opportunity to go hands-on with the latest build of Watch Dogs Legion to see if anything has changed since last year.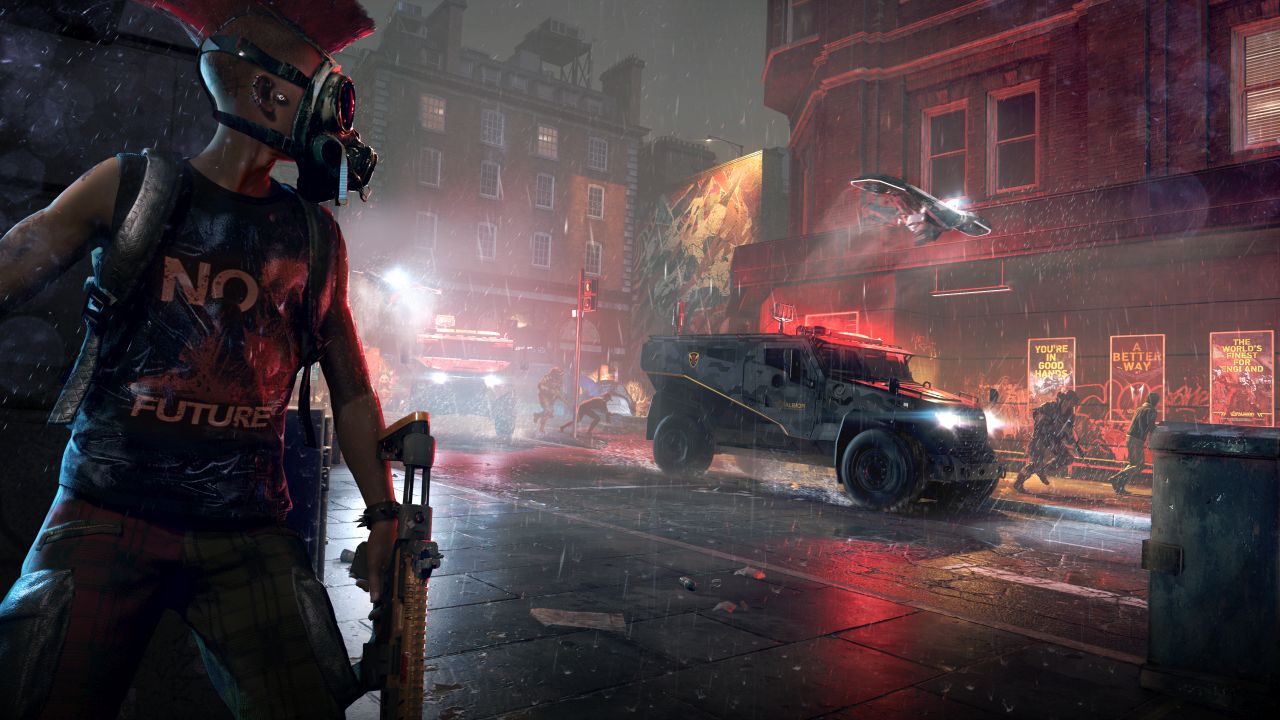 The game takes place in a futuristic version of London, where the UK government decided to use a private military organization to eradicate crime. The company known as Albion first did a great job cleaning up the streets, with their use of force and drones. However, eventually they began to grow in power and extended their influence beyond catching criminals. Riots soon began, and so did the harsh crackdowns, as the city found itself in a power struggle.
The hacking organization known as DedSec tried to put up a resistance, and was hot on the trail of a supposed bomb planted right in the UK House of Commons. However, having defused that bomb, they realized that there are more of them throughout the city. With those explosions going off, DedSec is framed for causing them, and the group is harshly dismantled by Albion. However, the main idea of Watch Dogs Legion is that DedSec is not one single person, but rather a group of various individuals, and so we begin the game with a new DedSec recruit who's had enough of the oppressive life. With the voice of Bagley in his ear, we set out to track down who framed the organization.
We had a chance to play over 3 hours of Watch Dogs Legion, and the experience felt quite familiar to fans of the series. The world is still run by ctOS, which means you can hack various drones, security cameras, and people's personal data on the go. Players can fast travel via the overhead map between subway stations that they've come by, or return to the hideout where other crew members hang out. London is a densely packed urban environment, and in typical Ubisoft fashion is it quite detailed and well realized. Interestingly, it's the second time the publisher is going to use the city, though of course a few centuries apart. Missions will take you all over London, and there didn't seem to be any restrictions of which zone you can go into. Cars are easily hijacked with a hack, and the handling feels decent, if a bit heavy. Besides visiting shops and collectable documents, we could even do a football kick ups minigame.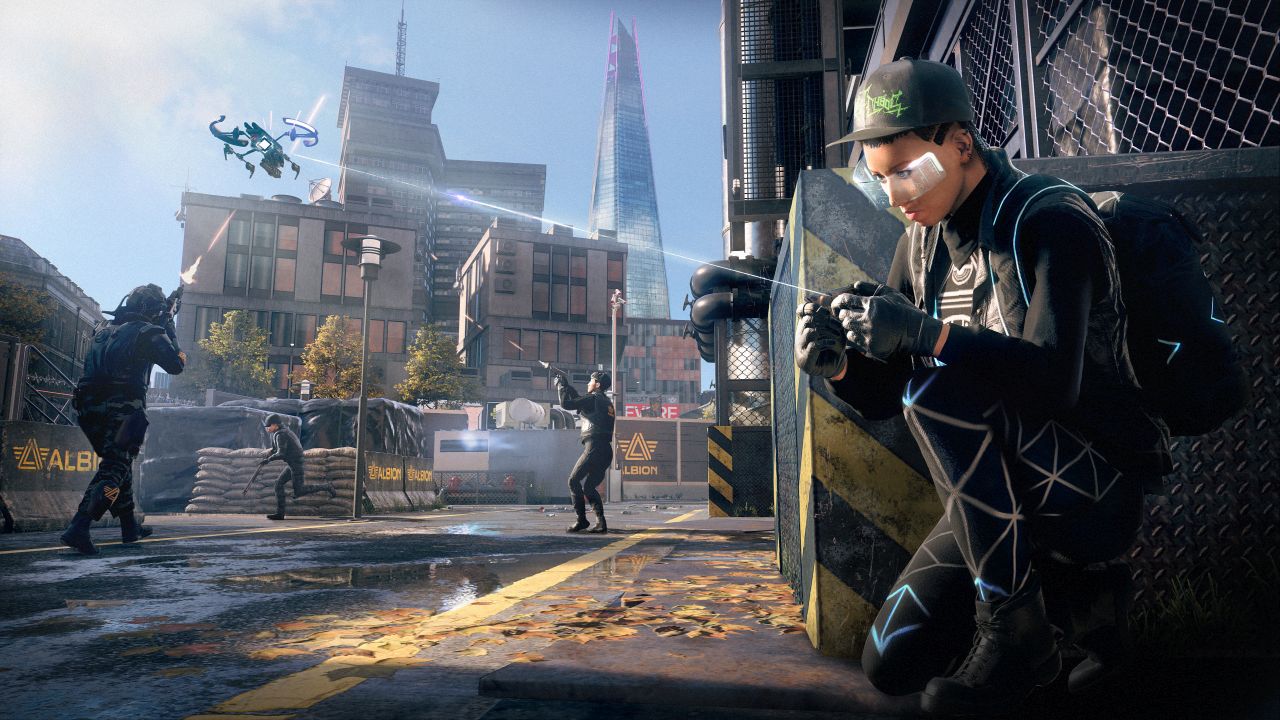 First, we opted to undertake a series of typical story missions. We met up with some contacts who claimed to have information on the bombings, and had to infiltrate various restricted zones. In typical Watch Dogs fashion, thanks to our hacking abilities you're able to jump from camera to camera, activate traps to eliminate or distract enemies, and often complete your objective without setting foot in the zone. Of course, there are some panels and tasks that can't be done remotely, but with some patience you can almost fully clear out the area of hostiles before going in. The new common flying drones let you zip around and see where you need to go, and the industrial drones let you amusingly pick up and drop cargo on enemy heads. Those same drones are also large enough to climb atop and ride around, which made a few missions very trivial, eliminating any need to sneak through enemy territory. The more difficult tasks, such as downloading data by being within range of a target enemy, remain the most thrilling.
Other than sneaking into enemy territory, some of the missions also had us solve the environmental data flow puzzle that fans will recall from previous game. These puzzles had us either jump camera to camera to get the angle on each rotatable switch, or use a drone to look around, or the hacking remotely controlled spider. While we've played a number of missions and side quests in our Legion demo, there was certainly a sense that the game lacks variety somewhat. Every single mission had us sneak into enemy territory, for whatever trivial reason – steal/hack/plant a virus, etc – but the gameplay was very much the same each time. The puzzles were neat, but again the mechanics were the same. It is of course just a slice of the full game, so hopefully the full version will be improved upon.
As alluded to earlier, the major new aspect of Legion is the fact that there is no main character. Instead, the players will grow a group of DedSec operatives to use as they see fit. In the game, each NPC walking the streets can be recruited to your team, and their main characteristics and roles are available to view before you start recruiting. This can feel a bit overwhelming, so the game helpfully points out the best recruits to pursue. Each character has their own personality and voice dialog, though how much variety the full game will have remains to be seen. We did run into a couple of clones during our open world roaming.
The setup is similar to State of Decay, where each character has their own weapons and abilities. For example, the spy type has good stealth takedowns and brawl moves, while the hacker can get through security quicker. You can of course still equip everyone with the weapons you've unlocked and 3D Printed, and change their visual looks. The characters also sometimes have a uniform, such as policeman or a construction worker, letting you wander into those restricted areas without raising alarms. As your group grows, so do your gameplay options, with each new recruit essentially presenting a different loadout option. If you happen to get spotted and get beat up, that character becomes injured and it will be a while before they can be used again. Having a medic on the team helps with recovery time.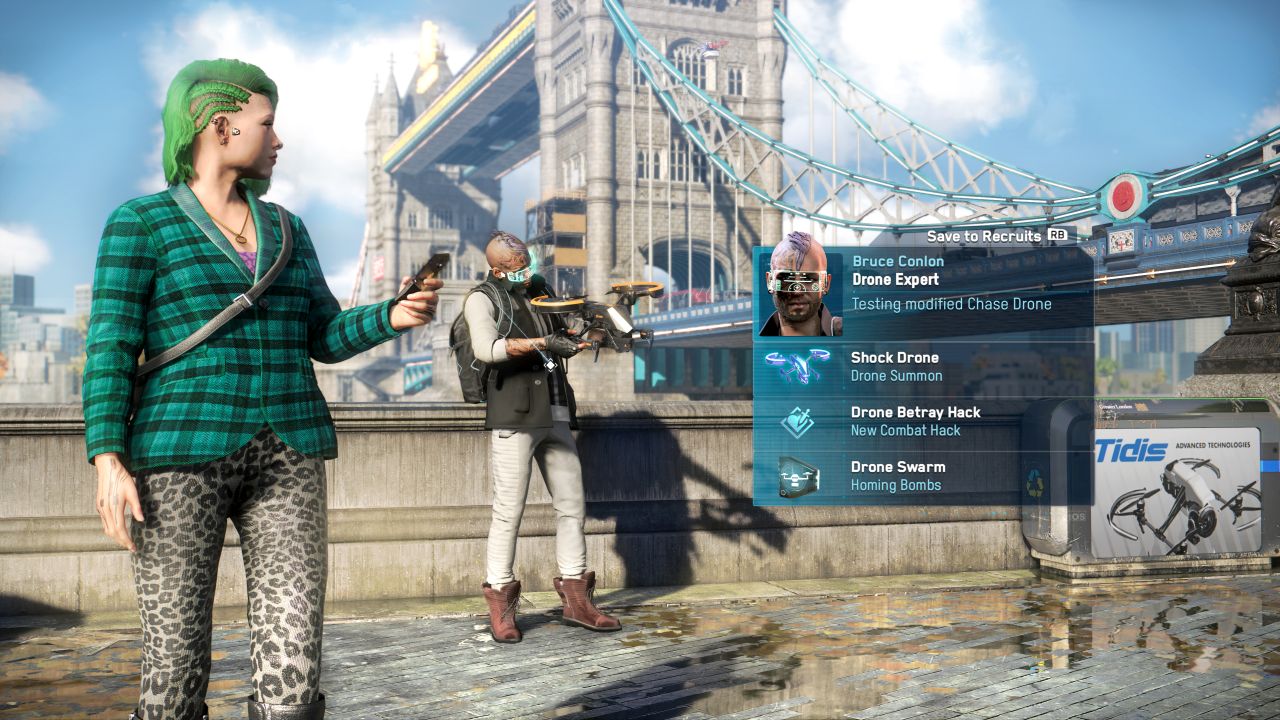 In order to recruit new members, you must complete their mission. Often, it's something personal to persuade them to your side. They may need you to take down their work rival, or get them out of debt with some bad guys. The missions still involve sneaking into restricted areas. Once you're done, they become part of your group. Some characters that are more valuable don't have a mission right away, and you have to look at their personal schedule and follow on a lead. On the one hand, it's very cool to see an NPC's entire daily schedule, where they are and what they will be doing. On the other hand, it's just an extra step to go to the location and fast forward time until they show, and then talk to them and initiate the recruitment mission.
From our multi-hour hands-on session with Watch Dogs Legion, it seems like the game is shaping up well enough. The new serious tone and setting are much better realized than the second entry, and London is looking like a lived-in place during times of civil unrest. Hacking and stealth gameplay remains solid, and about the same, though the addition of drones is sure to provide players with even more options of approach. The big new feature of recruiting a DedSec team and not having a central character is enticing, but it will be interesting if the game can manage to engage players with its story given no central hero. The missions we undertook did start to get a bit repetitive, and hopefully the full game will have a bit more variety than just infiltrating restricted zones, and doing the flow puzzles, over and over. Watch Dogs Legion is planned for launch on PC, Xbox One, and PS4 on October 29, 2020. Xbox Series X and PS5 versions will follow.
Comments