10 years of NGN - A word from Alex
A letter from the co-founder on the website's milestone anniversary
10 Years. It's a decade. It's the difference between going to grade school and getting your Master's Degree. Entertainment franchises rise and fall, companies rise to the top and come crumbling down. A lot can happen in such a long amount of time. As such, it's no easy feat to keep going through so many years. But we've done exactly that – this month, New Game Network celebrates its 10 year anniversary, since going live in January 2009.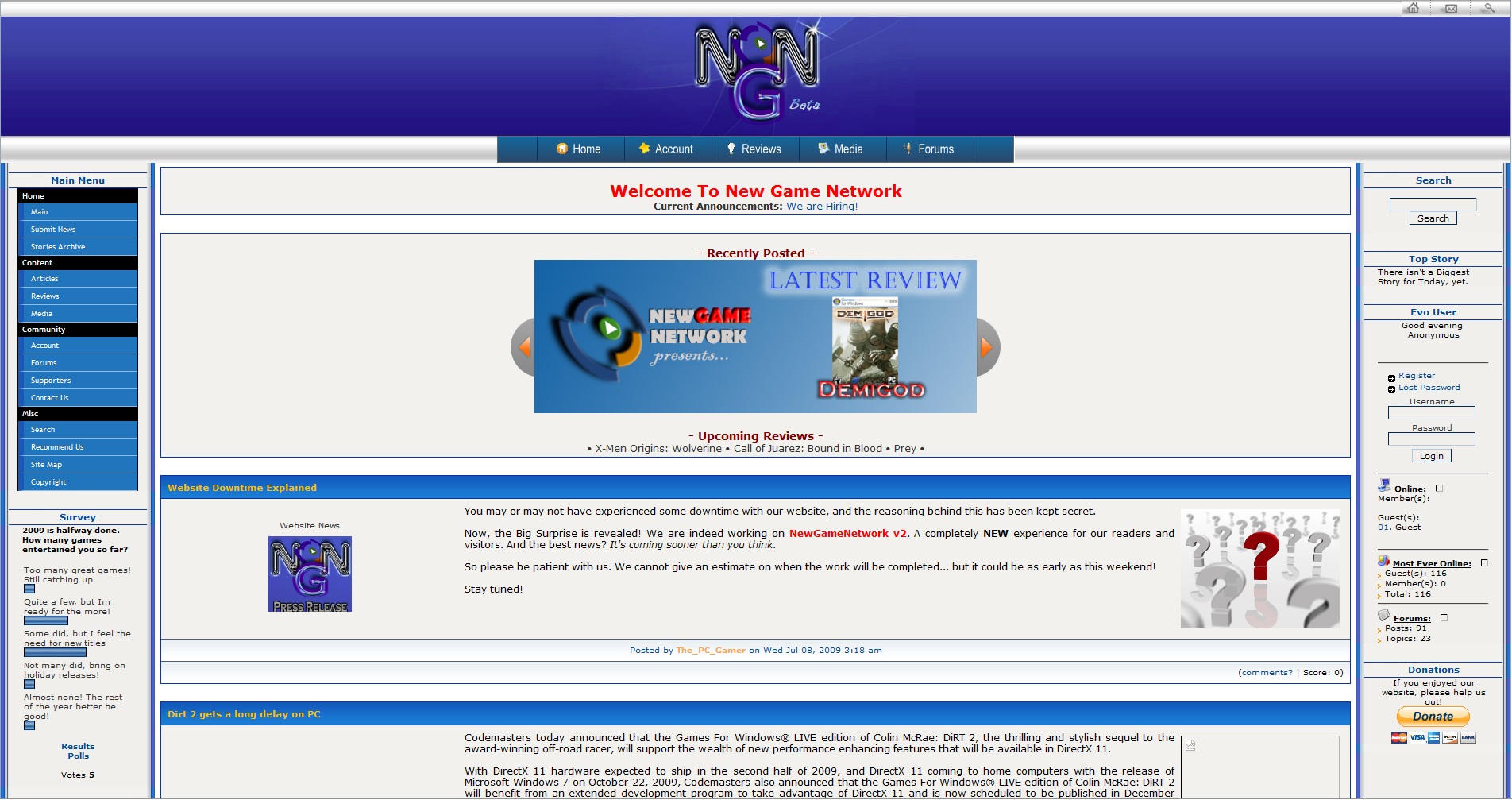 When Ben and I started this website all those years ago, I didn't have hefty goals or expectations. I wanted to create a new site that could provide a new and independent voice to the video game industry. I wasn't sure if it was just a hobby that would last for a few months, or something that would end up taking so much of my time over the years. In Ben, I found the perfect co-founder at a perfect time. Originally, we started off with Ben handing the editorial duties as he was more experienced with that, and I was working on the code. But within the first few years, we've swapped these responsibilities and found what works best to our strengths. The website wouldn't be what it is today (or, probably, not be around at all) without Ben's tireless efforts, for which I am forever grateful. And it's great that after all these years, we're both still here and both share the same passion and vision as on day one.
Writing this, the reality of it all still surprises me; the fact that the website has been going for so long, the amount of recognition and the credibility that we've achieved. It seems not that long ago we celebrated our year one milestone. I believe that I've never taken anything for granted. To interact with the greatest minds in the industry, having the opportunity to attend trade shows, game launches, and many other events; this is what lifelong memories are made from. And the fact that we've been doing it for so long is even more daunting. A lot has happened, and we have summarized some major events in an infographic.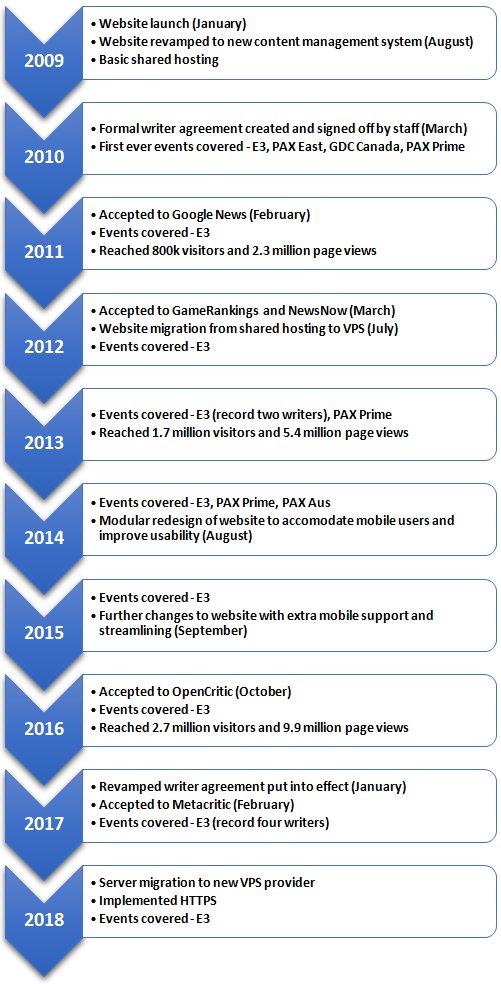 Due to our unwavering core and editorial values, NGN has perhaps taken a much harder road than some other websites, but it's all worth it in the end, as we were able to keep our values and integrity intact, and remain fully independent. We always shied away from advertising, and have often opted to display minimal, carefully controlled ads, or even no ads at all. The entirety of the website and its operational costs are covered privately. What little income we had from ads was put right back into the site.
Similarly, we've never done a single "promotional post". Such articles have been offered to us frequently over the years, promising cash to post something that may look legitimate, but wasn't actually written by us and contains links to questionable third party websites. You may find other websites in our tier (those who aren't part of a large corporation) resorting to such tactics, whether it's for profitability or just to stay afloat. But, thankfully, we never had to, and never will. At least not while Ben and I are in charge.
Just as poor ads may damage a website's credibility, so can poor content. We've never been first when it comes to reviewing a brand new game, or breaking news. For one thing, it's incredibly difficult to compete and be first in this industry – outlets with full time staff, be that IGN or Gamespot – will likely beat us to the punch. So instead, we've always strived to produce accurate and well-written content. This, again, likely cost us in the short run. However, having millions of hits never felt like a good enough excuse to post incomplete and inaccurate content, and we've stuck with that strategy for our entire existence. The same goes for reviews – you'll often find us posting later, after the game has launched, in order to get the most complete and balanced evaluation possible.
While Ben and I work hard, the website wouldn't be where it is today without our staff. Over the years, we've interviewed hundreds of aspiring writers, but as per our uncompromising stance on quality content and writing, we chose only a select few. We waited to find the right people to join our team – and we are forever thankful to have worked with so many talented writers, some of whom have stuck around for an incredibly long time. As I often do in our staff emails, I want to extend yet another heartfelt and genuine thanks to everyone who has contributed to our publication over the years. It's been an honor to work with so many great writers, many of whom have gone on to write for the likes of IGN, Gamespot, Metro, and elsewhere; we're thrilled to have helped you develop your voice and your skills, and get you to the next stage of your aspiring careers.

So what comes next? Just like 10 years ago, I can't say there is a plan set in stone. We are obviously aware of where the industry is heading – video and streaming content – but there are currently no plans for us to make the jump. As we're not reliant on ad revenue or being in anyone's good graces, I believe we can continuing to do what we love and what we're good at – writing great content that our readers can always rely on to be accurate, fair, and non-rushed. Oh, and we'll obviously keep playing video games. See you in 2029!
My co-founder Ben also wrote a few words about this milestone, and you can read them here.
Comments