10 years of NGN - A word from Ben
A look back at how the website has evolved over the last decade
Ten years is a long time and yet it seems only yesterday that we began to brainstorm ideas for a gaming website. It took hours to come up with a name and days (or was it weeks?) to decide on a logo. I remember asking friends which website name they liked best and one of the prevailing arguments was how future proof it would be. In the end we settled with a title you see at the top of the page, and it has remained unchanged for over 3600 days.
In many ways, our desire to make things perfect has persisted through the years and we still strive to produce some of the best gaming reviews in the business. My co-founder Alex has done a monstrous job managing the site's written content and staff, as well as interacting with PR. Our coverage of events like E3 is among the best in the industry, given we are self-funded and have just a few writers that attend. We continue to create lengthy, detailed, accurate reviews of games and are proud to be on both OpenCritic and Metacritic, among other aggregates. We take time with reviews. It's been a long road, but it's certainly fun to look back.

Our site started in early 2009 with a website template system that was little more than a way to post news articles and reviews (phpnuke), not that dissimilar from modern-day Wordpress blogs but even more limited. Above you can see our design for that original site, with an early logo. The blue and silver colors have persisted over the years, although the newer designs are less shiny.
We eventually discovered a custom content management system that had everything we wanted. It set up game pages, platforms, reviews, images, and videos. We tweaked it, prodded it, stretched it, cut it, and broke it. In the end we came up with a website back-end that gave us room to grow and had the modularity to build and change with the gaming industry. In those early stages we worked on themes for each platform and that meant creating header images that contained the most popular games at the time. You can see one of them below, in this site snapshot from 2009.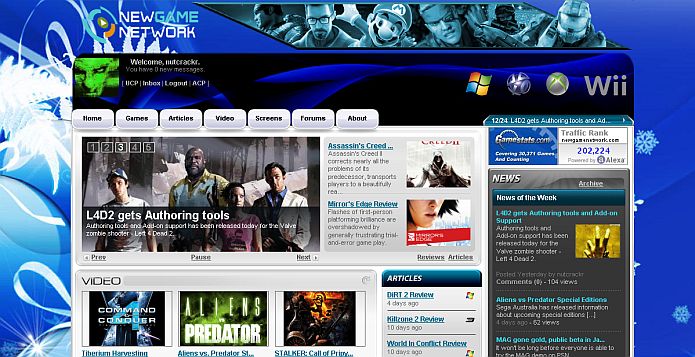 Over the years we've tried to keep up with the ever-changing web landscape. Firstly that meant ridding the website design of nested tables (everything was tables) and with that came numerous visual changes. After that we tried to keep up with trends, such as HTML 5 and HTTPS. Our shift to responsive design in 2015 was driven by the market. As it stands today, 55% of our audience comes from mobile and tablet users. Back in 2012, it was just 3%. Our goal was always to create a usable, fast, responsive website, which was supported by a wide range of systems.
Looking back at 10 years, it's still all about the games. So one of the most interesting parts for me is our Game of the Year award winners. We established a voting system every year and let our writers vote for any game they've completed that year. Then we'd get out the abacus and work out which game was the best. Here are the winners, in chronological order:
2008. Fallout 3 - The series continues under Bethesda, although 76 was a bit of a train wreck in all respects. I've generally enjoyed the series under their hands.
2009. Uncharted 2: Among Thieves - Still one of my favorite games and an example of perfected pacing. The story is great fun and it hits a perfect tone.
2010. Red Dead Redemption - The sequel just missed out to grab 2018's big prize.
2011. The Elder Scrolls V: Skyrim - Another amazing game, and it was just 6GB in size on release. I dare say many people have played dozens, if not hundreds, of hours.
2012. The Walking Dead: Season 1- Interesting that this game won many awards in 2012, and yet Telltale closed in 2018. For me, Tales from the Borderlands and Wolf Among Us will always be the best games from that developer.
2013. Grand Theft Auto 5 - Rockstar always comes out with a strong performer. Not the best game in the series for me, as Vice City and GTA 4 are probably my favorites.
2014. Dragon Age: Inquisition - BioWare demonstrated that they still have the talent to gel story and characters. In hindsight, some of the game was clunky, but I still rate the characters highly.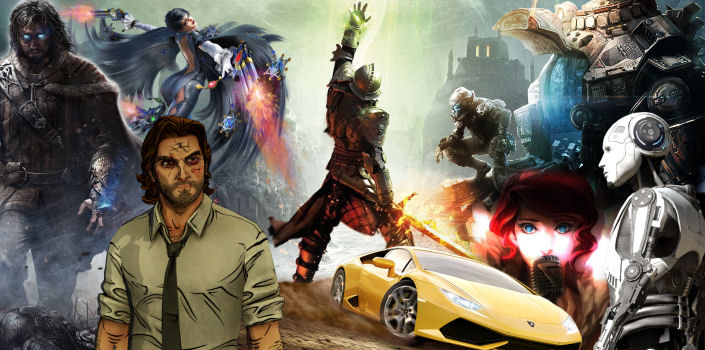 2015. The Witcher 3: Wild Hunt - Has it really been 3 years already? One of the best RPGs ever with a strong balanced narrative and an enormous cast.
2016. Uncharted 4: A Thief's End - A solid finish for a pivotal series. This was much better than the third game, but for me it still falls short of its little brother from 2009.
2017. The Legend of Zelda: Breath of the Wild - This is the only NGN GOTY winner that I haven't played.
2018. God of War - One of the best looking games of 2018 for me, and backed up with some insane locations and extremely solid gameplay.
So many great games above, voted by our many writers across the years. Not all of our writers are still contributing reviews to this day, but their work remains in our archives and we are ever so grateful for the time they spent with us.
We're older now, but I like to think we're a bit wiser too. One thing that has not changed is our dedication to perfection, even if it means multiple revisions in almost anything we do. We're still taking all things as seriously as we did when deciding on the logo and name, and perhaps it will remain the same for another 10 years.
My co-founder Alex also wrote a few words about this milestone, and you can read them here.
Comments