Game of the Year Awards 2016
Showcasing the best video game experiences of the past year

---
---
Best Shooter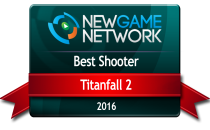 Titanfall 2
"Titantall 2 doesn't reinvent the formula that was so much fun a couple of years ago, but refines and expands it. Each of the six Titans available in multiplayer feel distinct, with clear weaknesses and strong points. The pilot boosts contain some fairly straightforward enhancements like amped weapons; these boosts feel like a good equivalent to Kill Streaks in Call of Duty, only better balanced. While the starting Pilot weapons aren't particularly exotic, it quickly becomes apparent that each weapon is rather distinct. Energy weapons are mixed in with traditional ones, and even though the sheer amount of weapons won't knock your socks off, the variety is rather impressive." - Tim Reid
Honorable Mentions: Battlefield 1, Doom, Overwatch
Best Action Game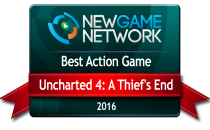 Uncharted 4: A Thief's End
"When it comes to combat, Uncharted 4 completely reinvents itself. Gone are the flat environments where enemies spawn in and rush towards you. All hostile encounter sections are usually found on a part of the level that has a multitude of paths, buildings, and elevation changes. It's an impressive level design feat, and this means Nathan is able to choose his approach, to either eliminate enemies in silence or even bypass most of them altogether. Going in guns blazing, there's the usual assortment of pistols and assault rifles with limited ammo to choose from, and more can be picked up from fallen enemies. The explosive setpieces continue to take center stage and take players on a wild ride." - Alex V
Honorable Mentions: Far Cry Primal, Skylanders Imaginators, Enter the Gungeon
Best Racing Game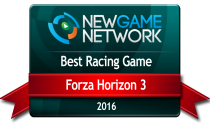 Forza Horizon 3
"From retro muscle, to buggies, cult classics, hypercars, and offroad monsters, there's something for everyone. Whether you're handling a modern hatchback through tight corners, drifting through the dirt in a classic muscle car, or speeding down the highway in a track toy, the cars handle wonderfully and believably, while remaining highly accessible. The cars are the center of the experience, and Forza Horizon 3 has the biggest roster so far in the franchise, with over 350 to choose from. Everyone's invited - Mercedes-Benz, Maserati, Lamborghini, Ferrari, Ford, Honda and tons of others. The third iteration of the Forza Horizon franchise continues to offer the most accessible, fun, and expansive arcade racing experience around." - Alex V
Honorable Mentions: It was a clean sweep!
Best Strategy Game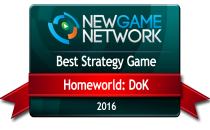 Homeworld: Deserts of Kharak
"The actual gameplay is a blend of ideas from Homeworld and traditional ground-based RTS games, and ultimately feels quite unique. Your carrier, dubbed the Kapisi in the campaign, is your hub and must be protected, but you can also choose how its internal power is used: repairs, increased armor, offensive weaponry or increased range can all be bolstered or reduced depending on the situation. The units produced by your base carrier mirror those in the original Homeworld games. Light, fast-moving vehicles are great for harassing the enemy while heavier, longer range vehicles blast them from afar. Most units have a fairly well defined role and once you understand how to use them, it makes for a rich tactical experience." - Tim Reid
Honorable Mentions: XCOM 2, The Banner Saga 2, Civilization VI
Best Adventure Game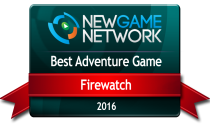 Firewatch
"The panoramic Wyoming wilderness appears authentically choking, despite the game's still quite palpable boundaries. There are clear-cut paths Henry can take, but despite its exploratory limits, Firewatch invokes an atmosphere that is ominous, hypnotic and above all impressive. You'll find no markers announcing your goal, lending immersively to Firewatch's orienteering elements. Each nook and cranny feels original, and whilst you won't be rewarded with treasures or additional quests for exploring, there's enough spirit emanating from Firewatch's various alcoves to make you feel like a bonafide adventurer. Or at the very least, a terrific Scout Master." - Charlie Nicholson
Honorable Mentions: Obduction, Batman: A Telltale Series, Inside
Best RPG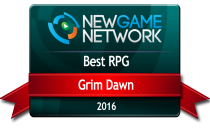 Grim Dawn
"Players can slay monsters with six familiar classes—Shaman, Arcanist, Soldier, Nightblade, Occultist, and Demolitionist. Although some have similar skills, the classes generally play differently. Although you can play as one class, Grim Dawn is best experienced with dual classes. With 15 class combinations, and several skill trees within each, there are many possible builds. All classes utilize a multifaceted armor and weapon system that resembles similar games. All gear can be further enhanced with special upgrade components dropped by appropriate monsters. There is a huge variety—after finishing the game, my inventory was held captive by over 50 different components." - Ben Thomas
Honorable Mentions: Deus Ex: Mankind Divided, Final Fantasy XV, Dark Souls 3
Best Sports Game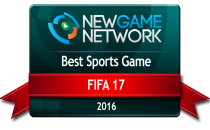 FIFA 17
"With continually expanding gameplay variety, new online and offline modes, and the introduction of The Journey, FIFA 17 offers an all-around great virtual football experience. Gameplay changes are focused more on dead ball situations and work relatively well. Player and Manager Career modes remain solid offerings that should provide offline players with tons of gameplay hours. The new pro player progression seems well designed and sadly not used in Player Career, but slots in well with The Journey and Pro Clubs. In FUT, squad building challenges are a great way for more active players to get rid of their dust collecting cards. Presentation continues to be very good, with unmatched authenticity." - Alex V
Honorable Mentions: MLB The Show 16, PES 2017, NHL 17
Best Platformer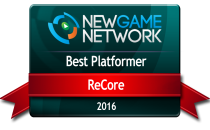 ReCore
"Joule has a nice double-jump and a booster move that makes the platforming fun. When her own skills fail her, each of her robot companions have something special they can do to help out with the platforming, like climbing walls or bashing obstacles. The dungeons are often creatively designed." - Josh Hinke
Honorable Mentions: Unravel, Inside, Mirror's Edge Catalyst
Best Puzzle Game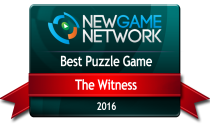 The Witness
"Although difficult, The Witness is worth playing to behold its exceptional trickery created largely thanks to the stellar world design. The well-designed maze puzzles are going to retrain your brain and make you look at things from a different perspective. Not all players will find their way to the crippling selection of final puzzles, but many will discover a few of the devious and wondrous solutions. Just finding one is more than enough reason to play, and the delightful solutions may spur players to solve more because all the answers are there to discover." - Ben Thomas
You've reached the grand finale! Our GOTY is revealed on the next page!
Comments