Game of the Year Awards 2016
Showcasing the best video game experiences of the past year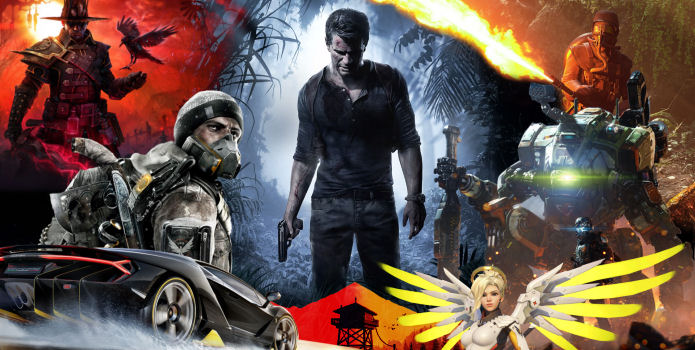 Gaming in 2016 was about keeping ahead of the curve. Technologically, this came about via the commercial release of several Virtual Reality headsets—some 21 years after the Virtual Boy attempted something comparable with its cruder tech. On PC, the HTC Vive and Oculus Rift dominated proceedings. Later in the year, the PS VR offered a similar experience at a lower cost and was available to a bigger audience, due to the large PlayStation 4 user base. While the year marked the kickoff for consumer grade VR devices, the games are still finding their footing with the new tech.
Outside of VR, many games explored ancient history. Far Cry Primal took the franchise back to 10,000 BC and asked players to hunt and gather resources while avoiding sabre-toothed cats and woolly mammoths. Uncharted 4 was Naughty Dog's goodbye to Nathan Drake, and the finale transported loyal fans back to when Nate was a child to uncover more about his family. Even the Battlefield franchise made a leap backwards from modern warfare to the devastating infantry combat from the First World War, through its muddied trenches and French cottages.
Then, there were the games that ventured into the future. Call of Duty: Infinite Warfare postulated a scenario where humans had colonized the Solar System and were fighting over resources. Back on Earth, The Division demonstrated how a plague could devastate New York in the near future, leaving civilian agents to enforce law among the lawless. Marcus Fenix became an old man in Gears of War 4, although he is still proved to be a capable soldier against an evolved enemy. And, naturally, Deus Ex: Mankind Divided once again looked forward to a future with vast conspiracies and prolific vents.
Games weren't just happy to explore history, as several of them made time manipulation an integral part of the experience. Titanfall 2 and Dishonored 2 both featured levels that allowed players to leap back and forth through different time periods, either for stealth or combat purposes. Quantum Break utilized the creation of time bubbles to slow enemies, and the ability to dash through time itself. Stardew Valley exploited the day-to-day nature of farming as players progressed through the changing seasons to care for different crops over subsequent years. Likewise, Firewatch had players wandering the Wyoming wilderness during one hot and suspenseful summer. And, most obviously, racing fans sought the shortest times across the many Australian roads in Forza Horizon 3.
But perhaps 2016 was not about the fictional exploration of the past or future, or the integration of time within gameplay itself. Maybe it was about giving players a chance to experience games of yore through newer titles that were inspired by previous generations. Blizzard channelled their inner Team Fortress 2 and created Overwatch—one of the slickest multiplayer shooters of the year. Crate Entertainment finished their crowd-funded RPG, Grim Dawn, which drew positive comparisons to Diablo. Even id Software went back to basics with a reboot of Doom, offering raw and visceral shooting that is quite like the original. And finally, Homeworld: Deserts of Kharak took players back to a classic franchise and brought with it some timeless RTS gameplay design.
And so, as we look back on 2016, we are reminded of the efforts to keep pushing the industry forward in all genres. Aside from the latest wave of VR technology, gamers have been given a tremendous number of experiences, from those before recorded history to those far into the future. As gaming continues steadfast into 2017 we now understand that to go forward, sometimes we must first go back.
Please join us in the following pages as we detail the best experiences from 2016 and, finally, reveal which game earned our most prestigious award—Game of the Year 2016.
Comments