Forza Horizon 3 Review
The car and music festival heads to the Southern Hemisphere for more great results
It was quite a pleasant surprise when the debut title from Playground Games took the long running Forza Motorsport franchise and turned it into something new. The original Forza Horizon was a breath of fresh air, offering a semi-open world with a unique atmosphere and plenty of great racing that could appeal to more casual fans. The sequel, Forza Horizon 2, carried on this legacy with style, adding new activities, more cars, and expanding the world to be truly open with great offroad action. With Forza Horizon 3, the now well-known music and car festival looks to take over a new location with the help of a new boss - you.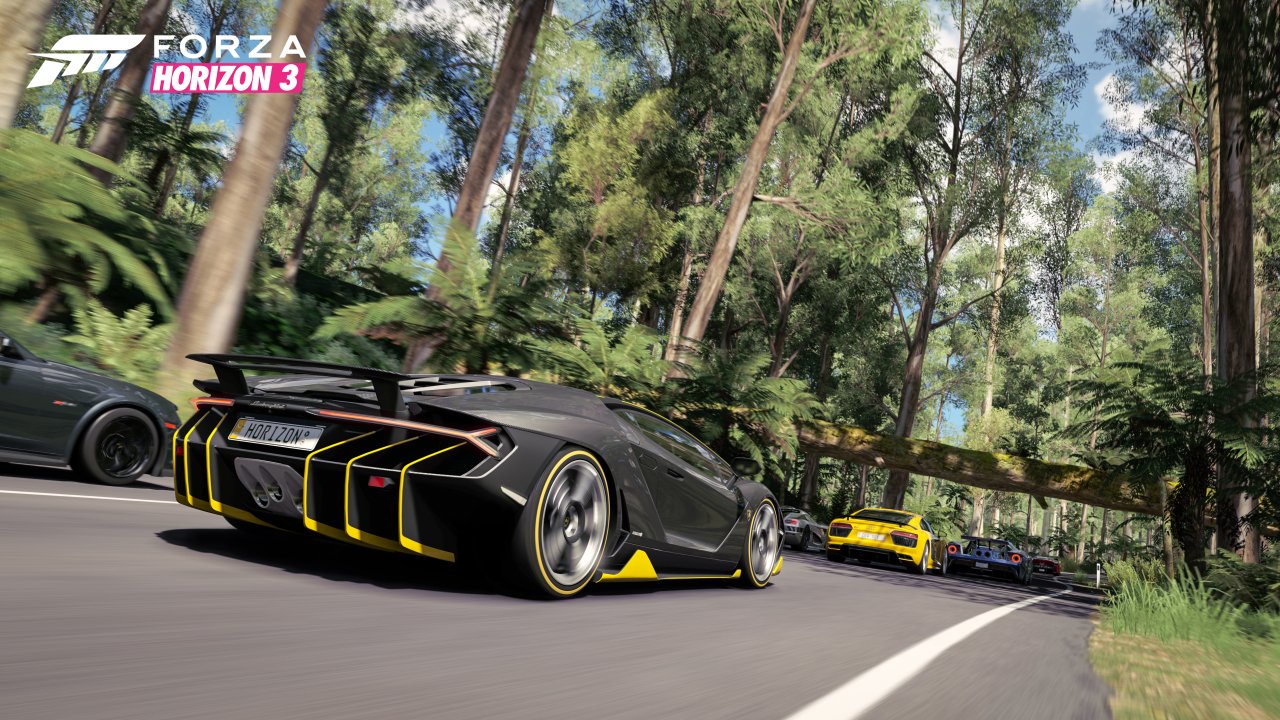 In FH3, the car festival heads to Australia. Instead of being a simple participant this time around, players are actually the boss of the show, meaning they can decide on a lot of aspects of how the whole thing operates. This ties into many gameplay elements we'll touch on later. If you had a chance to check out its excellent predecessors, you should already know what to expect in this third iteration. You'll get to explore a rather vast open world and participate in a large number of races and side activities. It's all about the car culture, the music, and a general party atmosphere; the franchise continues to carry these central themes effortlessly.
Thanks to the Australian setting, the game world can afford to have more environment variety than ever before, with dense forests, wide-open coastal roads, and plenty of desert. The urban locales are also more fully realized, with extra details found in buildings and store fronts, and though there are still no pedestrians, they feel like actual living locations. These various settings smoothly interchange with one another and exploring is fun.
Players will be undertaking a career mode in typical Horizon fashion. There are a few Festival Sites spread across the game world, with a multitude of race events scattered around them. Fan numbers act as a sort of progression tracker, similar to wristbands in the past. So, earning enough fans lets you upgrade an existing site which unlocks more nearby activities, or open the festival in a new location. It's a bit similar to FH2's road trips. Each time you open a new location, you're given a choice of a free car, and with each upgrade you are able to buy a car at a discount - but be sure you have some credits, because these sales are one-time only.
The main goal of your career is to reach the final Showcase event. These events are a franchise staple and have you facing off against various machines – such as helicopter or airplane as you may have seen in the trailers. Compared to the Showcases in the previous game, Forza Horizon 3 does a better job with the variety of what you're competing against. The first few Showcases are also great at having your route intersect with the opponent, for cinematic moments. However, the later showcases - including the Final - don't offer a very well designed chase route. This makes them feel somewhat slow paced and lacking the epic showdown feel that I still remember from FH2's Showcases. Thus having said all that, FH3's career feels a bit bland. Even as the boss of the festival, the overall progression is not that much different from when you were just a participant, and the grand finale ends in a whimper and little more than a congratulatory handshake.
Throughout your career you'll be taking part in free-form races that Forza is known for. That means that each race event has a set route, but the rest is up to the players – choose the cars that will participate based on their class, a special theme, an era, a manufacturer showdown, and so on. It's the same sort of flexibility that the series has always offered – you can complete the game using a few favorite cars, or continuously expand your garage and drive something new every time. In Forza Horizon 3 however, all those possible scenarios for each race aren't developer-designed. Instead, there is only one designed by the devs, while all the rest are actually created by the community using Blueprints. These Blueprints are at the heart of customizing your FH3 experience.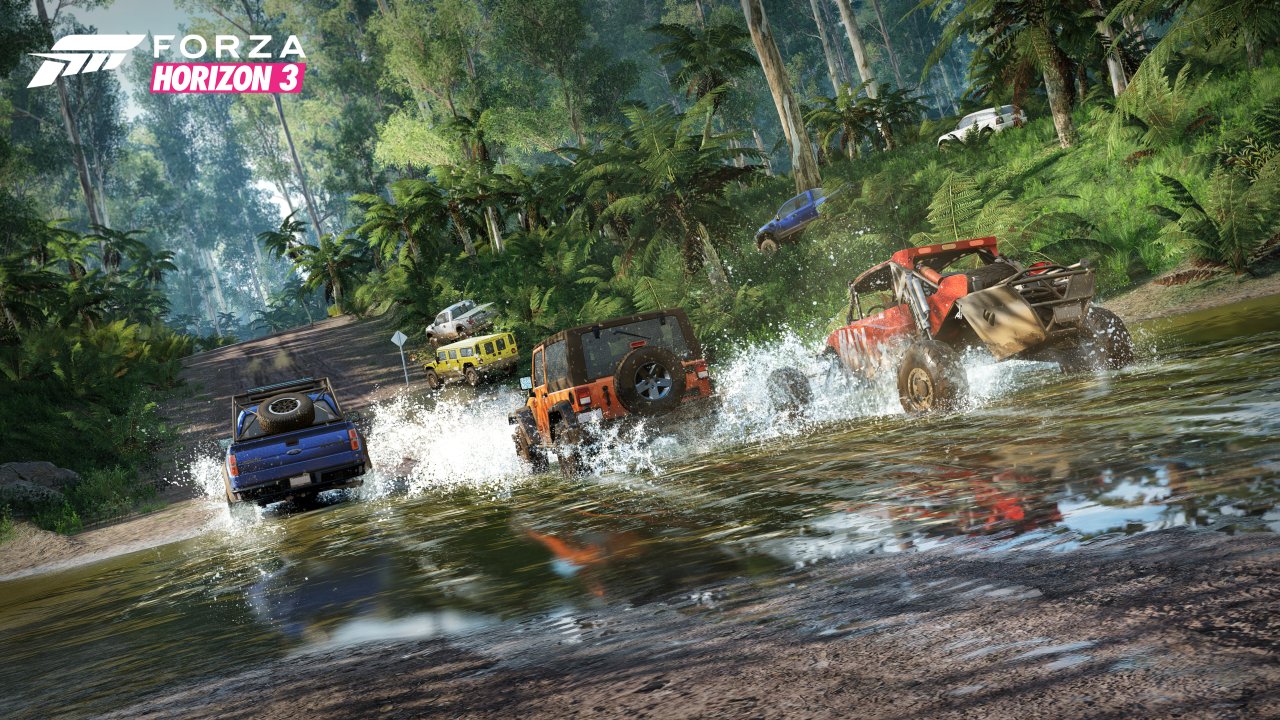 Blueprints allow players to take any race route in the game, and create their own conditions. Pick a specific theme, limit the eligible cars, adjust the weather, set the number of laps, and so on. So instead of Playground Games creating an assortment of suitable and varied races that can be held at each route, as has been done by the Forza franchise for years, the power is now in the players' hands. You never have to complete a route as was designed by the developers, if you choose, and instead create and race to the sound of your own horn. Whether you complete a race using a Blueprint you created, or a Blueprint from another player, it will count towards your career progression with the same rewards. And of course you can always return to the location and try a different Blueprint for the same route, which will be a totally different experience. That's a good thing, too, because players will need to return a few times to the same race since unlocking new events only happens when you upgrade a Festival Site, and that takes a bit of time.
Thankfully, the racing routes in the game are rather great. I've never really mentioned the design of the tracks in previous Forza Horizon entries - it has been fine; varied and well designed, but not particularly memorable. In FH3, it seems clear that time was taken to meticulously create tracks that will both challenge and satisfy the players. You're not just racing through a series of turns and straightaways that got slapped together from the map of the open world - most of the tracks actually feel very well put together, with memorable sections. Checkpoint gates are well placed to avoid cutting. There are occasional downsides - some sections present jumps that are immediately followed by obstacles, making it impossible to recover unless you've steered into the jump perfectly. Thankfully, there's always the rewind option, at least in offline play.
But back to the Blueprints - they also extend to the fun Bucket List Challenges out in the open world. There are still 30 dev-made challenges to beat and they are fun and varied as always; however players can now also create their own from Blueprint Points. Starting from these few set locations, players simply pick the type of challenge they want, and then perform it. From speed camera, to skill score/route, set route, and the new drift zone/danger sign, players pick a category, then complete the challenge and set their own time/score as the one to beat. These custom Bucket Lists will then appear for others to try at this Blueprint Point, and you can also send it to friends directly. The game always prompts to share your created Blueprints with friends and annoyingly defaults to the "yes" option. On the whole though, the Blueprint system is a rather great way to introduce user created content into Forza's driving gameplay, while still leaving the option to play the carefully crafted routes and Bucket Lists made by developers.
On your way between career mode races and Bucket Lists, there are plenty of returning and a few new open world activities. Barn Finds still grant you a classic car if you're able to locate it. PR Stunts like Speed Traps and Speed Zones return, prompting players to go fast, plus there are new Drift Zones and Danger Signs (jumps) to undertake; these are fairly self-explanatory. Another new activity are the Street Races - these "unsanctioned" events have players racing at night against a mixed group of cars, and doing a few of these unlocks a Midnight Battle. Winning this one vs one showdown gives you the opponent's car. There are also bonus boards to locate and smash for XP/credit, and new Beauty Spots that offer a quick picturesque cutscene. In short, the map is absolutely littered with activities, especially after you've upgraded your Festival Sites a few times, and there is always something to do.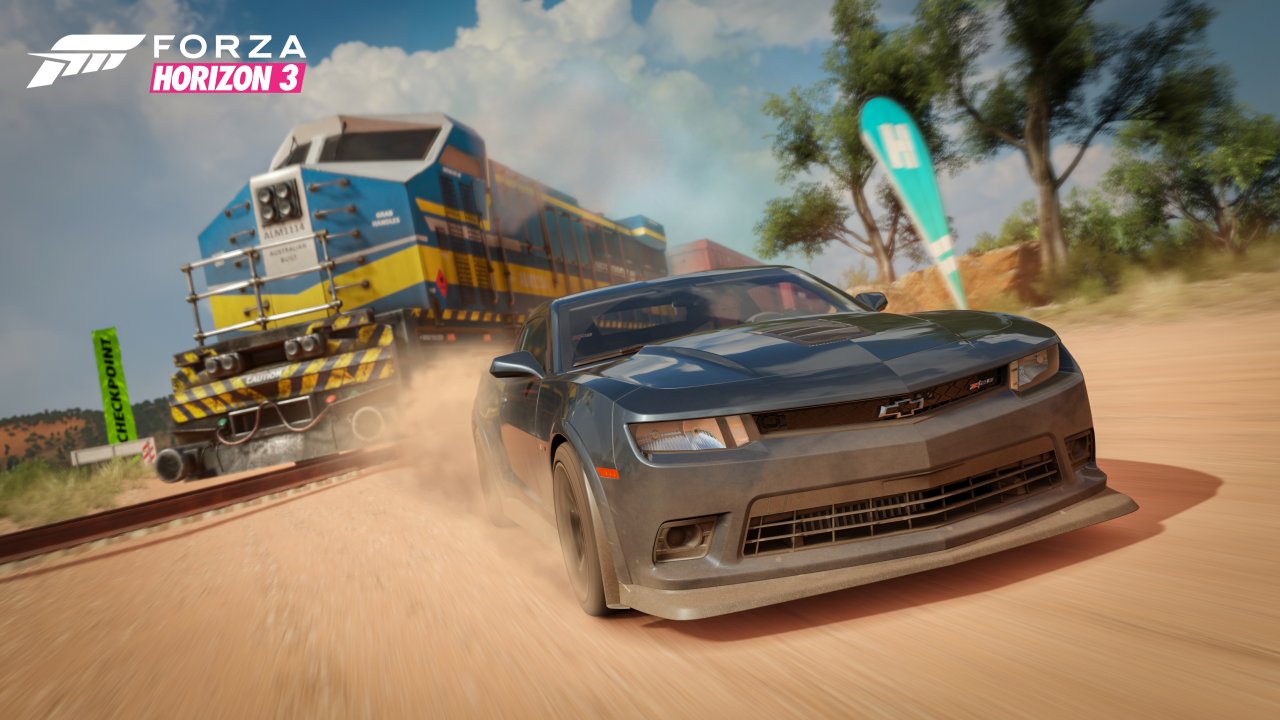 Whether you're racing, cruising the open world, or completing PR stunts, the Skill Meter is always running. Pulling off jumps, drifts, driving fast, and any other typical showboating will increase your score and raise your multiplier, and if you manage to avoid crashing, these points are banked towards your next Perk point. With Perks, players once again can unlock various bonuses for themselves, although in FH3 the system has been expanded to a large 75 perks in total, spread across three categories. The Skills category has perks that will boost your skill scoring, extend your skill chains, increase your multiplier and so on. The Boss category has perks like increasing Drivatar earnings, getting bounties on random Drivatars in the game world, or even starting at the front of the grid for the next few races. Lastly, there's the Instant Rewards category, letting you spend perks on cash and XP directly. There are also new repeatable perks, such as making your next car upgrade completely free. There are many perks to choose from although not all are particularly useful, but they give players a reason to keep driving stylishly for a very long time.
But what about the driving? Well, fans of the franchise can rest easy; the gameplay mechanics in Forza Horizon 3 are just as smooth, accurate and enjoyable as ever. From retro muscle, to buggies, cult classics, hypercars, and offroad monsters, there's something for everyone. Whether you're handling a modern hatchback through tight corners, drifting through the dirt in a classic muscle car, or speeding down the highway in a track toy, the cars handle wonderfully and believably, while remaining highly accessible. Whether your sedan just drove through a puddle with barely any grip, or your offroad monster is simply driving straight down a river without missing a beat, everything feels as it should. Of course there are options to tweak your experience, from assists to turning on simulation steering, but there's really nothing to fault in Horizon when it comes to the driving.
The cars are the center of the experience, and Forza Horizon 3 has the biggest roster so far in the franchise, with over 350 to choose from. Everyone's invited - Mercedes-Benz, Maserati, Lamborghini, Ferrari, Ford, Honda and tons of others. To pay tribute to the Australian setting, Holden Special Vehicles (HSV) brand is included. There are also Horizon Edition cars - these are not only very rare (like Unicorn Cars in the past), but they also have a single gameplay bonus effect. These effects range from Skills boost, XP Boost, Credits boost and Drift boost. Lastly, all cars can be viewed in Forzavista mode, letting you ogle your ride and its customizations from every angle.
Players can customize the cars with a full assortment of visual tweaks, from paint to liveries and logos. You can share your creations online for others to download and make some profit from their use, get rated by the community as a creator, and have your own storefront of sorts. Similarly, the cars have full mechanical upgrade systems as well, plus in-depth tuning options. Tunes can be similarly shared and uploaded. With all your car upgrades, the store now has a basket system so you only checkout once after applying the upgrades, instead of buying each item individually as in the past. New for FH3 are wide body kits on a few cars that have a total conversion option, for a unique look. Also new is the ability to customize other parts of your game - players now choose from a few premade avatars to represent them in the game, along with a customizable license plate and even a selection of car horn sounds. You can even set your real name (automatically pulled from your Xbox profile) that the characters will occasionally use.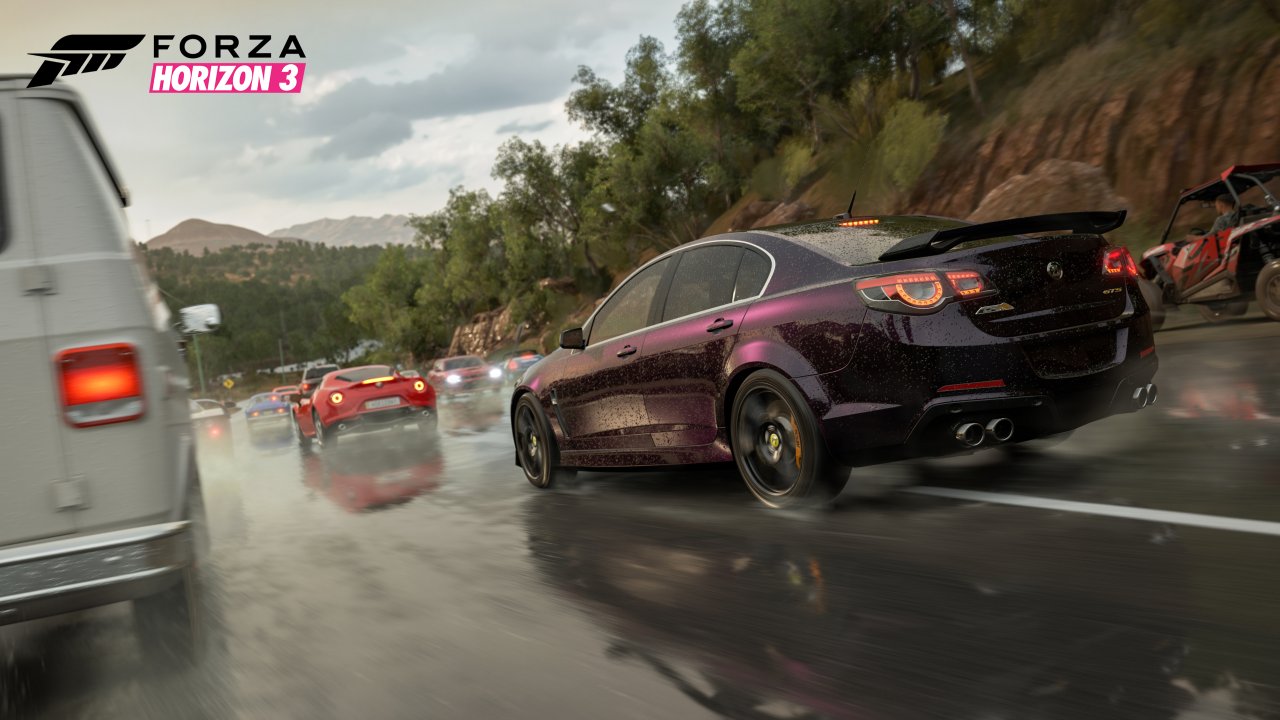 The most notable addition to Forza Horizon 3's car management though is the return of the Auction. For the first time in years, players can once again have the option to recoup some of their costs on cars they do not use, instead of just discarding them. Players can list their car with a starting bid and a buyout price, as well as length for the auction to run. Buying cars is easy, as you can search for any specific criteria, or just look for deals. Time will tell, but it is likely that buying a car at auction will be cheaper than from the Autoshow. The system isn't very well suited for bidding wars, however. Trying to snag a deal at the last minute will likely end in disappointment as the game doesn't feature an eBay-style countdown; rather, below a minute the auctions switch to "Ending soon" and it's impossible to time your bids. So, the Auction will likely work best for low and high-end cars that don't have a lot of buyer interest. And it's mundane that you must manually collect your prize/credits, or get your refund if you lost.
Drivatars return, populating your races and open world. These AI racers are based on the profiles of your friends and some strangers, helping Forza feel like a more social experience even if you're not actually playing with real people. They populate your race events and also drive around in the open world, and there is notably a lot of more traffic in Forza Horizon 3 than in the past games. This can be slightly annoying as you try to complete PR stunts and crash into a pile of AI racers. And you can't even blame driving on the left because it's Australia, as that change was quite easy and quick to adjust to. To help Drivatars feel more involving, players can now honk at those driving nearby and create an AI convoy. This small posse will follow you to your destination and hang around if you stop, helping simulate interaction with other drives. You can also have a roster of 4 Drivatars "work for you", and they will provide bonuses to XP, Fans and Credits based on their owners' lifetime earnings. To hire one, the game randomly selects a Drivatar, which you must find and beat in a quick race. If you find someone better, you can fire one of your existing Drivatars. After you've got a strong lineup however, it becomes rather meaningless to chase down any more Drivatars that the game recommends.
This brings us nicely into multiplayer. Players looking perfect their craft can get involved in the returning Rivals system, trying to beat others' lap times. Once you're ready to hop online proper, you can join an Online Adventure. Similarly to FH2, these Adventures are just a continuous series of 4-race championships. At the start, players vote on what set of races they'd like to do, and at the end those with the highest earned XP get a bigger payout. And so you carry on, competing in races and driving from one to the next, as strangers can join and leave this 12 player Adventure at any time. No matter if you reach the podium, online races give out plenty of credits and XP. Aside from traditional races, there's also the playground games that offer casual modes like Infected and King. New to FH3 is the Flag Rush mode, as players must pickup one of two flags and deliver them to the goal zone to earn points. Other players can steal the flags, and after scoring the flags spawn in random location. It's a fun mode that fits well with the rest.
If you're looking for a more relaxed experience with friends, there's online freeroam. Here you can cruise for as long as you'd like and do whatever events you happen to come across, from races to co-op bucket lists. Brand new to Forza Horizon 3 is up to four player co-operative campaign. Here, players can continue doing their usual career events while having friends also participate. The races in this mode are a little different, as they use the multiplayer team race approach – players just need to beat enough Drivatars, not necessarily finish on the podium. Of course, anything you do as a host or participant in a co-op career will also count towards your own progress. Last but not least, there is a Car Meet (same as those from FH2) at the Airport that acts as a casual lobby - check out the cars, their owners, and challenge players on the runway, where the only thing that matters is performance.
Joining the multiplayer is seamless, as long as you're not in the middle of a single player race. The game syncs the players and you can start the competition or cruise without any effort. The technical aspects of multiplayer are still hit and miss. As is typically the case, your own experience is perfectly smooth, but you'll occasionally see other drivers glitching out all over the track. In co-op career, these visual artifacts and teleportations can also affect the AI Drivatars in the race. This can result in unintentionally funny moments, but also frustrations.
Presentation continues to be a key factor for the franchise, and in the case of Horizon series, music is a big part of the festival. Once again players have a bunch of radio stations to listen to while cruising, from returning favorites like Hospital Records, Bass Arena and Timeless FM, to newcomers Epitaph (rock/alternative), Block Party (hip hop), and Australia's own Future Classic Radio. And if somehow these aren't to your liking, FM3 offers Groove Music station to play your own tracks. In a move to integrate the radio stations with the gameplay, the DJs will sometimes play Skill Songs, during which time your Skill multiplier from performing stunts doubles. On the road, audio design also remains strong; the cars sound great, from the screaming of the engine to the squeal of the tires.
The game also impresses with its visuals. The cars are excellently detailed inside and out, and the environments are also full of detail. The lighting looks simply excellent, as does the nearly photo-realistic sky during the day / night cycle. The change between day and night is more gradual and nuanced, with a different feel for dusk, dawn and everything in between. The game offers some fantastic looking vistas, and a bright and varied color palette. As dynamic weather rolls in with some rain, the roads become slick and visibility worsens with fog, and there is an increased range of possible weather conditions (cloudy, wet roads just after rain, etc). If you want to capture the moment, there is the classic photo mode, but also a new Drone mode – where the game world doesn't pause and it lets you take pictures from almost any angle and direction. This is a very nice looking game by open world standards, although some of the shadows aren't very detailed, and the cars only have basic dents and paint scratching from collisions. Draw distance issues sometimes break the illusion as well, and environmental destruction can look somewhat simplistic.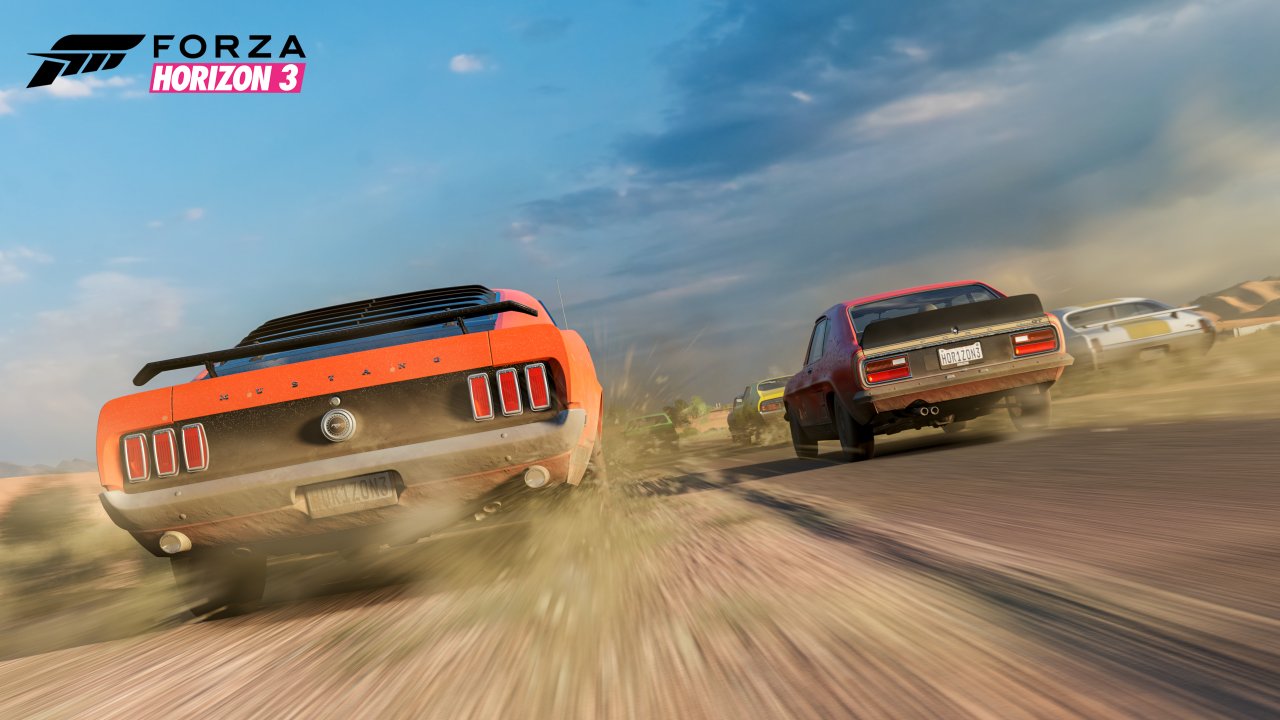 On the technical front, FH3 runs well for the most part, except the occasional multiplayer and presentation blemishes mentioned above. The framerate holds steady throughout, but there are occasions – such as an offroad race through a river – where the framerate takes a very sharp dive. The loading times also feel a bit on the long side. The game is part of Microsoft's Xbox Play Anywhere program, letting you own the game on both Xbox One and Windows 10 if purchased digitally. Your progress and achievements also carry over between the two platforms. There is also cross-play, and we had some races against players using Windows 10 without any discernible differences. The game also supports HDR for those with an Xbox One S and capable TV.
Forza Horizon 3 continues the legacy of the franchise without missing a beat. The new Australian setting brings a larger map, more environment variety, and plenty of local inspiration, from the DJs to the HSV cars. Exploring the world, there is tons to do and a huge assortment of cars to do it with; from career races to Bucket Lists, from developer-made events to those created by fans. Online play is just as free-form, offering something for all types of players. Whatever presentation shortcomings it has are overcome with great looking vistas and enjoyable tunes. There may be moments of quiet doubt, especially during occasionally repetitive career mode races - has the franchise settled into a too-familiar rhythm, adding features but not really breaking the mold as it once did? You may not have time to ponder on this too much, because there will come a moment – a moment when the perfect song comes on the radio, as you're cruising down the highway at breakneck speeds in a great car, watching the sun set over the mountains. In that moment, you'll realize you are at the Horizon Festival.
Our ratings for
Forza Horizon 3
on Xbox One out of 100 (
Ratings FAQ
)
Comments
blog comments powered by Disqus