Escape Dead Island Review
A hollow spinoff with a horde of issues
Infested with design and technical problems, Escape Dead Island is not a worthwhile spinoff for the popular zombie franchise. The original Dead Island, released in 2011 by Techland, was a cooperative zombie-killing simulator that had players scrounging for resources and building their own weapons. It contrasted the tropical island scenery with a zombie outbreak and incorporated vicious first-person combat. Escape Dead Island does occur on a tropical island and there are zombies, but it is here the similarities begin to fade. This spinoff is a third-person adventure that merges stealth, shooting and combat, but it lacks refinement.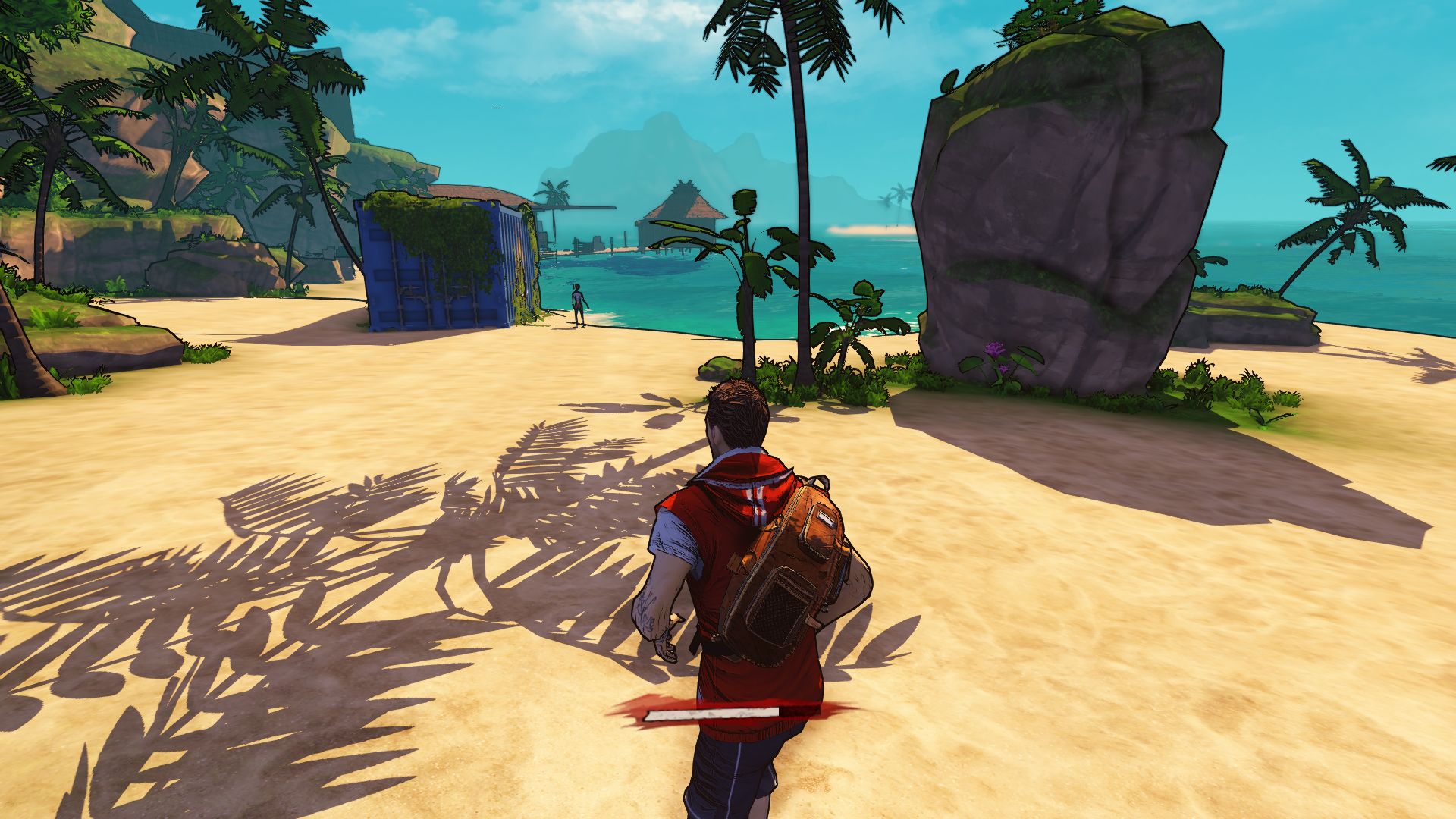 You will definitely want to escape this tropical island
As Cliff Calo you set sail with friends to uncover the story behind the zombie outbreak in Banoi. Your destination is a small island near the outbreak, but upon arrival your boat sinks and you discover the island has its own share of the reanimated dead. This island is also home to super-secret-science-experiments-gone-wrong, and you must find a cure to save an infected friend. To document the journey you take pictures with a camera, but this is mainly used to photograph bland objects that provide generic back story. The main narrative thread is vague, with clear inspiration from the TV show Lost, and it is difficult to determine what is 'real' when the rules constantly change. The story-telling is hindered by technical mishaps, such as a cut scene that focused on two invisible characters that may as well have been playing twister. The sloppy presentation and bland narrative is just the first misstep.
Visually, the title incorporates some techniques that are prominent in comic books. This includes action words (onomatopoeia), action trails and a cel-shaded world. The color palette is quite vibrant and pleasant, but it doesn't work for the supposedly scary undead. Zombies rarely look menacing, more often laughable, and action words typically obscure gore. Even the zombie animations are strange, with varied lunging distances and strange lock-on movements. This comical appearance of the undead might not have been so bad if the game did not try to occasionally set a darker tone. While the visual style is not kind to the zombies, at least it preserves vibrant island vistas.
The game world consists of around a dozen interconnected areas that unlock as you progress through the story. Access to each area is typically granted with tools like a grapple, key cards, or blunt objects which are slowly given to the player. Early areas have side paths that require these tools, but the game will send you back to them later. Consequently there is a considerable amount of backtracking and rarely an opportunity to expedite travel. Almost all areas are connected by narrow caves or corridors that seem to serve as loading points. These passages are unpleasant dead zones that have you staring at walls, crouching under pipes and climbing ladders for minutes. Nothing changes in these long transition corridors, and only the occasional voiceover prevents them from being entirely useless. Considering how fast each area loads, the long passageways are unnecessary. So, the tropical island is a bit similar in structure to Dead Island, but with constrained areas and frequent linear backtracking.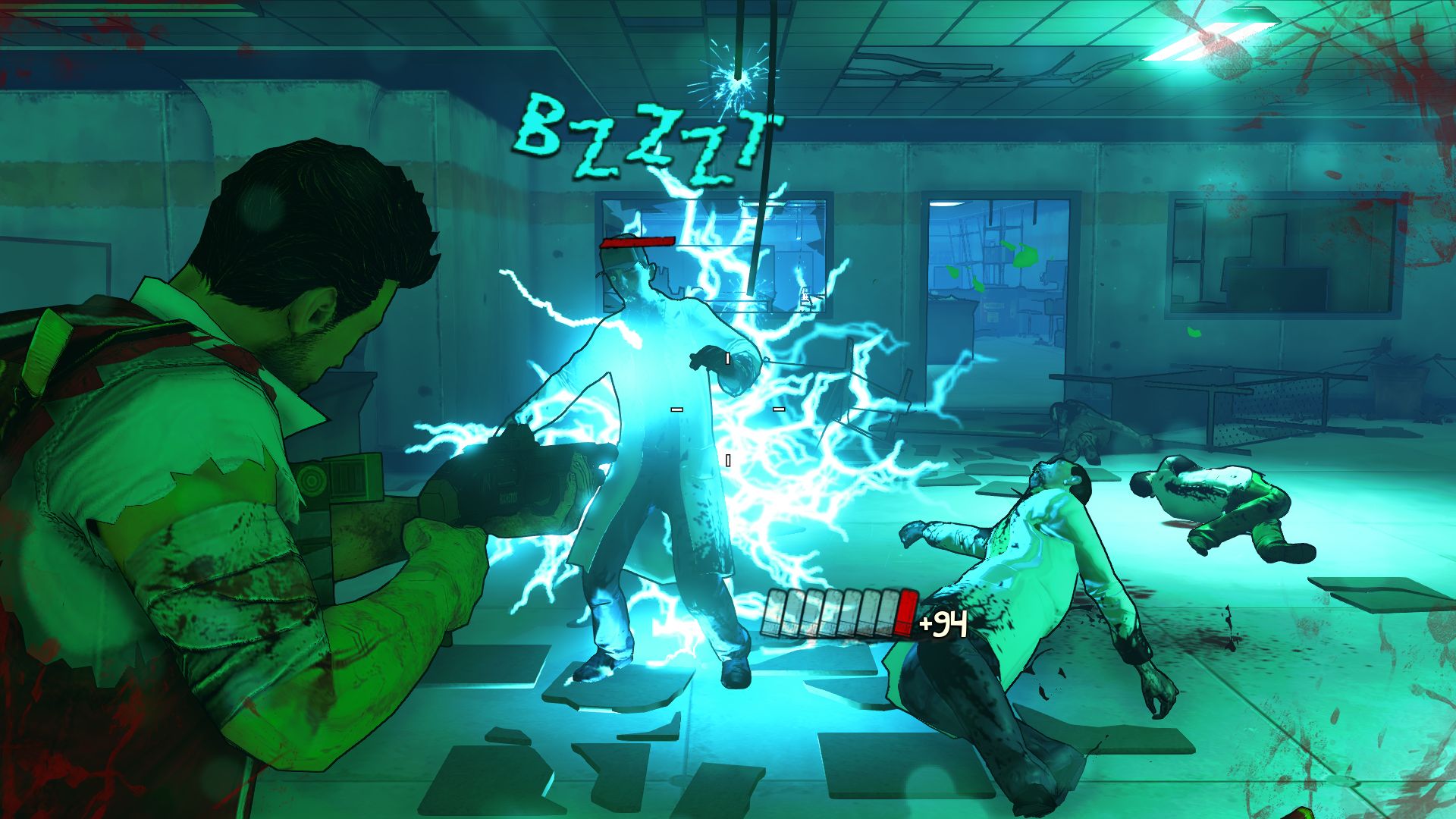 Plenty of zombies to shoot, stab or sneak past
Killing zombies is still a substantial aspect of this spinoff, although the melee combat is quite different. The third-person combat is shallow, with only a few weapons and no ability to craft your own. Most close-combat weapons are just upgraded versions of an axe. Dodging attacks is useful, but this consumes a slice of your limited stamina needed for attacks. The different zombie types provide the main challenge, as the standard foes are only a threat in groups. The Spitting zombies are continually annoying and the Butcher is a leaping zombie with high health. These two trickier foes are the primary reason why the final battle was aggravating, tolerable only because the leaping Butchers accidentally fell to their death. The environment can be exploited regularly during combat, trapping zombies on a short ledge or corralling them behind crates, and this is both helpful and a hindrance. Melee action is frequently clumsy and too basic to sustain the game on its own.
Fortunately stealth is available in many situations. Sneaking up behind zombies will grant you a stealth kill, unless for some reason the game refuses to let you stand up and the zombie pivots before you can react. When the stealth works it is basic, but at least you will be dealing with fewer foes; the zombies play dead within levels, because nobody told them they are already dead, until you make enough noise to wake them. Stealth is a good way to preserve ammo but the distribution of supplies is scattershot at best. The covert aspect of the game lacks precise enemy placement, interesting artificial intelligence and deep mechanics. Not without brief moments of success, the stealth needed more fine-tuning.
Standard projectile weapons are handy when stealth fails miserably, which is often. But just like the melee weapons, there are not many types with just three pistols and two shotguns. An assault rifle is the only reason to play through the tiresome underground DLC level because it kills zombies with just a few bullets. Because of the ammo distribution, it is too easy to get carried away when you first acquire each gun. You get oodles of ammo for some weapons before you acquire them, making you think you can mow down zombies without a care in the world. Unfortunately this is a mistake, and will leave you empty handed in later areas. Given the story progression, it is not unreasonable to assume you will be involved in more shootouts near the end of the game, but it turns out to be a ruse. And it is disappointing because at least shooting would have minimized stagnation. After you die several times in the same area, the game will throw a few bullets in front of you, as though it had given up on placing supplies altogether. Neither the shooting, melee or stealth aspects are good, but at least they form different tones that are more tolerable in combination.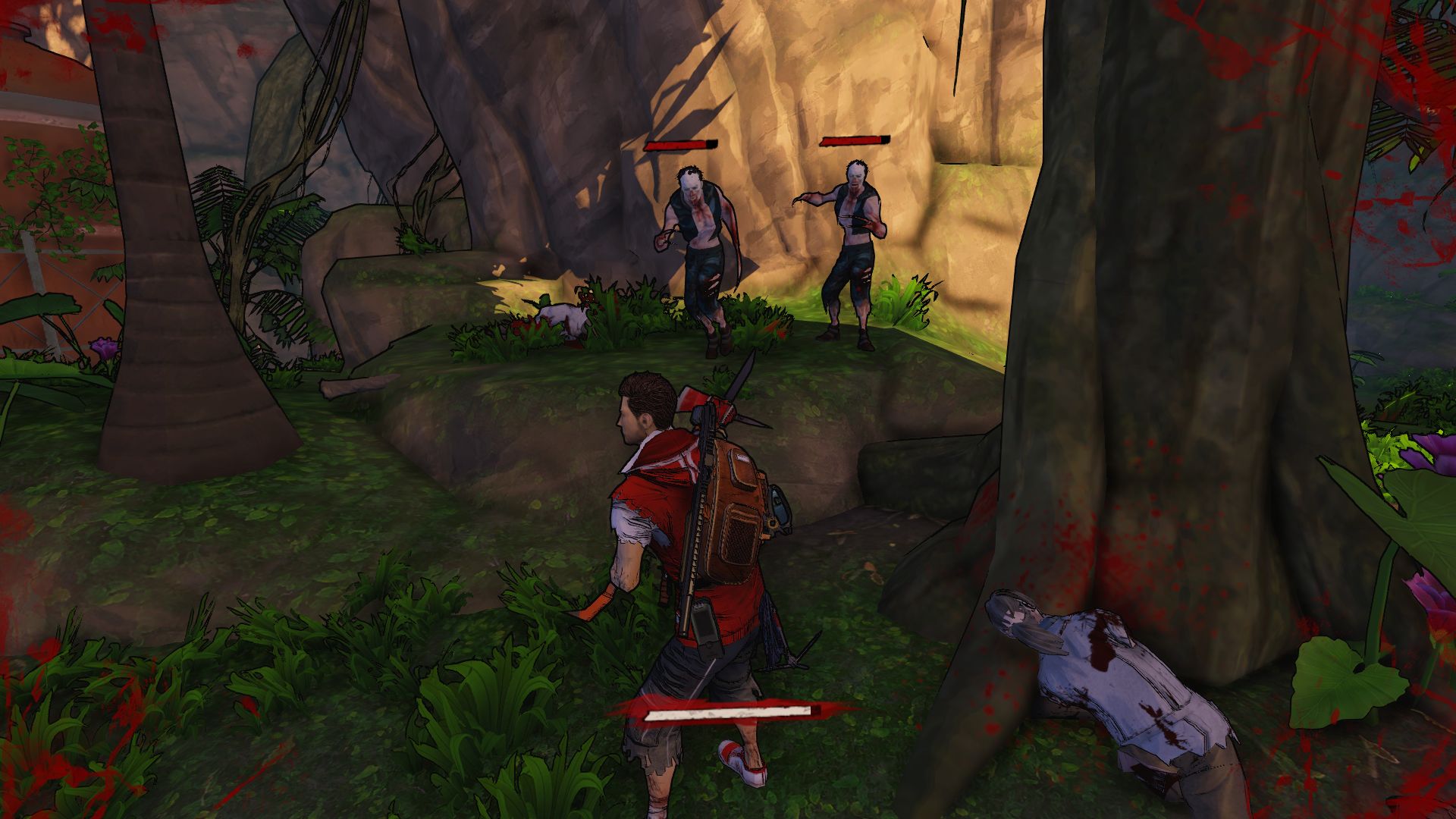 Butcher zombies trapped on a ledge
Escape Dead Island is a generic and technically-flawed spinoff to a series of which it shares minimal resemblance. Visually it preserves vibrancy of a tropical island but the zombies lack menace. The rigid tropical island contains too many arbitrary barriers, and far too much backtracking through agonizing passageways. The story is vague and generic, easier to ignore and hardly necessary for fans of the franchise. There is a general inelegance to all aspects involved with killing zombies too, as the melee combat is clunky, stealth is flawed and the shooting is inconsistent. As a spinoff, it brings nothing compelling to the franchise while reducing the enjoyable aspects. Unfortunately there is no easy cure to the problems in Escape Dead Island, and future games in the franchise should avoid direct contact.
Our ratings for
Escape Dead Island
on PC out of 100 (
Ratings FAQ
)
Comments
blog comments powered by Disqus