The Technomancer Preview - E3 2015
We get an early first look at the new RPG from Spiders Games
It's no easy task to create a full-fledged RPG experience, especially one that isn't tied to an existing lore or franchise. But that hasn't stopped the ambitious French developer Spiders Games from trying. Their most recent effort, Bound by Flame in 2014, showed some potential but was rough around the edges. The company won't stop trying however, and they say their next effort is going to be the biggest yet. At E3 2015, we had a chance to see an early gameplay demo of this next project - The Technomancer, a sci-fi, post-apocalyptic RPG set in a cyberpunk world.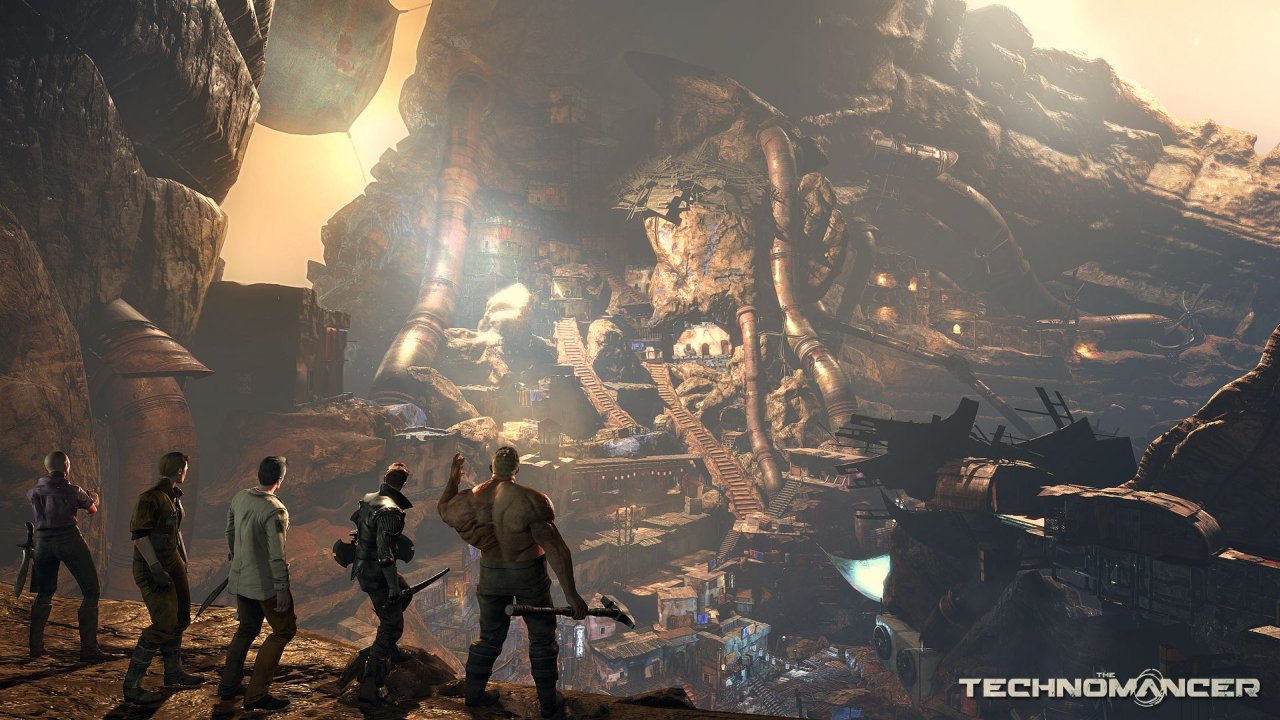 And it's not just any world - the game actually takes place on Mars. And in fact, it shares the same lore and setting as one of Spiders' previous games - the downloadable title Mars: War Logs. Looking at the concept art and early screenshots, that influence is easy to notice. The vast, desolate landscapes will be populated by a few hub cities filled with NPCs going about their lives. Players will be joined by up to five companions, who will allow you to explore optional areas and also return to previous locations, thus offering a non-linear experience. A focus on a strong story is said to be at the heart of the game. The developers also mentioned that some quests may have as many as 5 possible solutions. Players could approach a situation head-on with combat, try to talk their way out of trouble, or even simply sneak by or pickpocket their target. You'll come across various factions, and the way you behave will affect how you're treated, as well as how your companions may feel. Some teammates may even leave you, depending on the situation.
The demo we got to see is actually the tutorial section that most players will have to complete before starting their adventure. A brief introduction cutscene played, and told us of the events on Mars leading up to today. The colonized planet experienced a cataclysmic event and lost communications with Earth. With no supervision, the mining corporations on the red planet formed states and declared war on each other. Players assume the role of a young apprentice, who is ready to complete his final day of training and become a true Technomancer. These Technomancers are men and women who somehow have the ability to generate electricity with their bodies, as well as some other super powers. This group of humans is treated differently depending on the nation, with some embracing them while others calling them freaks.
It's some for some combat training, and we observe as our character uses his staff - charged at both ends - to dispatch some practice foes. Players will be able to utilize light and heavy attacks, as well as long and short button presses for further variety. The staff is one of three fighting styles available - the other two are knives/rifle, and shield/mace. Each comes with a different set of attack and situational effectiveness, and players are free to swap between all styles on the fly.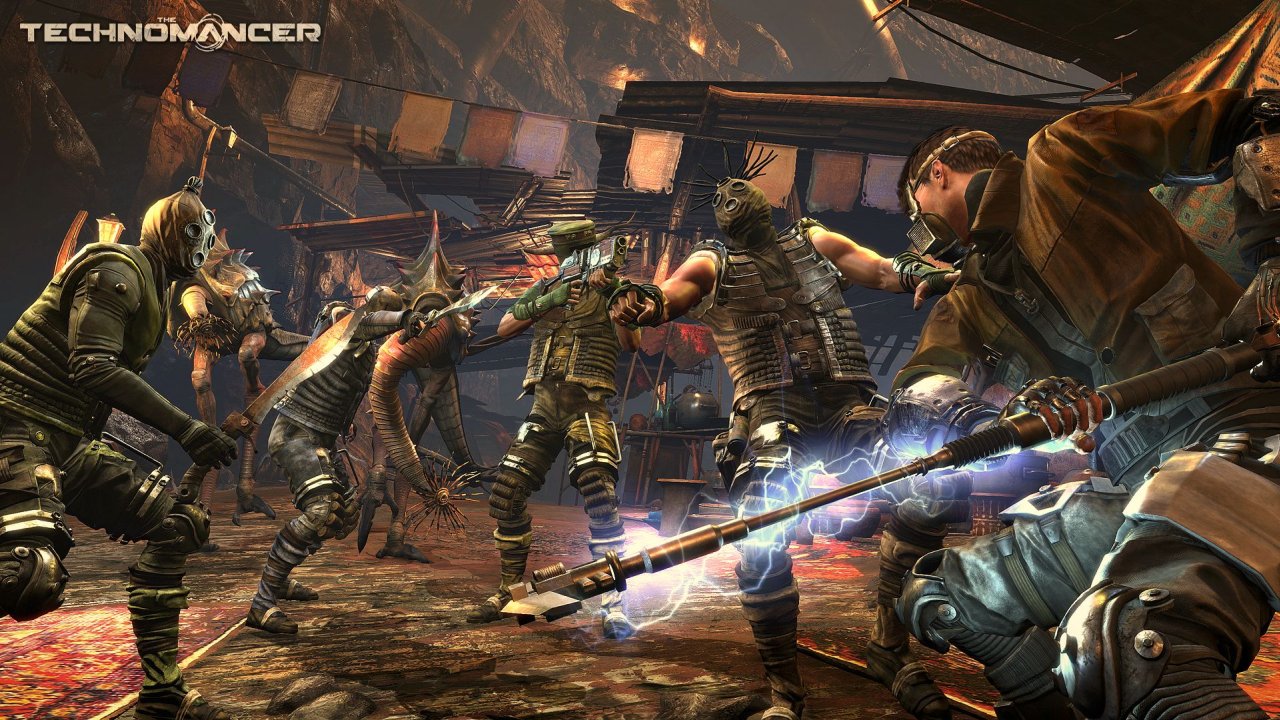 Having dispatched more foes in fairly standard melee combat for a third person action RPG, we reached a vantage point. These elevated locations allow players to see what's coming up next and prepare if necessary; plus you can soak in the views of Mars. There will be four skill trees where players can assign points - one for each fighting style, and one for your powers. Skills can be passive or active. A talent point system will be used to improve personal abilities such as charisma or pickpocketing. Then, there's also attributes, which are physical skills such as strength and stamina. Speaking of which, stamina is limited, so during combat players will need to keep an eye on the meter and not button mash. Attacks with depleted stamina will deal less damage and be less accurate. Similarly, your Technomancer powers are tied to a mana bar. We got to see a few powers in action, such as electrocuting opponents or shooting bolts of electricity in an arc.
Having battled our way through the training grounds, we've gone off the beaten path and reached an old set of buildings. Honestly, the game didn't make it very clear on how we got there. It's still work in progress, of course. A cutscene played, where we discovered a video that brought a huge revelation - the Technomancer race was actually genetically engineered, and their electrical powers are simply a side effect. This news is said to have huge consequences in the rest of the game - as the Techno's are now considered mutants, they will be subject to slavery on Mars, as well as being hunted by the secret police. Our hero now realizes he will face a life of running from the law, and trying to save fellow Technomancers by re-establishing contact with Earth.
The game will also feature big bosses, something the team at Spiders Games likes to do. We got to see an example of such a boss, a large spider/bug like creature that has caused a critter infestation in the dome where food is grown. Our hero went down there to investigate at the end of the tutorial section, and came face to face with this beast in an arena setting. How we get to defeat this creature remains in question, as the demo concluded at that pivotal moment.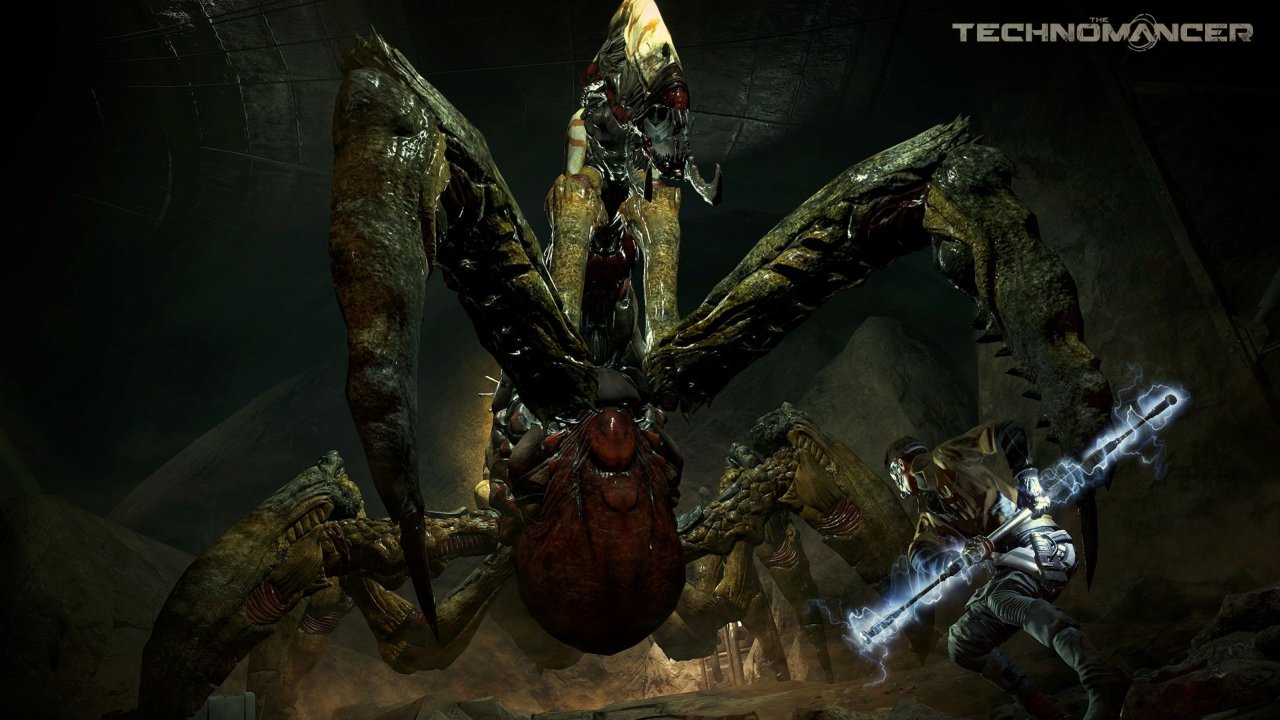 The Technomancer certainly has all the elements needed to create a solid RPG experience, at least on paper. Different fighting styles, tons of character customization, and a unique story and setting. If all these elements manage to come together in a cohesive and polished experience, the developers may finally find the big success they've been hoping to create. According to the team, this is the "end game", the product that they've been wanting to make since the founding of the studio but previously did not have the time or budget for. From what we've seen of the game so far, it looks promising, but time will tell if Spiders can actually live up to their grand ambitions.
The Technomancer is scheduled for release on PC, Xbox One, and PS4 likely in 2016.
Comments