Enemy Front Review
Note: Does not contain an enemy front
So how about those WWII shooters, eh? I mean, wow. They sure are something, with their guns, their tanks and their... er, Hitler? Alright, here's the truth: I've never played a WWII shooter. It's not a deliberate choice, like I have an intense phobia of stick-shaped grenades or being shouted at by men with German accents or anything; it's just that I was kind of busy downloading sketchy freeware games onto my ancient PC around the time they were in vogue, and in the last few years it's been all modern military stuff. Judging by what I've seen, I didn't miss much - lots of greyish-brown recently-bombed buildings, linear progression through strategically-placed wreckage, a dash of muddy European countryside and something called an 'achtung' - but CI Games seems to have decided that lifting the lid on a coffin that the rest of the gaming world had long since sealed away is the right thing to do here. Alright then, CI, let's see what you've done to make shooting Nazis in a pile of rubble interesting. If you do it right, I might even forget all about Alien Rage.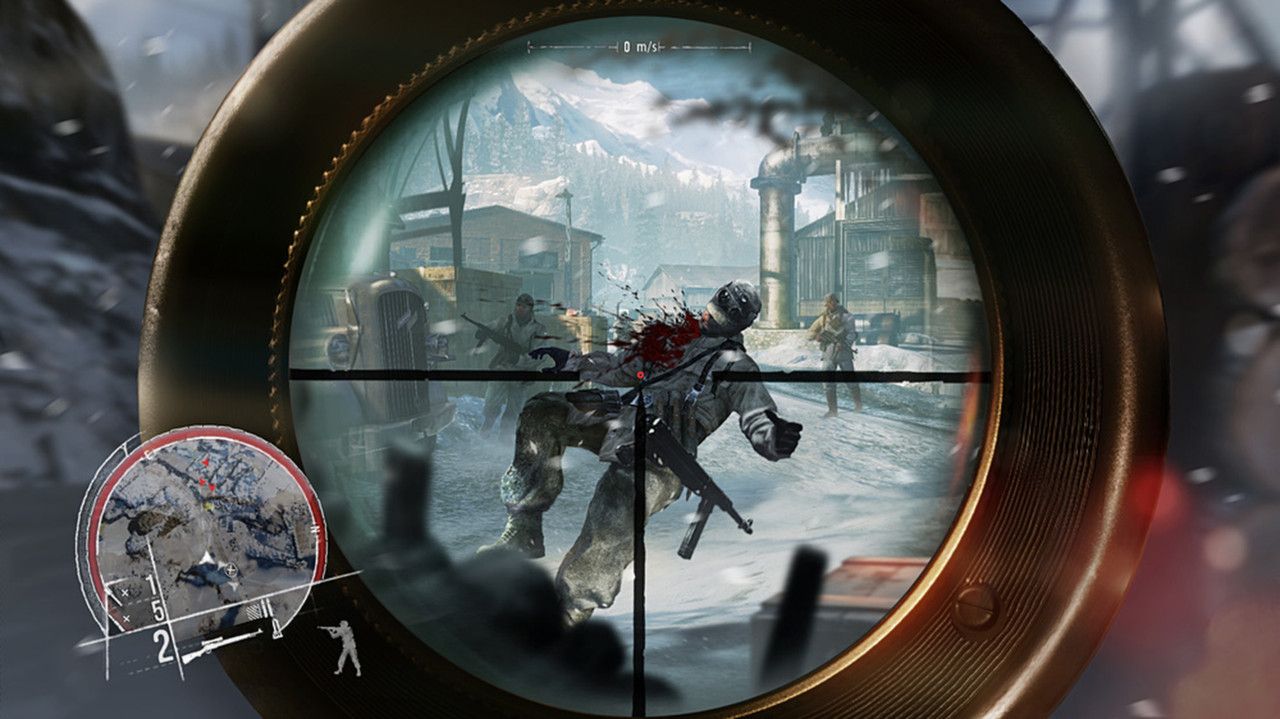 Things start off on a perplexing note when the protagonist is revealed to be none other than... Conrad Hart from the Flashback reboot? Oh, no, silly me. It's so easy to confuse you action game protagonists, you know. No offense meant, Mister Hawkins, was it? Robert Hawkins, right. Anyway, Robert is an American war correspondent caught up in the midst of the Warsaw Uprising, a Polish resistance movement against the occupying Nazi forces. Haven't heard of it? That's probably because it doesn't have a happy ending: the resistance was flattened without the expected help from the Soviets, both figuratively and probably literally as the Germans turned the city into a mountain of shingle, brickwork and assorted lumps of concrete. You wouldn't know this from the way the game presents it, though. Considering the doomed nature of the whole operation I had already adopted something of a defeatist attitude, but it gets difficult to maintain that kind of illusion when the Axis forces have such a tendency to run around in the open and Robert is gifted with the combat capabilities of every protagonist in every generic military FPS ever.
You see, given that the story makes a big noise about Robert just being a writer, you'd think at first that this was an attempt at making him seem like a vulnerable everyman, a breakout from the usual hardened soldier that accompanies this kind of game like an unsightly boil on top of another larger boil, but the moment you hit gameplay you're just another gun floating in the air, gifted with astonishing powers of regeneration, pin-point accuracy - provided the ironsight is rammed up against the camera first, naturally - and the ability to turn completely invisible in three feet of long grass. Presumably Robert will be included in the next Pokemon game. Rather than try to rectify this discrepancy, Enemy Front seems content to just lazily try to distract from it every now and then, with characters occasionally asking Robert where he learned to shoot - no questions on his mutant regeneration and camouflage, though - and him brushing it aside as "oh, I picked it up in Spain," as one would discuss a holiday souvenir. I see, so he has received the prerequisite years of off-screen special-forces training; they're just even more contrived than usual.
Whatever, it's a first-person shooter, right? Nobody ever asked where Gordon Freeman learned to shoot, or which part of his post-graduate degree included a bunnyhopping unit. Only about half of the game actually takes place in Warsaw, with the rest consisting of Robert's flashbacks of other WWII operations, that he inexplicably became a part of, because obviously he's the only person who can— sorry, suspension of disbelief, suspension of disbelief. The flashbacks give us a chance to jump between various locales - the French countryside, an island off the coast of Norway, a German V2 rocket facility - keeping things fresh, if not particularly cohesive. I mean, I'm not asking that Enemy Front had showed all the arduous trekking through muddy fields and snowy wastelands that presumably took place, but there isn't really any logical connection between all these flashbacks besides Robert saying "here's another thing I did" whenever there's a break in the fighting. Incidentally, these flashbacks never visit Spain. I guess Robert doesn't want to recount to his new mates in the resistance about the time he held a Sten gun the wrong way up.
Gameplay, too, has a tendency to flip back and forth erratically, which isn't necessarily a bad thing in itself. Part of the time is spent in plain old military shooter mode, which in this case is as generic as they come: shoot a guy, shoot another guy, follow a patronizing objective marker through an absurdly linear path, use a turret, dutifully blow up a tank for the tenth time today, gaze empty-minded and pick your nose as an overblown set-piece takes place, die because you couldn't see the Nazis through the ten thousand particle effects currently occupying the screen. However, often - though not nearly often enough for my tastes - somebody leans on the brakes and the game turns into a stealth-em-up reminiscent of Far Cry, forcing you to use guerrilla tactics and trickery to overcome the brutal might of the Nazi war machine. You know, like what an underground resistance might actually conceivably do. You can mark guards with binoculars, hide in vegetation or in dark areas, throw distracting rocks and, if you catch somebody alone, creep up behind them and go "boo!" Then, while the two of you are laughing it off and exchanging cigarettes for food rations, you stab him. There are even a few nice little touches I haven't seen much before here and there, like being able to remove the chocks from parked vehicles and send them careening off to cause merry chaos, or being able to fire weapons without a silencer and remain undetected as long you coincide your gunshots with loud noises. It's not really forced stealth, since I'm fairly sure that you could go in all guns blazing and still emerge victorious without needing so much as a band-aid, but there is something quite satisfying about successfully doing it sneaky-beaky like.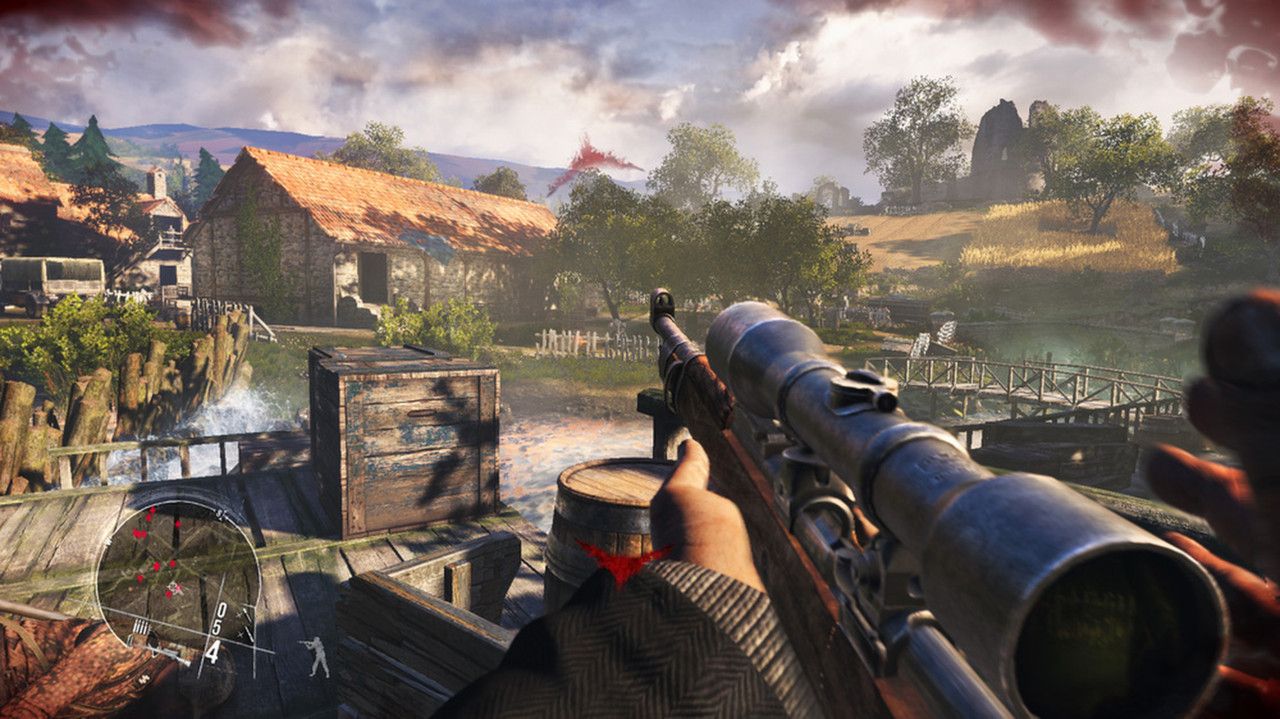 By the way, that interpretation I gave of the game's stealth kills was probably closer to the truth than you might have thought. I would have assumed that anybody trying to remain undetected while in the midst of heavily armed opponents would endeavor to be as quick and quiet as possible when trying to take one out, but whatever happened in Spain, it evidently didn't teach Robert this. Not only is he strangely lax about covering his target's mouth - meaning that your 'stealthy' progression through the level is typically marked by the sounds of gargling Nazi screams - but he doesn't have much faith in his ability to cut through a jugular, since the animation that the game plays more often than not involves frantically stabbing away for several agonizingly long seconds until your unlucky target keels over. Thankfully anybody in the immediate vicinity appears to attribute sudden panicked noises to a comrade falling off a balcony or having their toes run over by a half-track. The same cannot be said of the uncomfortably long kill animations, though, which served me up a fresh steaming 'game over' screen on multiple occasions after Robert decided to remain in the open, performing interpretive dance with his pen-knife while every sniper in the area trained their crosshairs on his nads. The worst part of it is that the regular melee attack, which is bound to the same button, doesn't make any noise and doesn't lock you into a stupid canned animation, is also a 1-hit kill. Seriously Robert, stop playing with that knife and just club that stormtrooper with your rifle butt.
Comments