Football Manager 2014 Review
Improvements across the board make this a must buy
Every year I think to myself: "Nope, I don't need to buy the new Football Manager game this year. If I get the urge to play, I can just load up one of the old ones." Yet here I am on FM2014, for the fifth year in a row, playing through another career as manager of my beloved Newcastle United. The changes on show are incremental, as with most other yearly sports franchises, but upgrading from the previous iteration of the game is perhaps easier to recommend this year than it has been in recent years. If you haven't picked one up for a few years, or have never given it a go, now is a good a time as any to take the plunge.
Of course, it's not for everyone. Football Manager is, first and foremost, a game about navigating menus. You spend the majority of your time looking at lists, comparing players, checking training schedules and managing every little aspect of your team. Sure, the game boasts an updated match engine, as it does every year, but it still barely looks as good as a decade old FIFA game. You might think that better graphics would be a surefire way of gaining new players, but the developer doesn't think so, and neither do I. This year the focus is on personality, and making the process of leading your team more natural and human.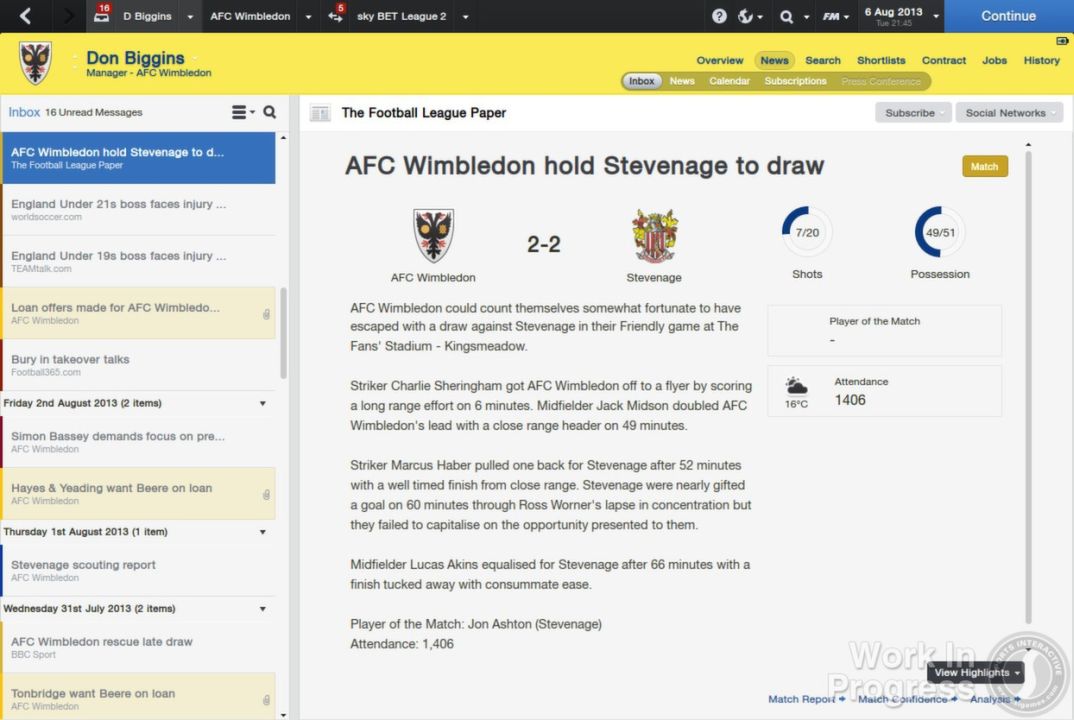 I've always managed to get really into Football Manager games regardless. Scoring in a big game prompts elated screams and a victory lap around the room, or just a muffled celebration with a vigorous fist pump if there are other people in the house. But now it's even easier to relate to players on a personal level. You learn how to handle your players, and how they will react to what you say to them. You begin to build a rapport with them, or slowly watch them become more distant or even disruptive if they feel unhappy. Your regular staff meetings and team talks do become repetitive, but that's a hard problem to avoid in a game which you will be spending dozens, if not hundreds of hours in.
The main career mode is deeper, but at the same time it's easier to navigate and a lot more streamlined. There are still a few aspects that are obscure and require you to trawl through several menus to find, but for the most part, you will find everything you need with relative ease. Context sensitive buttons will appear in emails and advice boxes which take you to the relevant area with just a single click. Your email screen is the place you will be spending the most time, and the game knows that, so certain actions can be performed straight from the email without even taking you off the page. All of this makes the career progress faster than it has before, which is a definite improvement.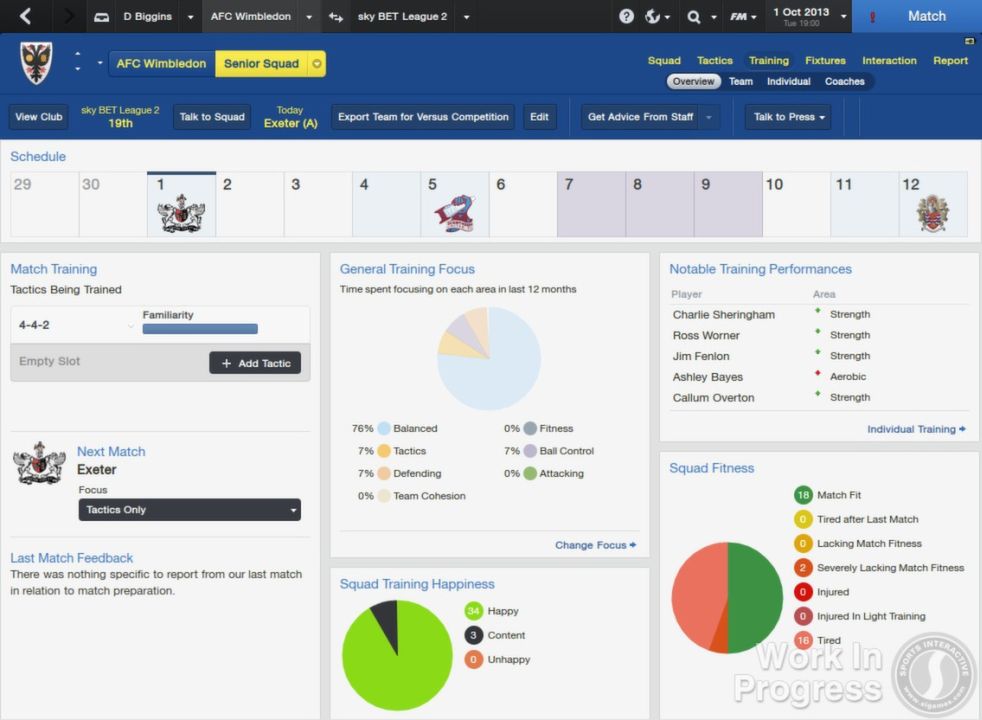 Building your team, changing tactics and watching your efforts turn into results on match days is just as rewarding as ever. Commenting on your opponent's play style before the game, and then watching all of your plans come to fruition during the match leaves you feeling smug in the post game interview. But if your team doesn't perform as you expected you are left with egg on your face. The trick is to find the right balance to keep everyone happy. Sing your team's praises too much and they'll become complacent and not perform as well. If you're too harsh on them, their morale will drop and they'll not want to play. Working them hard before a big game will improve their skills, but you don't want them to be tired when it comes to actually playing. It's a system that has been improved upon throughout the history of the franchise, and it's a great blend of being easy to understand, yet difficult to master.
The match engine has indeed been improved, with some better lighting, some new camera angles and a few animation upgrades. It does look better, but you'd have to squint pretty hard to mistake it for an actual football match. The streamlining from the menus has been brought through here as well, with assistant manager advice being able to be implemented on the fly. The quick instructions menu is better too, with more explanation of what your actions will do on the pitch. You will clearly be notified if you select conflicting instructions too, by red and green highlighting. You won't be able to tell your team to push up and fall back at the same time. The way the AI manager reacts to your changes has been improved too, so you'll need to stay on top of your tactics. You can still choose the level of highlights you wish to view. If you've got plenty of time and want to analyse every detail of how your team is playing, you can watch the full match. If you want to let the match run quickly with little input from yourself, you can only view key highlights, or even just a text stream.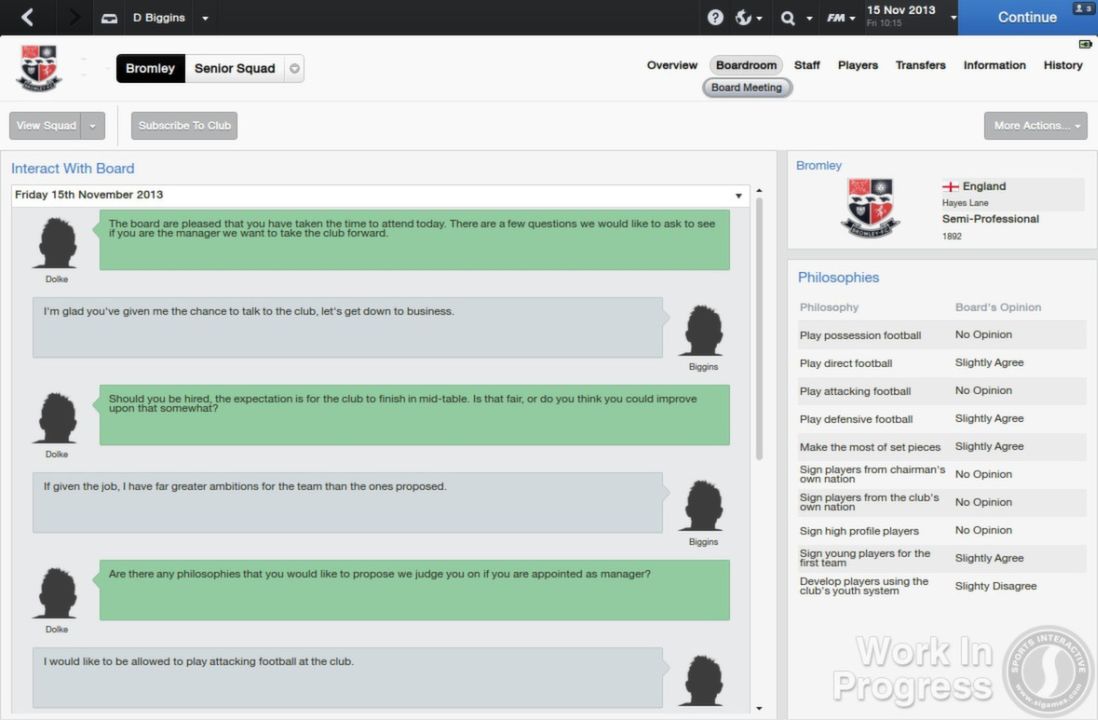 There are other game modes on offer for a quick burst of action. Classic mode allows you to progress through a whole season much faster than normal, as it strips out a lot of the mechanics. This mode is more about tactics than man management. Challenges make a return, having you take control of teams that are in the midst of an injury crisis, or a team that needs to avoid relegation. One of the most interesting sees any team promoted to the top division in their country. Seeing your local team going up against the best is a good deal of fun, despite being highly unlikely to get a good result. The normal and classic career modes can both be played online, and it's easier than it's ever been to get into a match. You can quickly invite someone from your Steam friends list, something that has been lacking in recent years. It also appears that some of the connection issues that the series has suffered from in the past have been remedied.
Overall Football Manager 2014 is simply the best sports management sim out there. The sheer depth is incredible and unparalleled, but there are new options to streamline the game if you don't want to spend hours on it. Know going in that you'll be spending more time on stats screens and menus than watching magnificent goals flying in, and you'll enjoy this game a whole lot.
Our ratings for
Football Manager 2014
on PC out of 100 (
Ratings FAQ
)
Comments
blog comments powered by Disqus