Ratchet & Clank: Into the Nexus Review
Can you teach an old Lombax new tricks?
You have to admire Sony for keeping the PS3 torch burning right up to the 11th hour. Before a new console launches, there is often a drought of games for its predecessor as all attention begins to shift in focus to the new machine. But not so with the PS3. This year alone we've had Ni no Kuni, The Last of Us, Puppeteer and Beyond: Two Souls to name a few of the exclusive heavy hitters for the system, with Gran Turismo 6 still yet to arrive, and we're now rounding out the year with Ratchet and Clank: Into the Nexus.
The once famous Lombax and his cheeky robot pal have been in a state of limbo in recent years. Ever since 2009's stellar A Crack in Time – which concluded the 'Future' trilogy – the duo have been lurking around in failed co-op experiments, All-4-One and Full Frontal Assault (a tower defense game of all things!) or worse, been forgotten about entirely.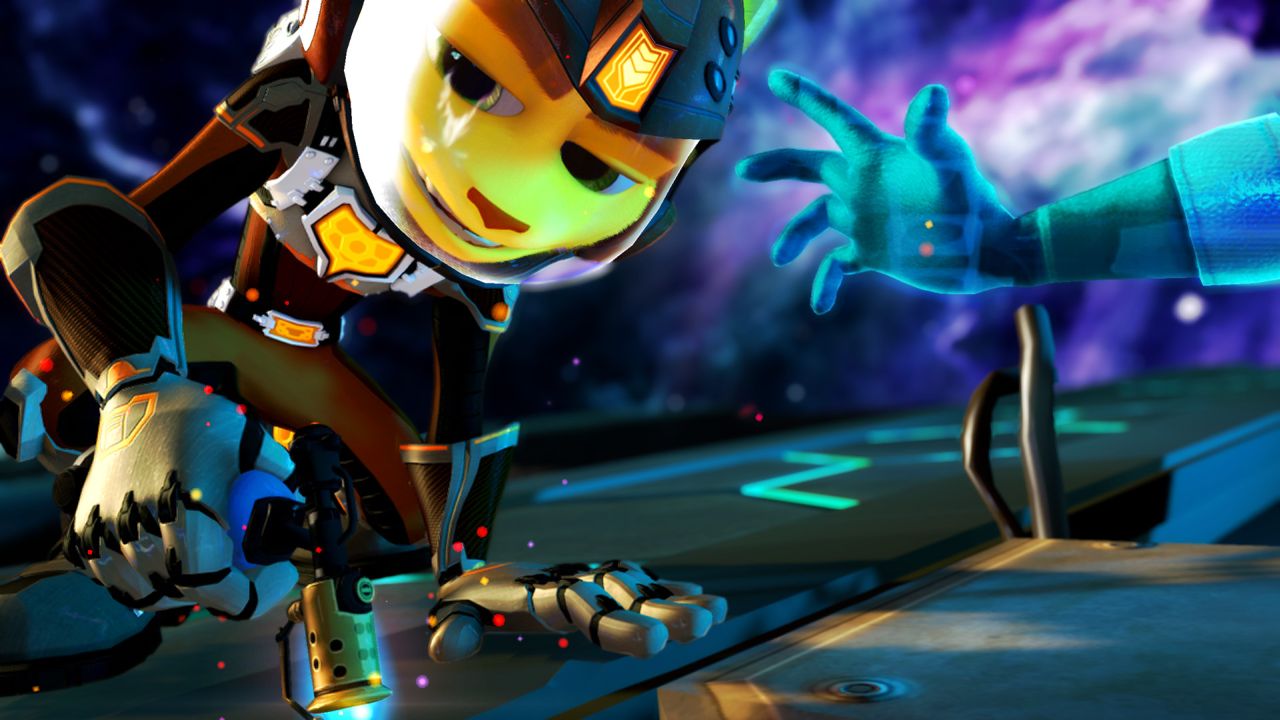 It's here, then, with Into the Nexus, that Sony and creator Insomniac realize what Ratchet is best at: being Ratchet. The game is half the length of a longer Ratchet title, but is half the price too, so all seems fair. In fact, I appreciated a tighter focus here and the fact that the game respected my time too, at least for the most part.
Into the Nexus serves as a fitting epilogue to the core PS3 trilogy, and following a Crack in Time's lead, gets quite dark and poignant at times. It's nice to see a series predominantly aimed at kids take these story risks, and for there to be an ongoing space opera style narrative that the writers trust their audience to follow, or if new to the series, to catch up with.
Not that the story is overly complex or anything, and you'd certainly be fine jumping in here, but some of the nuances would definitely be lost. The continued search for his species, the Lombaxes, adds real depth and emotion to Ratchet's character, and is the perfect jumping off point for this game's story too, as well as its villainess: Vendra Prog.
The game opens with Ratchet, Clank and the old returning war bots, Cronk and Zephyr – who always remind me of Statler and Waldorf from the Muppets – in the Nebulox Seven prison ship. They're ferrying the space witch, Vendra, to the Vartax Detention Centre – another criminal thwarted, another job done, right?
Of course not, and where would the fun be then anyway? Vendra's hulking, idiotic brother, Neftin, along with the hired gang of cockney croc mercenaries, Thugs-4-Less, attack the ship and set Vendra free. An explosive James Bond style opening ensues, with interesting and fun zero gravity sections as you escape the burning wreck.
It's only when Ratchet follows the twins to the Meero Ruins, on the deserted Planet Yerek, that things start to become clear. The Progs were raised in the orphanage there – a fittingly sad and eerie place, accompanied by off kilter fairground music and the chalky remains of an old hopscotch game. Via audio diaries of a younger, more humane Vendra, we realize that she was bullied as a kid, and only the mysterious 'Mr Eye' – a being she witnesses through cracks and fissures in the ether, proves to be a friend. He has great plans for Vendra and Neftin, who it transpires, were once from the same realm as he is, the Netherverse. And so a story mirroring Ratchet's own comes to light: the search for Vendra's own kind, for home.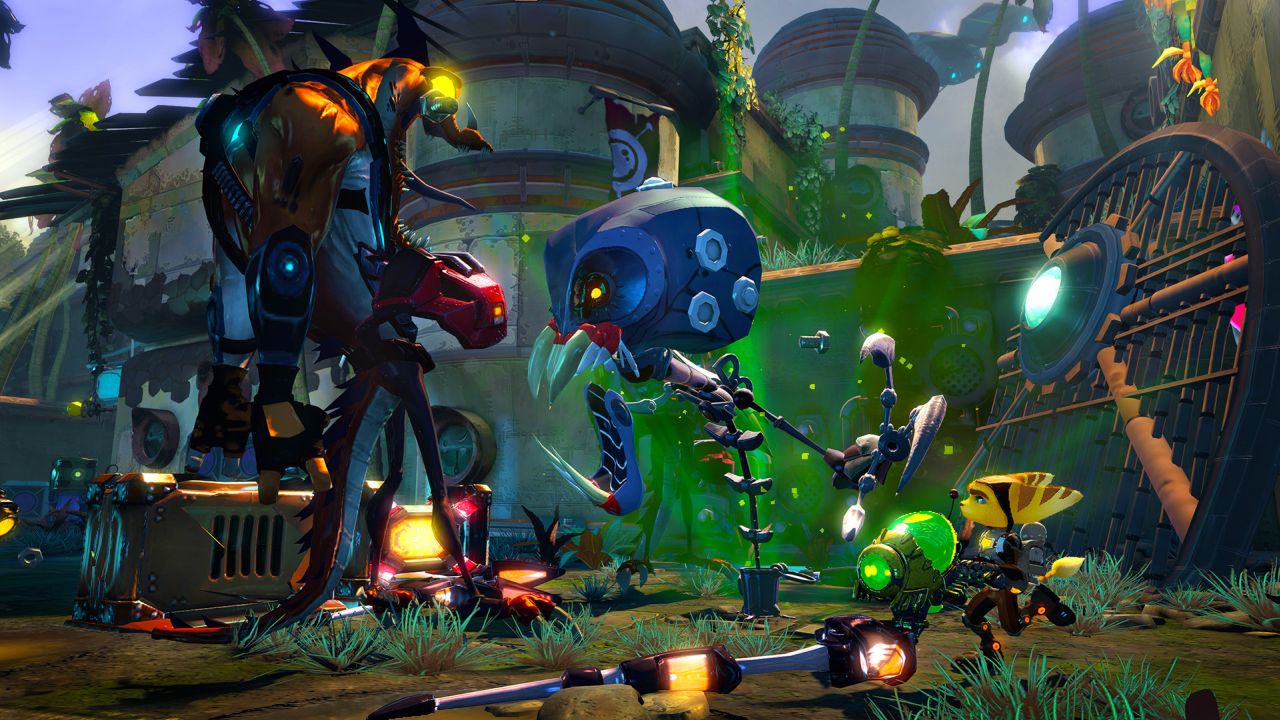 But getting back to the gameplay, this is absolutely your standard, bread and butter Ratchet, and I mean that in the best possible way. Much of the series' popularity comes from its varied and often ridiculous weapons that Ratchet uses, and I'm happy to report that after more than a decade of Lombax adventures, Insomniac haven't run out of ideas yet. Classic pistol and bomb types return, of course, but even in this shorter adventure, there's time for some great new ideas in the firearms department. These include the Winteriser, a personal favourite, which beams all enemies into snowman versions of themselves while echoing Christmas tunes, and the Nightmare Box, a scarecrow like jack-in the-box that terrifies enemies and draws fire away from you. Mr Zurkon is back as well, to shout abuse at enemies (and you) but now he also has a wife and an adorable son, who often spouts lines such as: 'Little Zurkon does not need bolts, he is given an allowance…an allowance of carnage!' – I think I love him.
But after the game's great and utterly promising first half – which includes a great setup; a story involving mysteries and ghosts; lush, verdant valleys and a dieselpunk city of smog and intrigue; a meaningful story-beat of a boss fight atop a sky train station, locomotives steaming through in the heat of battle – the second half of the game then fails to build on this and subsequently grinds to a halt. The next main area – that most uninspired and overused of levels, the swamp – shows up, and is little more than a huge collectathon mission. It's uninteresting and unimportant, ruining the momentum the world building and story had tried so hard to create thus far.
I know this sounds like a bit of a downer, and I too was disappointed. But at the end of the day this is a budget Ratchet, and even when the story drops in quality, the game never fails to make you feel like a bonafide badass. With the constant stream of bolts – the game's currency – the new guns, their ability to level up with use, and your ability to tweak them with a fun but simple skill tree, means you're always getting more powerful and there's always something new to experiment with.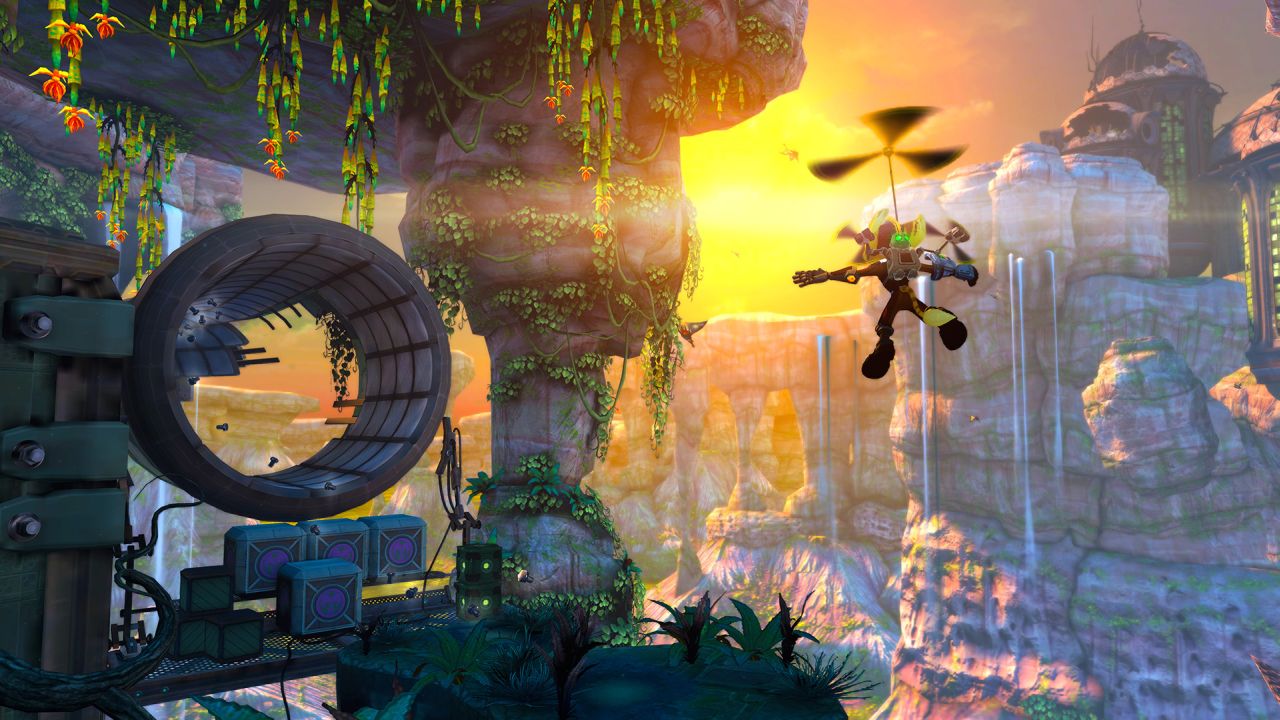 There's also an interesting new mechanic used with Clank, as is often the case. This time he acquires the Rift Cracker and can slip into the fissures between the normal world and the Netherverse. In these 2D platformer challenges, Clank can change the direction of the gravitational pull, avoiding gooey pink sludge and spiky bombs as he first finds, and then leads, a 'Nether' creature back into the real world. At the end of these hectic chase sequences, the Nether will cause some sort of reaction; perhaps a seismic tremor, collapsing the wall before you and allowing you to continue on your quest. These are fun diversions that break up the pace, and are a welcome addition.
Rounding out the experience is a set of classic arena missions on the Thugs-4-Less' home planet, the Destructapalooza, and a harder challenge mode to be unlocked later in the game. All in all, it's a tight package, and mostly a welcome return to the classic Ratchet action we all know and love. It's only the game's length – which, as stated, is somewhat negated by the price – and the lackluster second half, which stops this from being a high point in the series. For fans, though, it's still a welcome return for the Lombax.
Thinking about it more, I wonder if it's Insomniac's desire to create a darker sci-fi interpretation of the 3D platformer that is the secret to Ratchet and Clank's continued success. With their ongoing story, moody and atmospheric settings, and sharp and inventive combat, the series still manages to feel modern – something that many of the other 'mascot' games of the PS2 era failed to do. And in a time when the 3D platformer is a rarity, Ratchet can still be seen as a beacon for fans of the genre, only really eclipsed by that most famous of mascots, Mario.
I look forward to what Insomniac does with the series on PS4, then, if they continue it – and I truly hope they do – but for now this is a fond farewell to the PS3 era of Ratchet games.
Our ratings for
Ratchet & Clank: Into the Nexus
on PlayStation 3 out of 100 (
Ratings FAQ
)
Comments
blog comments powered by Disqus