Assassin's Creed IV: Black Flag Review
Time to set sail with a new era for the franchise
Assassin's Creed IV: Black Flag is the latest title in the long-running series detailing the adventures of historical figures alongside a modern-day storyline. Following the good, but somewhat underwhelming Assassin's Creed III, the development teams across Ubisoft's numerous studios have once again produced a full-fledged title just a year later. With Black Flag, the franchise finally has a fresh gameplay focus, interesting characters, and well organized multiplayer. It's one of the best releases the series has seen in quite some time.
The main character of our tale is Edward Kenway, who just happens to be the eventual father of Haytham Kenway and grandfather of Connor, the two playable characters from the previous title. We follow Edward through the Golden Age of Piracy between the 1690s and 1730s, as he turns from British privateer to a pirate, unwilling to bend to either British or Spanish forces that dominate the game's Caribbean island setting. Through the years, Edward's goals remain pure to his own selfish interests – a trait that the franchise has yet to see, thus producing the first antihero in the Assassin's Creed series. He is an exciting character to follow as we experience the life of a pirate, with more thrills than Connor could ever hope to produce.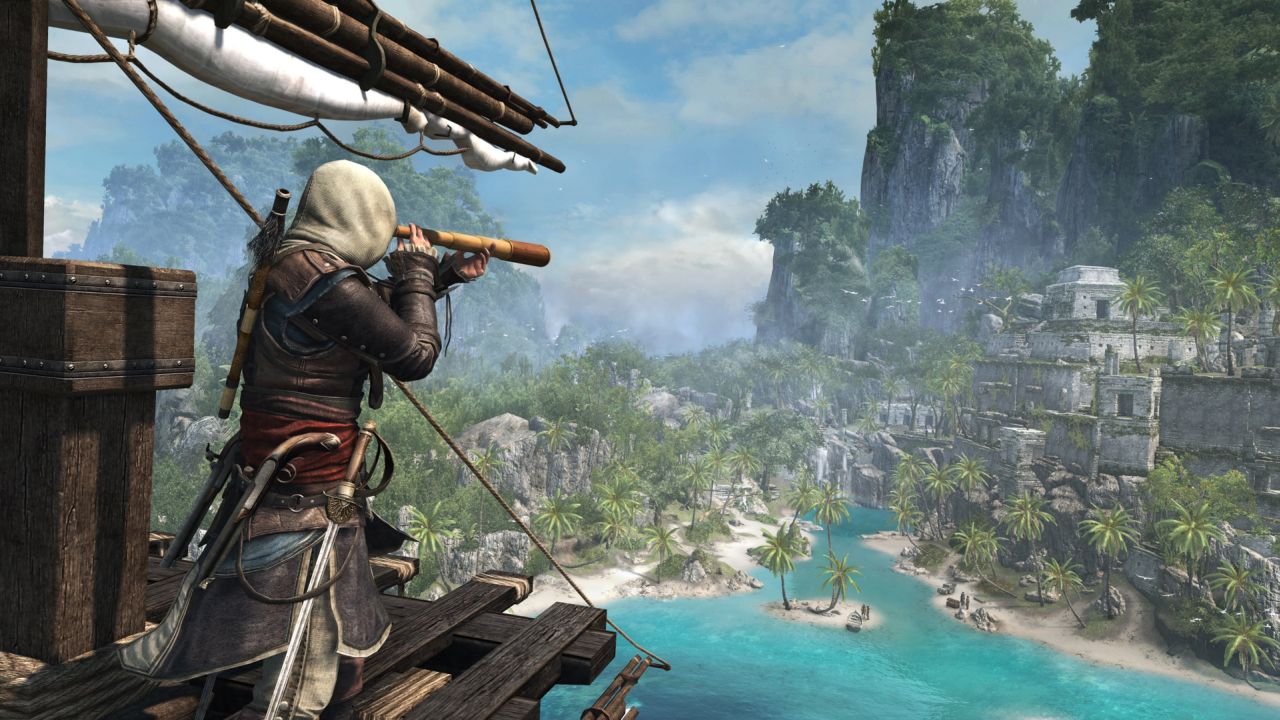 The plot of the game is also worthwhile and keeps moving at a brisk pace, not choosing to dilute itself with adjacent stories that has so often been the case in the series. You will come across famous personas from the time period, including Blackbeard, Benjamin Hornigold, James Kidd, and more. As is customary with the franchise, all of these characters are accurately recreated but with creative freedoms taken to suit the plot of the game.
Following the absolute but poorly written conclusion to the modern-day storyline in AC III, we start anew in Black Flag. Players now assume the role of a nameless and faceless protagonist, controlled through a first person perspective, who becomes an employee of Abstergo Entertainment. You are hired to investigate an important moment in Desmond Miles' ancestry, the abovementioned Edward. The goal is to create an interactive movie to promote the use of Animus for the public, as the company hopes to go commercial with these memory extracting devices. Outside of walking around small office spaces and playing hacking mini-games, there's not much interaction to be had for our mute player character. Of course, there is an underlying conspiracy and events begin to unravel with a brisk pace – they have to, given you spend very little time in the modern setting. It's not long before things are messy again, and ill conceived memories of Desmond's plotlines from games past come crawling back.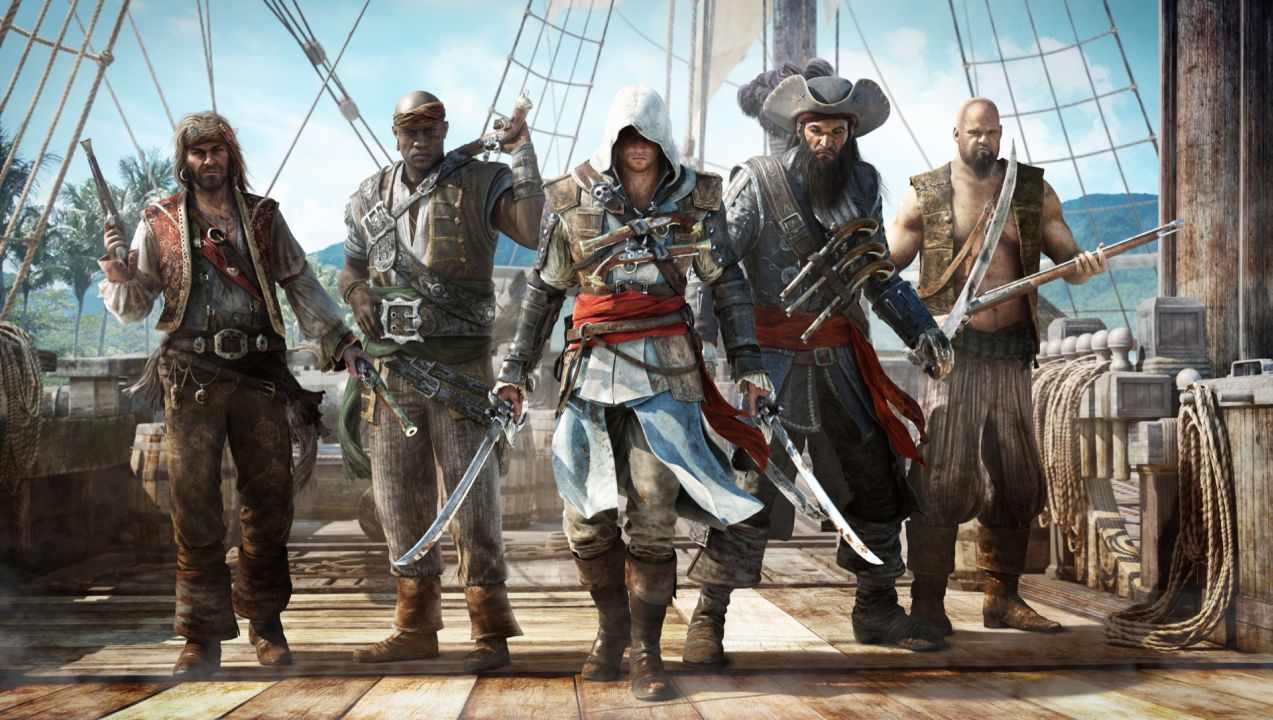 But at least the new perspective certainly adds something fresh to the franchise – but there is one underlying oddity. This Abstergo Entertainment company has far too many similarities with the real world Ubisoft – it appears during the actual game's startup screens, Ubisoft itself is mentioned as a partner in the game with direct links to AC III Liberation, and everyone speaks French. It's very meta, reaching uncanny valley territory that makes you wonder if the developers are getting carried away a little. You're also asked to give story missions a rating, which again feels out of place.
But back to the main event. You can always count on Assassin's Creed to produce a believable and enticing setting, and Black Flag is no different. Instead of exploring a few major cities with some wilderness space in between, the game turns the series formula into something fresh by making it all about the naval experience. If you enjoyed the moments of playing captain aboard your vessel in AC III, you'll be happy to know that was seemingly a test run for Black Flag's major selling point. Most of the map is covered with the Atlantic Ocean, with numerous islands and cities to visit and explore along the way. Once the story gets going and you're in command of the Jackdaw (your ship), exploration is as exciting as ever.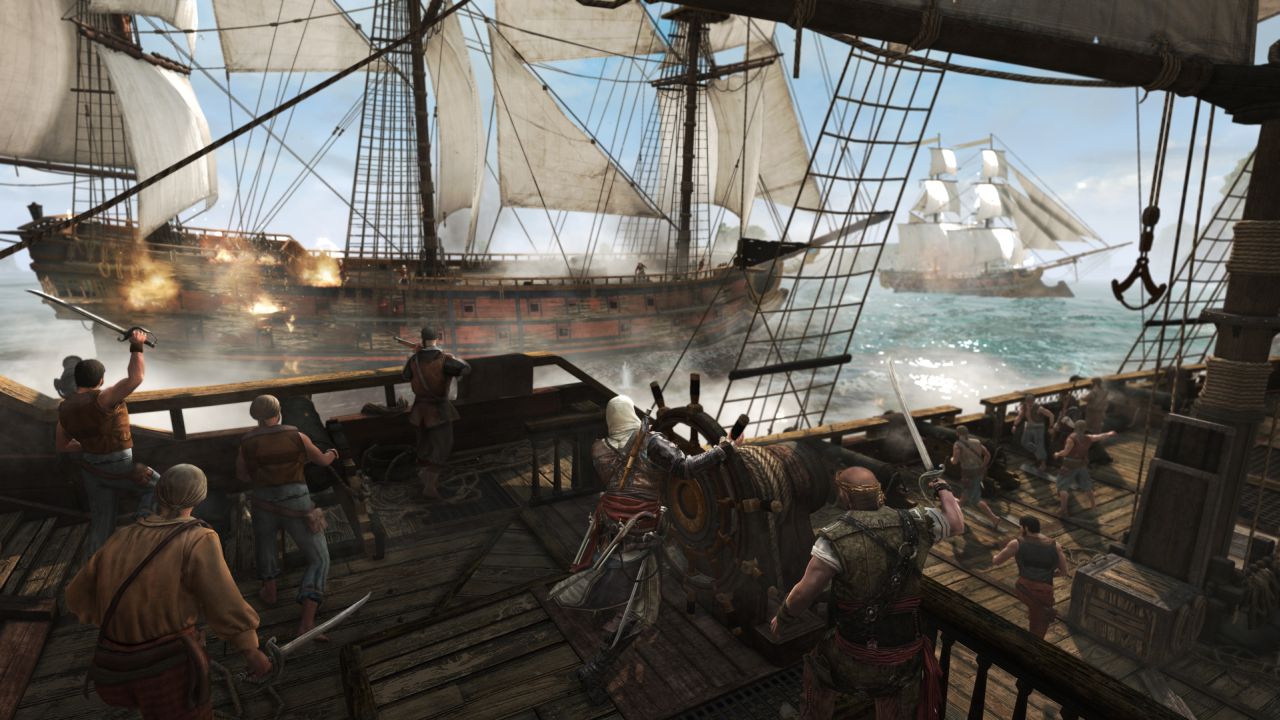 To start off with, all of the classic gameplay elements are still present. So any time you're on land, whether it's in a small coastal shack town or a major naval hub, the staple free running and melee combat are still at the core of the experience. You've got Animus fragments to collect, couriers to catch, contract assassinations to perform, viewpoints to synchronize and more. Treasure maps challenge players to find buried goods with only the hand drawn map and coordinates to guide you.
In combat, Edward is versatile and always dual-wields, lending him new finishing moves and animations. You can also carry up to four pistols at once now and fire in rapid succession, but need more time to reload. A major new weapon that helps with stealth is the blowpipe. Using sleeping or bezerk darks, you finally have a new option to distract or incapacitate the guards from a distance and with precision. On the other hand, guards utilize bells that signal for reinforcements if not disabled beforehand or you take out the enemy about to ring it. The ever-present Eagle Vision returns to help you track targets (including animals), but this time it even works through walls. It makes things easier, because keeping line of sight is possible through any building or obstacle, but on the other hand it looks disorienting, as if an overlay on the textures in front of you.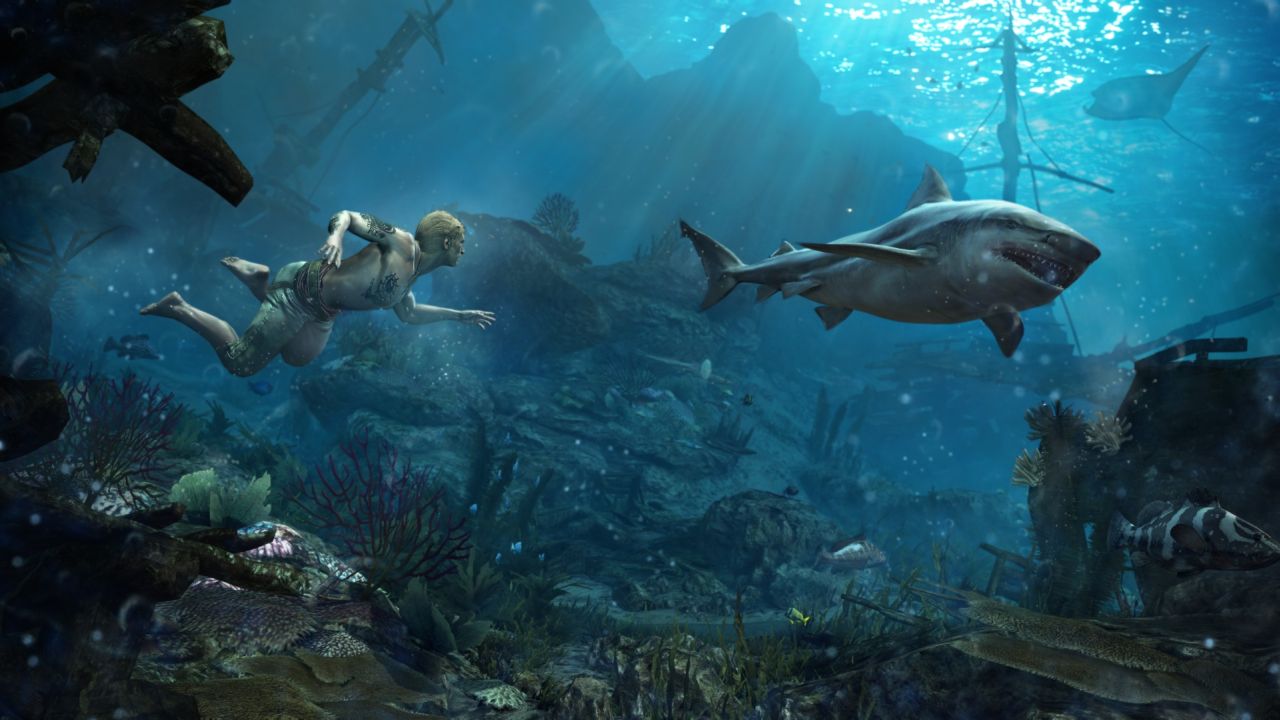 Anytime you're not exploring in a city, you're probably climbing trees and ruins in the wilderness areas. Again, the fragmented nature of exploration benefits the game. You're not exploring a single large, sprawling forest ala AC III, instead you've got hidden caves, dense jungle, and wild predators around every corner. And you can actually explore it all and then move on, hopping on your ship and sailing away. This creates a seamless and freeform transition into naval play, and because most of the locations are relatively small compared to the endless urban density of past games, they feel like bite sized adventures that minimize repetition.
In the same way that gold and materials are needed to upgrade Jackdaw's hull, weaponry, sails, and other elements, Edward himself can benefit from hunting. The islands are rich with wildlife, scattered across the game world in large variety. Hunting works the same way as AC III, however you lack any tools to attract or trap the animals, thus it's more based on luck and outrunning your prey. With animal materials you can craft personal upgrades, such as health, more ammo pouches, etc. Fans who don't want to bother with side activities will be happy to learn that all materials can be purchased from vendors, thus eliminating the need to search for that last rare animal skin you need to boost health. Later on, players get their own small island as a base, where you can construct buildings, so there is no shortage of money that can be spent on improvements and progression.
So as you might have guessed, the major selling point of the game is sailing across the open waters. Pirate games are extremely niche, and not since Sid Meier's Pirates have there been any noteworthy titles to scratch this particular itch. Thankfully, Black Flag addresses the needs of fans of booty marvelously. Sailing across the vast Caribbean is freeing and captivating, with your crew's collective singing helping add to the atmosphere. To the game's credit, your ship's speed is quite decent so while travel does take some time, it never drags on. But should you somehow be bored of sailing, fast travel is available to any previously visited location.
Comments