Foul Play Review
A competent brawler that focuses on combos and charm
The 2D arcade brawler genre is a crowded one, with games competing against each other for player attention. From big-name publishers to independent developers, everyone wants to scratch the classic battleground itch. As such, games have more pressure than ever to stand out – whether it's by providing overwhelming value, unique gameplay or pleasing visuals. The recently released title Foul Play attempts to do just that.
As you've hopefully clued in, Foul Play is a 2D brawler set in a side scrolling world. Players assume the role of daemon hunter Baron Dashforth. You will essentially get to play out the adventures of the Baron's life alongside his sidekick Scampwick, but in a very unique setting. The whole game takes place on a theater stage, and your adventure takes you from one end of the stage to the other. This setting is complete with stage curtains, and an audience watching the performance at all times. There are many appropriate but unexpected moments, like a janitor wandering onto the stage in the heat of battle.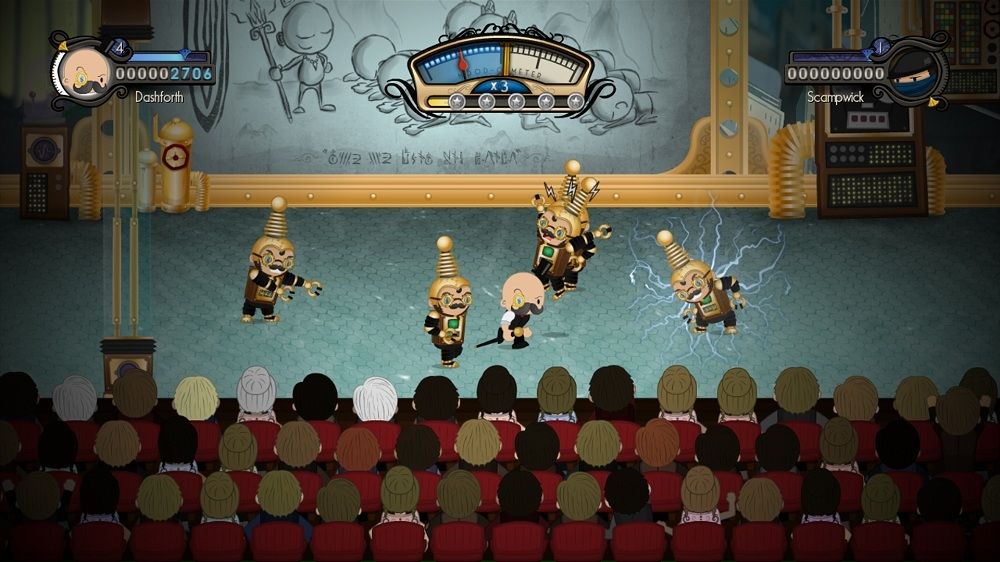 Foul Play further reinforces this theater atmosphere with stylistic visuals to match. The game looks like a 2D cartoon cutout, not too different from South Park. The colors are vibrant and varied, and the audio design complements the overall experience with a fast paced score. And even though you are technically limited by the stage, some great set pieces play out in front of your audience.
Most of your time on said stage will be spent in combat. Once again, Foul Play hopes to differentiate itself by offering a few unique design choices. Firstly, there is no health meter to worry about; instead you must ensure that the audience is pleased with your performance. This meter works similarly to Guitar Hero – fighting well will keep the performance going, but being hit often and losing combos will get you booed off stage. You've also got the choice to use a showstopper ability that multiplies your score by two, helping you reach a higher score or even recover if you're about to lose. But it's likely to be used for the former reason, as the game is not overly challenging.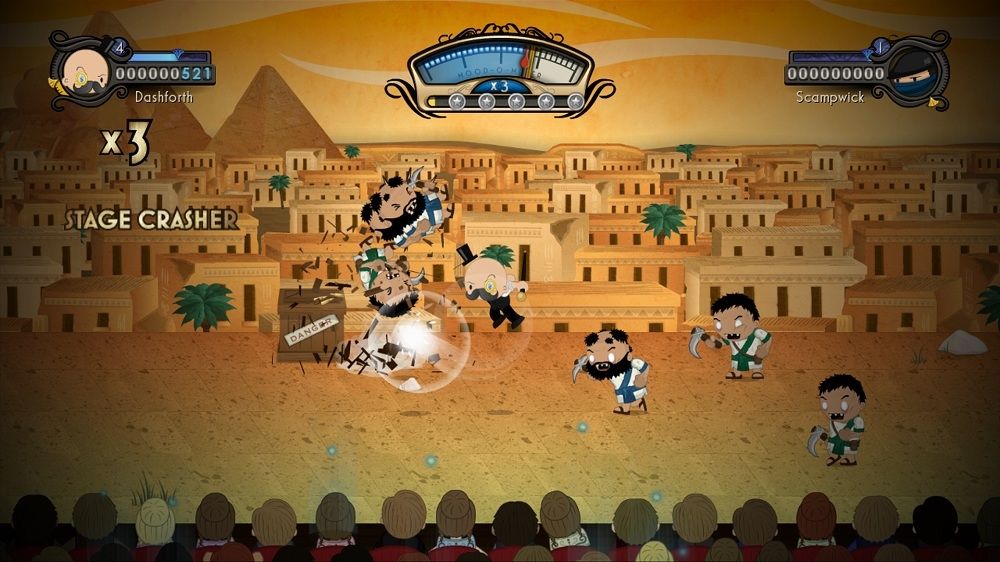 Fighting is based on a combo system. Rather than trying to simply defeat enemies, your audience will be quicker satisfied if you are able to keep up combo attacks. Progressing through the game will unlock a variety of moves, thus making it easier to find a system that works. Starting off as a button masher, later levels will definitely challenge players to concentrate on pulling off combos. The controls are solid though, and fans of arcade fighters should feel satisfied with their responsiveness.
Through the game's five plays with multiple acts, which are over fairly quickly, you'll come across all types of demonic enemies. From vampires to pirates, your foes have decent attack variety and a habit of telegraphing their intentions. This helps you utilize the game's counterattack mechanics, and effectively deal with foes. Bosses help break up the pace. Further, the aforementioned colorful visuals add life to enemies and stages on which you fight.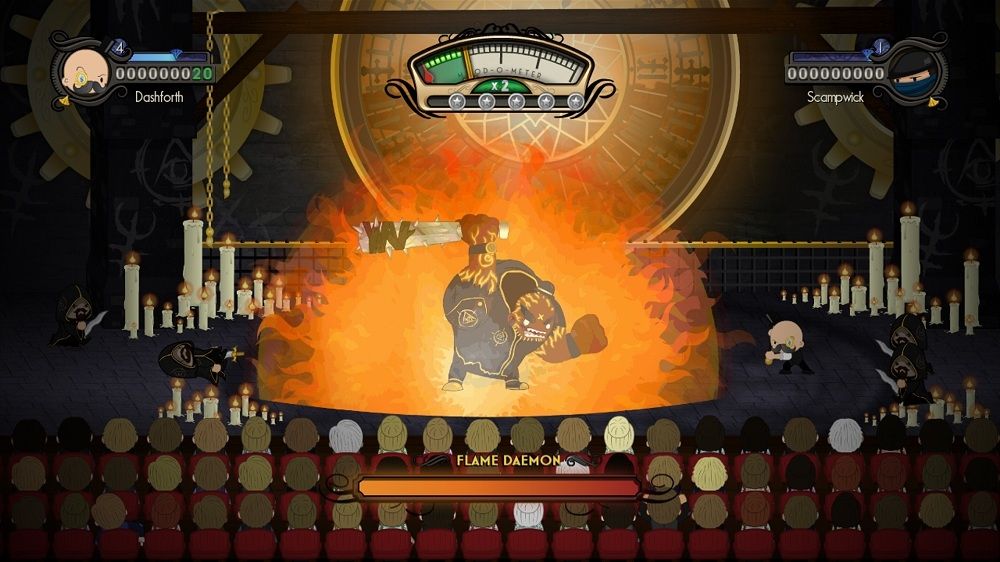 After the campaign is done, players can return in order to complete a number of challenges and earn unlocks. The unlocks themselves don't really add much to the experience however, so the replayability can be extended by playing with others. Foul Play supports cooperative play either offline or through Xbox Live, with online leaderboards being available. Playing with a friend makes it easier to keep the audience satisfied and pull off some great combos. However, there are seemingly balance issues in play, as some stages are decisively more difficult with two players while others become much easier.
Although there are a number of choices on Xbox Live arcade if you're looking to kick some butt, Foul Play manages to stand out with its neat art style and unique gameplay mechanics. Although it may not bring anything groundbreaking to the genre, there is plenty here for combat fans to enjoy at a moderate price.
Our ratings for
Foul Play
on Xbox 360 out of 100 (
Ratings FAQ
)
Comments