Disney Infinity Review
A new franchise that focuses on collectible figurines has the magic of Disney, but lacks gameplay polish
Disney Infinity is the newest entrant to the video game/toys crossover model, made hugely popular a few years ago by Activision with its Skylander franchise. The title uses collectible figurines that are then synchronized with the game with the help of a base, thus offering young players not only a video game but a physical connection to the experience. This is an action adventure with both structured and sandbox content. And while the amount of content on offer in the Starter Pack is quite extensive, it's not all well thought out.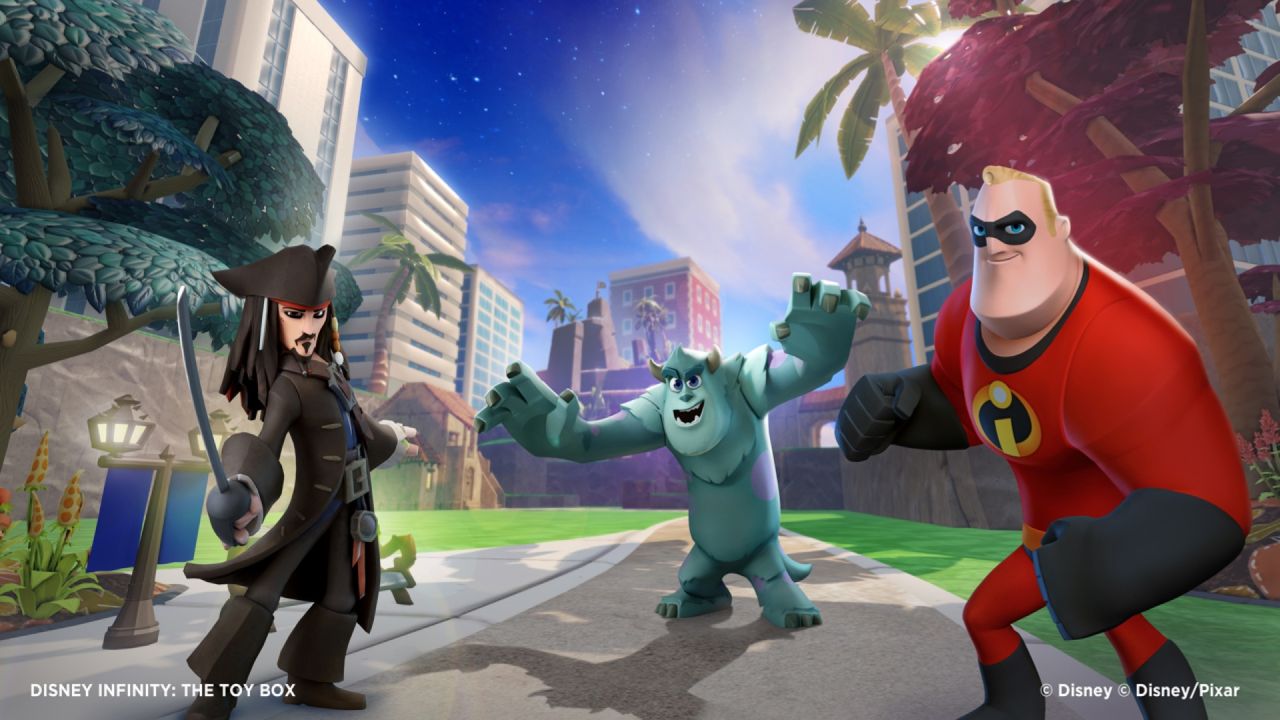 But let's start with the basics – the Disney Infinity Starter Pack will set you back $74.99 and includes everything you need to get started. The base is the USB-connected device that actually serves as the portal between the physical toys and the game, and can hold up to two toys as well as a utility disc. The three figurines that come with the game are those of Mr Incredible from The Incredible, Sully from Monsters Inc, and Jack Sparrow from Pirates of the Caribbean. All three toys are of high build quality and although not very detailed, they look good and should satisfy any kids getting their hands on them. The set also comes with a hexagonal power disc that fits into the third (also hexagonal) slot on the base. In this case, it's a Rapunzel theme pack which allows players to transform their world with new color palette. Finally, there's the Play Set cube, where the actual campaign experience is contained.
For those looking for more Disney and Pixar characters and experiences, the company will be producing various packs to supplement the experience. These physical packs will contain more figurines and disks, without the base game, and sold for variable amounts of cash. Already announced are Play Sets for Cars, The Lone Ranger, Toy Story in Space, and Wreck-It Ralph. Those are of course in addition to other figurines also available to be purchased individually. As for pricing – a Play Set will set you back $34.99, which includes three physical figurines, the Play Set cube, and some power disks only (no software). Players can also buy figurines individually to complete their collection. The figurines alone come with just one specific challenge to play in-game, so unless you are a serious collector, there is little reason to splash any cash on deals that don't include the Play Set cube.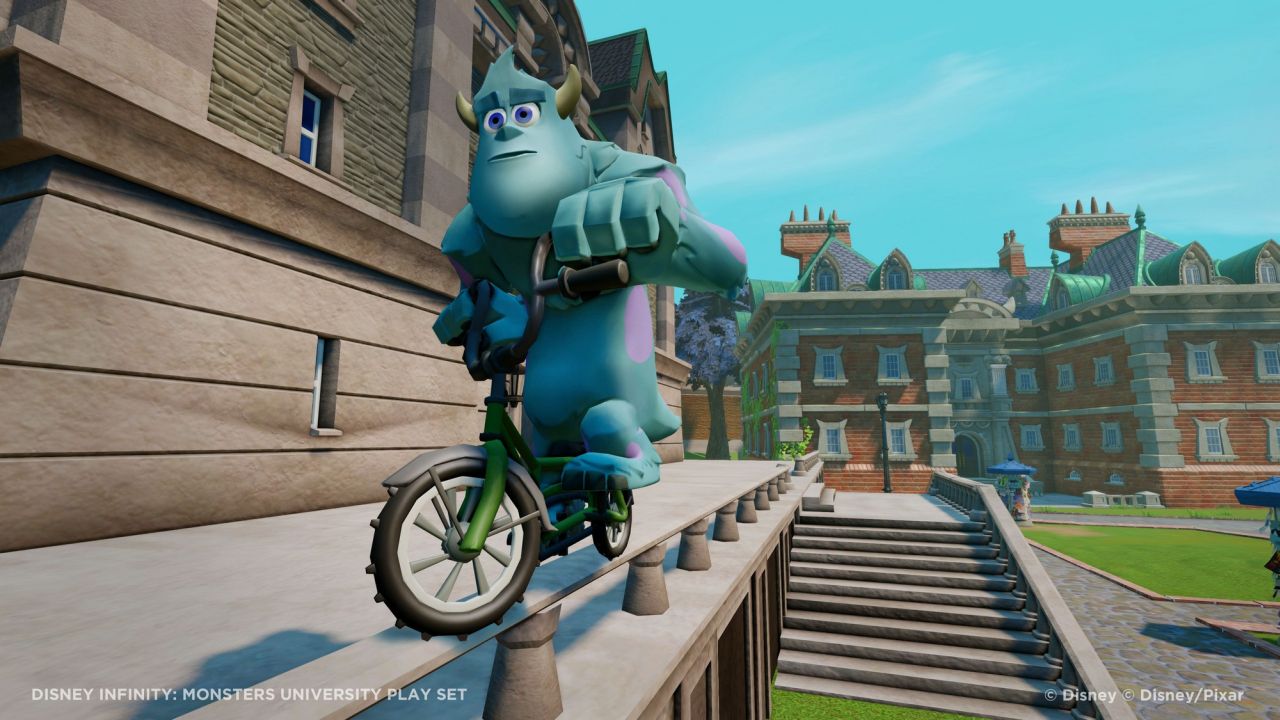 As you start the game, you actually begin as a spark, an "idea" and all that inspirational jazz. Once the game finally lets you into the Toy Box mode, the whole experience opens up. In fact, so much so that young players especially will feel lost, as the game fails to guide you through the extensive gameplay options available. While all gameplay and combat abilities are covered though mastery challenges, a lack of thorough explanation for the overall game world mechanics is an important omission. At some points, the game won't let the player take a step without first telling them to press "A", while other times you're left to your own devices to figure out this huge world of possibilities and poke around in menus - and the best the game can muster is reminding you that it's possible to save.
After poking around for a while, you will realize that the Toy Box is essentially a sandbox creation mode. There's nothing to do here as far as interaction or story concepts go – you have an editor tool to place objects around the area, and then go and run around. The editor is powerful and can be used to create some sophisticated scenery, but one thing that stands out immediately is there is no way to filter or sort your toys in the editor, making it a pain for any serious creators. Anything you create in the Toy Box can be saved as an individual world, and thus you can start over with a blank slate at any time in another save slot, without losing any of your overall progression. You can also download Toy Boxes of other players online or from the developers, and share your own as well.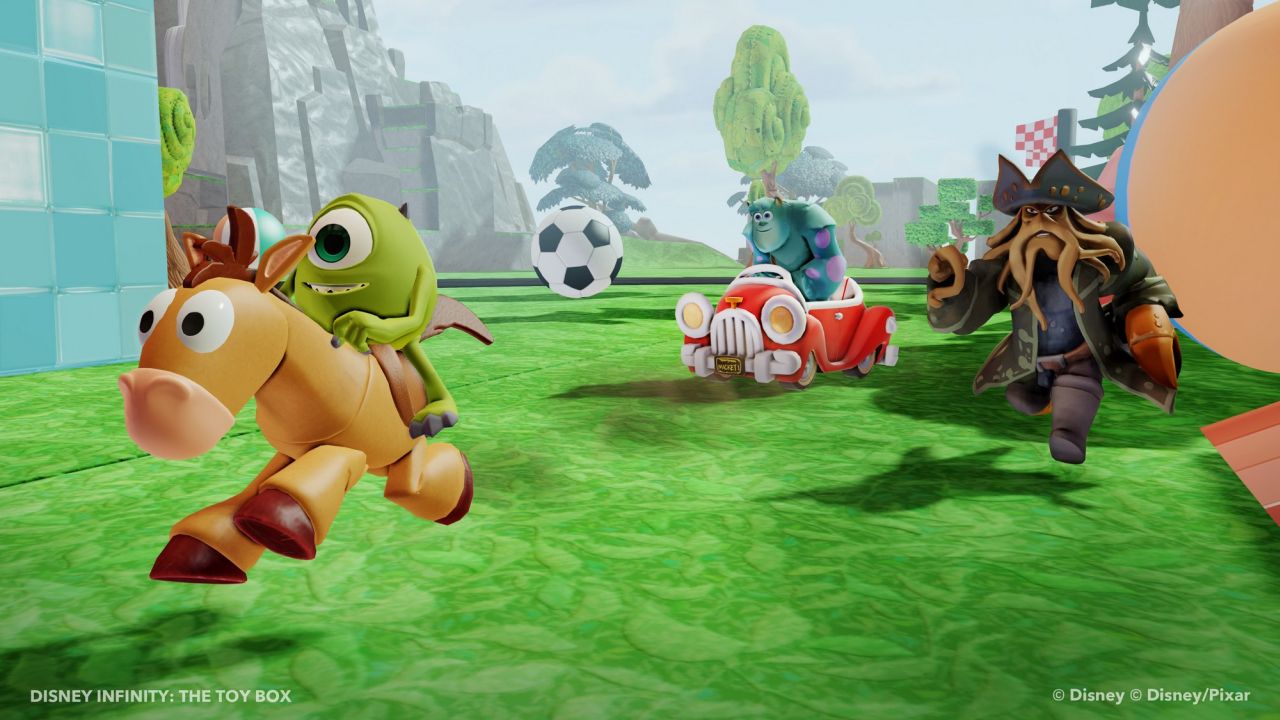 Once you're done messing about with the content, the Toy Box won't have much lasting appeal for players outside of the Minecraft-like demographic. So instead you can try your hand at various challenges and activities. You can bring any of your figurines into these, but some are certainly better suited for combat and agility than others. A set of activities called Mastery Challenges act as a tutorial of sorts, introducing players to all the concepts of the game's action elements. You'll learn to jump, race, fight and interact with the game world. Completing all of these events will unlock corresponding challenges, which are essentially a collection of minigames. There are races, arena battles against waves of enemies, trying to not get knocked off a disappearing platform, etc. It's standard fare, and the goals provided for bronze, silver, and gold medals will actually challenge even seasoned gamers. Having said that, the action can get fairly hectic – too much so for younger players. In combat, enemies have a tendency for cheap shots at the most inopportune moments; a melee attack that stuns you and sends you flying off the edge due to the physics and animations of combat, or an instant-death by a squad of newly summoned enemy wave all attacking you at once. In other words, combat is much better done in the actual Play Sets than these challenges, which more often than not are a bit frustrating.
So after trying your hand at the minigames and Toy Box, time to put the Play Set cube into its place and launch one of the three story mode campaigns available. We started off with the Monsters Inc campaign, which takes place on campus at Monsters U, featuring many characters and elements from the recent movie. Playing as Sully (sadly, you cannot use characters from other franchises) our goal was to eventually beat the competing school in a scare contest, but first there was work to be done. The campaign offers about 3 medium sized areas, where players can wander around, collect items, participate in challenges, and complete quests. The quests usually have players going from place to place, performing actions such as scaring students or shooting toilet paper at trees. It's all fully in-sync with the Monsters lore, but the gameplay itself felt repetitive. The school's designs were bland with very heavy emphasis on climbing buildings or setting up pranks. There wasn't much personality to any of the characters and overall the experience dragged on. Your quests, while tracked conveniently, sometimes failed to offer a main quest to follow, leaving you wandering around an area until you find the quest giver with the primary quest. This criticism applies to all Play Sets, as the primary quest is not differentiated from the others in any way.
Comments
blog comments powered by Disqus