Lords of Football Review
Their lives, your time wasted
Lords of Football is a game that attempts to not only concern itself with the usual aspects of managing a football club in Europe, but also throw in a concept of dealing with your players' actions off the pitch. It's a unique idea that has only been dealt with briefly in other sports simulation titles and certainly one that was never fully executed. Sadly, this concept falters in its simple, uninspired execution and with the actual sport simulation also being disappointing, there's not much value here to attract footy fans.
Unlike the FIFA Manager and Football Manager franchises, Lords of Football hopes to bring something new to the table by letting the player spend most of their time in a real 3D environment, interacting with his squad rather than stare at menus and spreadsheets. You select one of the European football clubs, which are all fake since the game doesn't have a FIFA or UEFA license, but at least share some kit resemblance and real city locations. There is an admittedly impressive customization menu that lets you create a realistic looking club kit, but you still have to deal with fake and randomly generated players.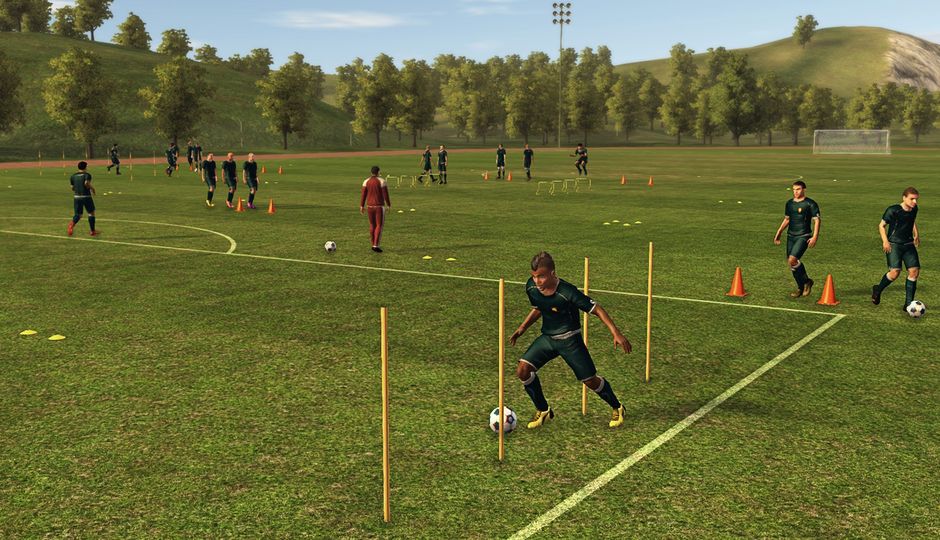 Once the team of misfits is ready to go, the first stage of the game begins. We see a small town, complete with bars, restaurants, and other entertainment venues. But it's the early morning, so you watch the players arrive to the training grounds, and stand around on the field waiting to be assigned. As will be repeatedly mentioned later, your players don't do anything in the game without being directly ordered around. So you place some training zones on the pitch and drag your players to them. The training areas range from fitness to speed and strength exercises, and of course ability and skills training. The game allows you to select all players based on the current view (such as a certain skill) which makes it easy to drag them between exercises. However the menu is often cumbersome and moving just one or two players requires you to deselect any custom view and manually locate the player.
As your squad is exercising, there's not much for the player to do. You could swing into the closeup view of any building on the grounds, each with a specific function. The various training pitches provide their respective functions, and you can assign players to exercise in any of them. A physio office and medical clinic are ready to assist with any injuries or personality problems within your squad, though to use them you must once again manually drag and drop players. You would think that an injured player has the brains to go see a doctor, but no, he'd rather stand around the pitch doing nothing – as training is impossible due to his condition. If you want to address a player personality problem, the addiction treatment must be manually selected and then you can drag the player there. The main office is where all club info is located, along with any challenges set by the board that unlock new facilities. This is also the area where you can request transfers – not something you have direct control over as the coach.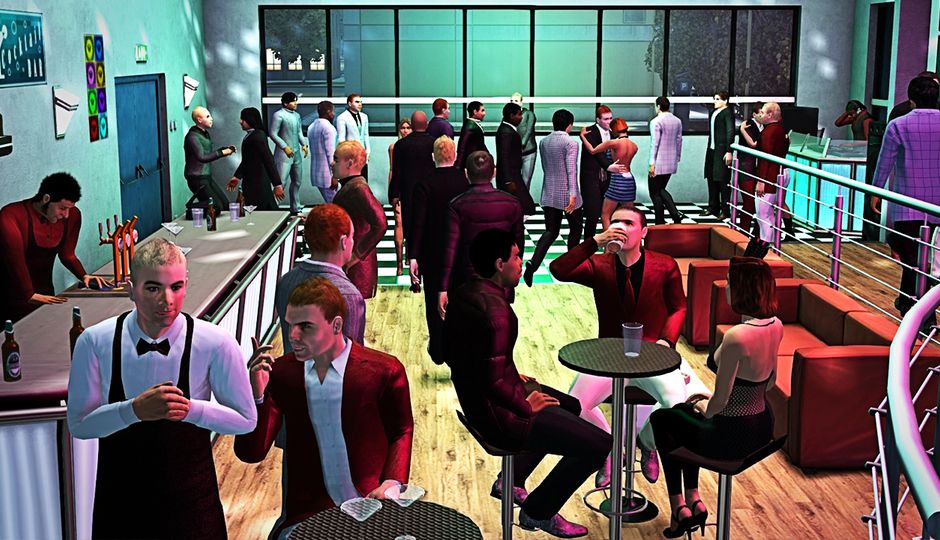 And herein a great realization dawns – Lords of Football isn't a manager simulation game. It's the simulation of a life of an assistant coach. The much less glamorous, much more time consuming job of training and babysitting the players. Once the training is complete at the end of the day, you must release your players so that they may hit the town in the time that remains. But your job is not done because the players left the pitch – instead, the main unique selling point of the game is looking after your players during these evenings. As mentioned earlier, there are many activities in town that aim to satisfy a specific personality trait of your footballers. Egomaniacs will go to a radio station, those who love food will visit restaurants, players who like to party will go to a club, those who seek love will try speed dating, etc. This is where we learn that most members of the squad are depressing human beings that will chase their cravings until eventually becoming addicted.
Even here the micromanagement factor is in full force. It can be understandable that players are lazy and won't automatically pick an area to train on the pitch, but must we really be required to drag players to their party of choice? Why must a player who likes food be manually dragged to the diner from a night club in order to boost his morale? Should these people (who have some of the worst personalities on the planet, according to the game) be at least able to satisfy their desires without the need of intervention from the coach? It's a bit ridiculous. An interesting concept, but one that has been poorly designed for a video game.
Comments
blog comments powered by Disqus