Hitman: Absolution Review
Agent 47 still behaves like a silent assassin despite a different disguise system and warped mission structure.
Hitman: Absolution makes significant changes to disguises and level structure while retaining the satisfying assassination aspects of the series. The changes in gameplay are large enough to frighten Hitman veterans but not alienate them. Absolution doesn't initially feel like a spiritual sequel to Hitman: Blood Money. This is despite starring the same bald assassin and his iconic murdering tools. The lack of preparation and a broken save system hurt the otherwise slick experience. You fumble through short evasion levels before taking on the infrequent, satisfying sandbox assassinations. You'll also battle against your own disguises in order to be the ultimate silent killer.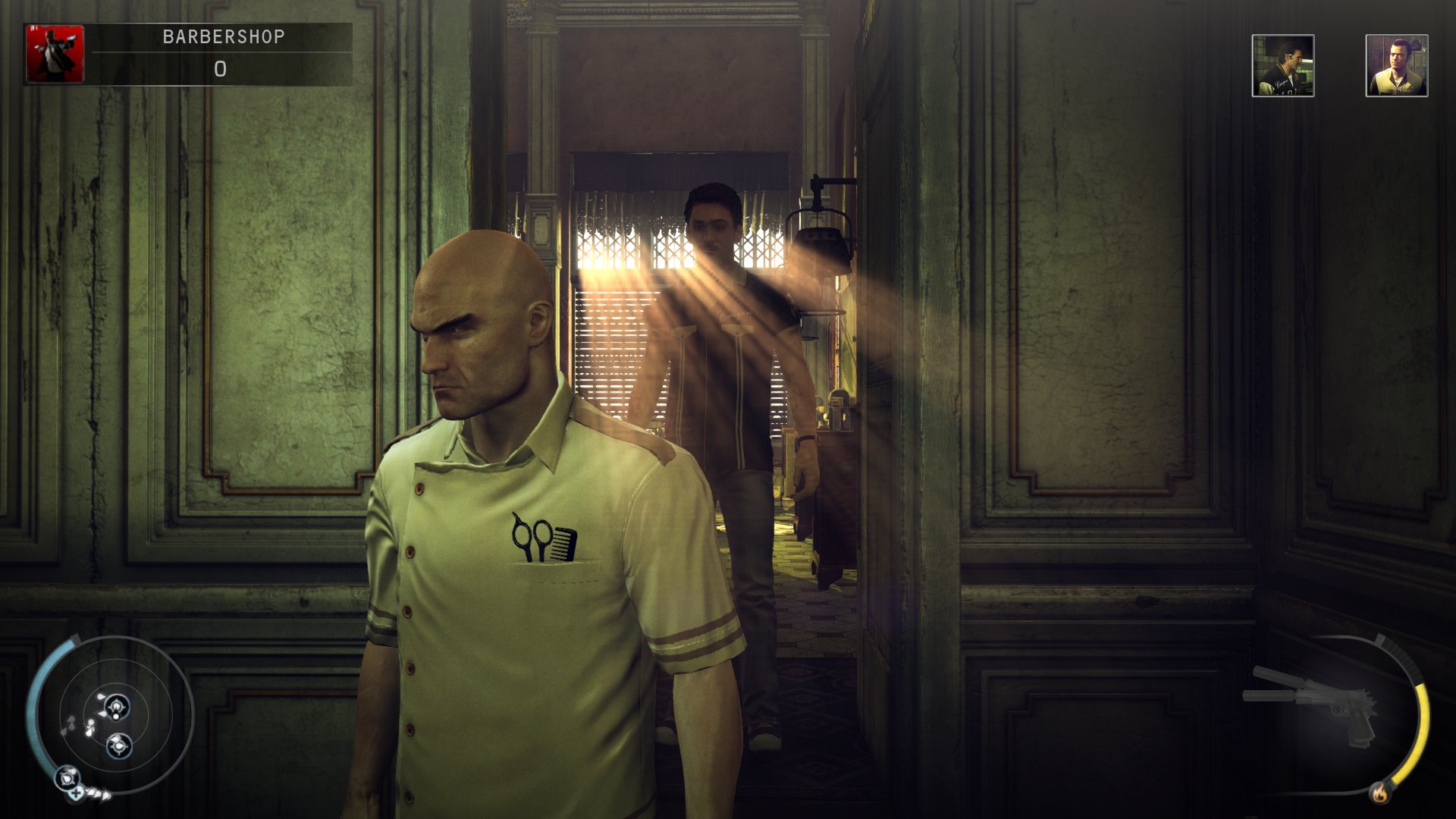 The haircuts from this Barber are to die for
Agent 47 has been asked by the Agency to kill his former handler, Diana Burnwood. Diana put her life at risk to save 47 in the excellent finale of Hitman: Blood Money. She has gone rogue and Agency man, Benjamin Travis, orders her elimination at the hands of 47. The silent assassin completes his task and a prewritten letter from Diana begs him to protect Victoria, a girl with the potential to turn into a killer. Agent 47 must protect her the only way he knows how; by process of elimination.
It's not just the Agency who is after Victoria. Blake Dexter, a vile cowboy, sees Victoria as a valuable asset to be ransomed. With the aid of his super soldier, the gigantic Sanchez, he is unwavered by Agent 47. Dexter's friends, soon to be victims, are many flavours of sleaze, slime and scum. It's easy to hate these characters and the mercenaries paid to do their bidding. The story is full of memorable, despicable characters and ludicrous moments, but it does an amicable job with a protagonist who rarely speaks.
Mission preparation is virtually absent thanks to the story structure. You are rarely assigned a target, instead asked to evade police or mercenaries. There are no maps of areas, so you'll need to explore to understand the layout. Agent 47 trades his arsenal for information, leaving him without the choice of equipment before missions. This doesn't justify why disguises and weapons change from one level to the next. The game arbitrarily gives or takes equipment for no reason. It removes a useful disguise as you enter a different area of the same facility. This lack of preparation contributes to the number of restarts needed to achieve perfection.
There are generally two types of level structures in Absolution; evasion and assassination. Assassination missions are sandbox, exploratory and structured similar to most of the levels in Blood Money. Two of these occur in the same Chinatown level, with the second being one of the best in the game. It's a shame most are fairly small and reuse accidents. Targets proceed on routes that take them through convenient accident spots or isolated areas. Non targets provide the necessary challenge and useful disguises. World items can poison, electrocute, burn, crush or distract. Just watching the world can reveal solutions. The game tries to dictate player actions in these sandbox areas, and this leads to rudimentary solutions.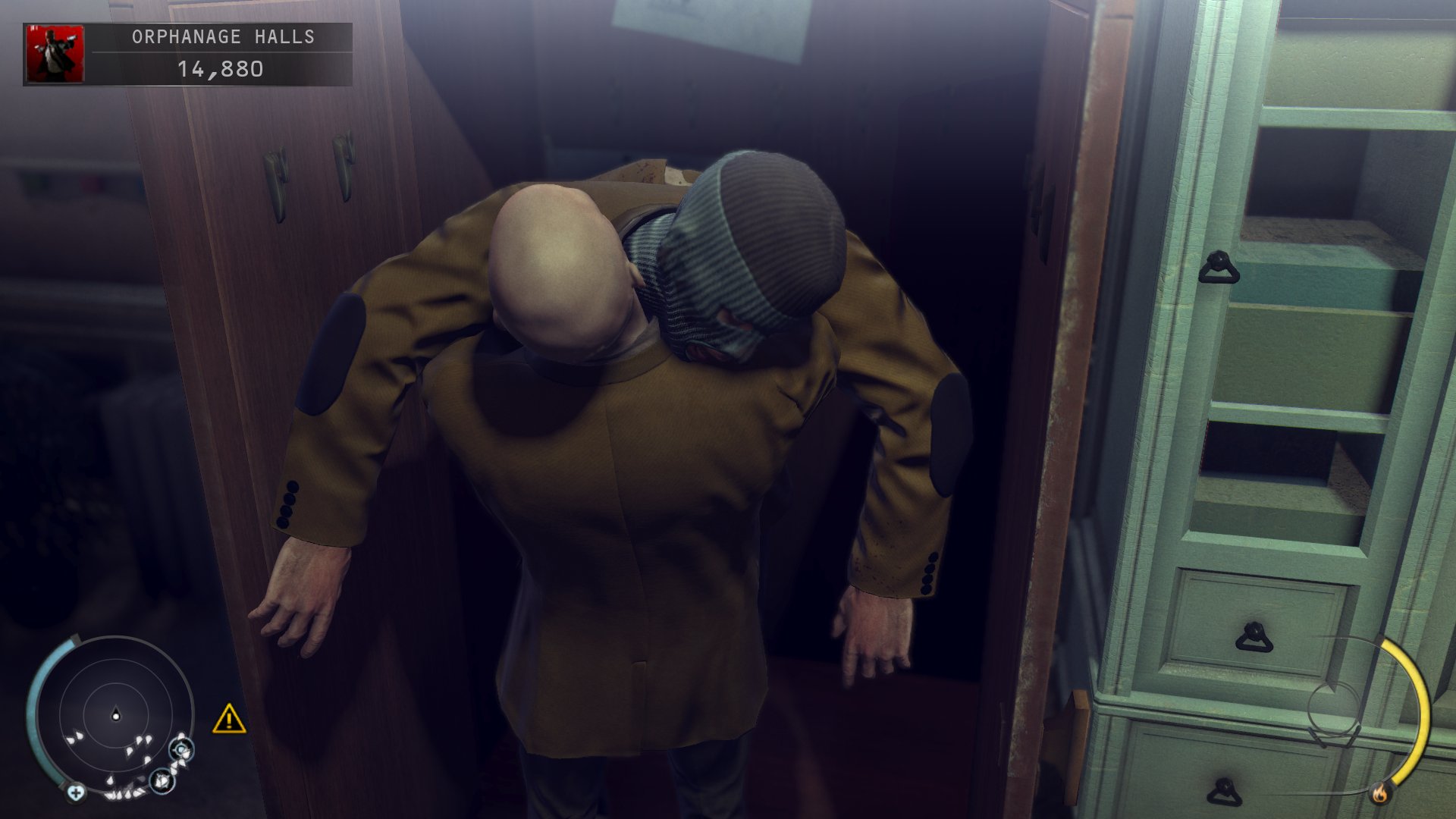 Cupboards are great for hiding bodies or yourself
Evasion levels are more linear and ask you to reach the other end of a level. They emphasize stealth over accidents or deception. They break up the freeform levels and push you forward at a more constant pace. The levels might place a sniper rifle lazily against a wall and then give you the ideal sniper nest seconds later. There is nothing wrong with these forward motion evasion levels, but Absolution has too many of them compared to sandbox assassinations. The mixture of both evasion and assassination levels, seen near the end, is preferred over straight up evasion. Swapping the relative proportions of these mission structures would have done wonders for the game.
Comments