Need for Speed Most Wanted Review
Some questionable design choices and performance issues might take this Need for Speed entry off your Most Wanted list
The title of Need for Speed: Most Wanted should probably be ignored. This latest entry into the long-running and highly divergent racing franchise bears little relation to the original game, as it is developed by Criterion, the masterminds behind the excellent Burnout: Paradise and Need for Speed: Hot Pursuit. Their latest creation, while bearing the Need for Speed name, might be more appropriately called Burnout: Hot Pursuit since it feels like a mash-up of Criterion's last two titles. While this promising combination of open-world racing and police chases sounds tantalizing and has great potential, some of the elements that made their last two games so addicting and enjoyable are missing, making Most Wanted feel indistinct and watered down. Add to this the weirdness of the game's car unlock system alongside the crippling performance issues and Most Wanted starts to look like a lackluster effort from one of the best arcade racer devs around.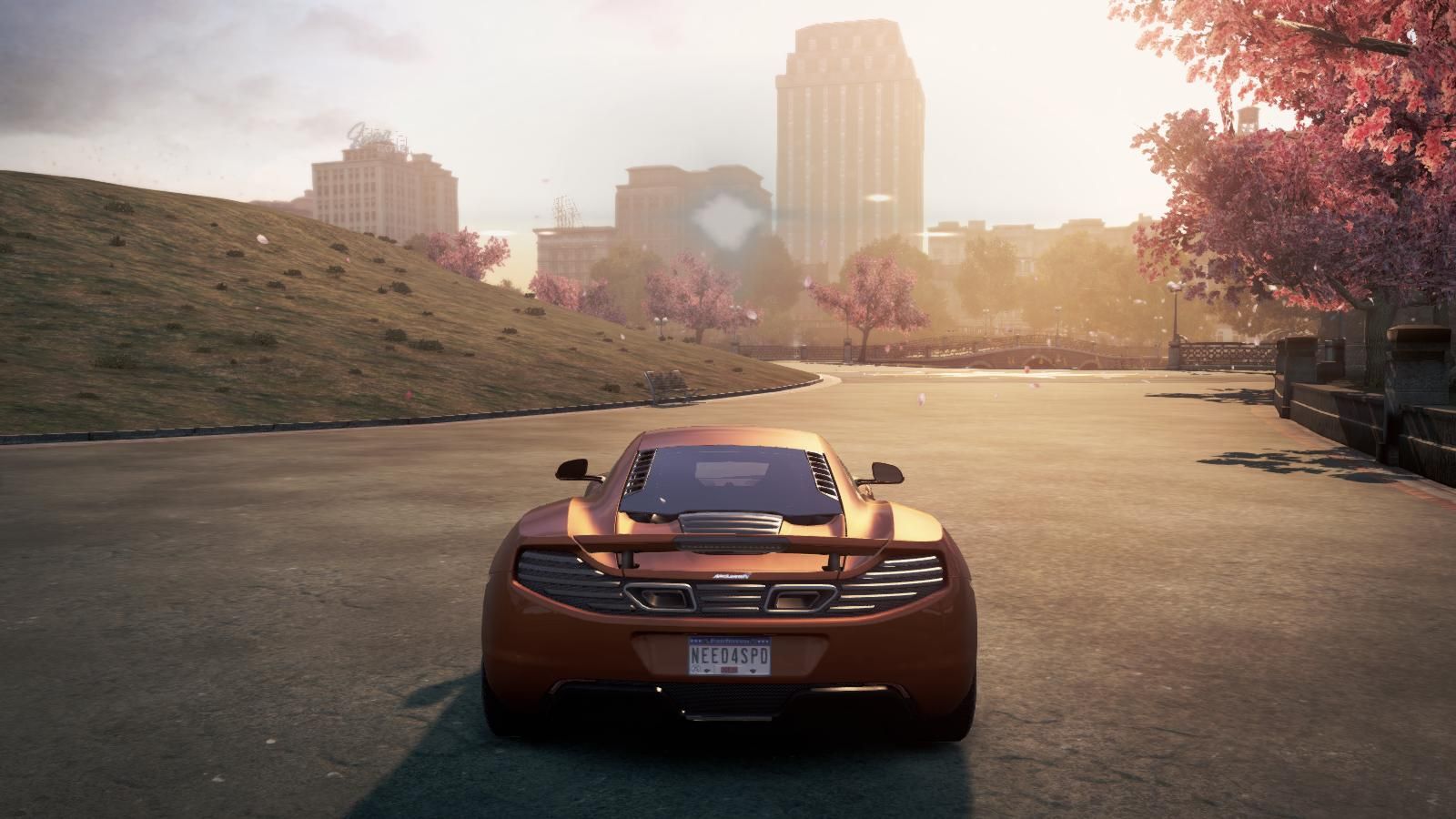 Fairview proves a gorgeous setting for high-speed madness
Like Burnout Paradise, Most Wanted takes place in a big open city that you are free to drive around in until you start a race. The city, Fairhaven, is dotted with billboards to smash and fences to bust, but now there are also cops roaming the streets. Cops are fairly tolerant of your shenanigans, but if you blast past them or run into one they will give chase. These chases will also occur in some races, and in these instances cannot be avoided. Cops will communicate with each other, and you get to listen in on their radio chatter, being informed of road blocks and spike strips. To escape the lawful pursuers you must get a certain distance from them and lose line of sight, at which point you enter a cool down period during which you must avoid all cops. Police chases can be very exciting, especially when you get into cool down and are using your mini-map to figure out which route to take in order to avoid bumping into police cars. However police chases can be extremely frustrating as well, especially when driving in a slower car. It can be difficult to lose the pursuers who sometimes lock on to you with ridiculous efficiency, and once you enter cool down mode you might get trapped with cops coming from all directions.
While you are being pursued by police officers in the open world you are unable to start any races or events, which can be a nuisance when you just want to lose the cops so you can start a race. There is no punishment for being busted by the police outside of races, you simply get re-spawned back where you found the car, so this is often the easiest way to end a chase. You don't get any of the cool defensive or offensive gizmos from Hot Pursuit either which feels like a missed opportunity. Police chases during races are usually more successful, although sometimes they will appear seemingly out of nowhere to take you down right before the finish line, forcing you to restart the race. They will also lay down spike strips which, apparently, have no impact on your AI opponents. The rubber-banding of the police officers also carries over to these AI opponents, who will appear to be driving oddly fast or slow depending on what you are driving.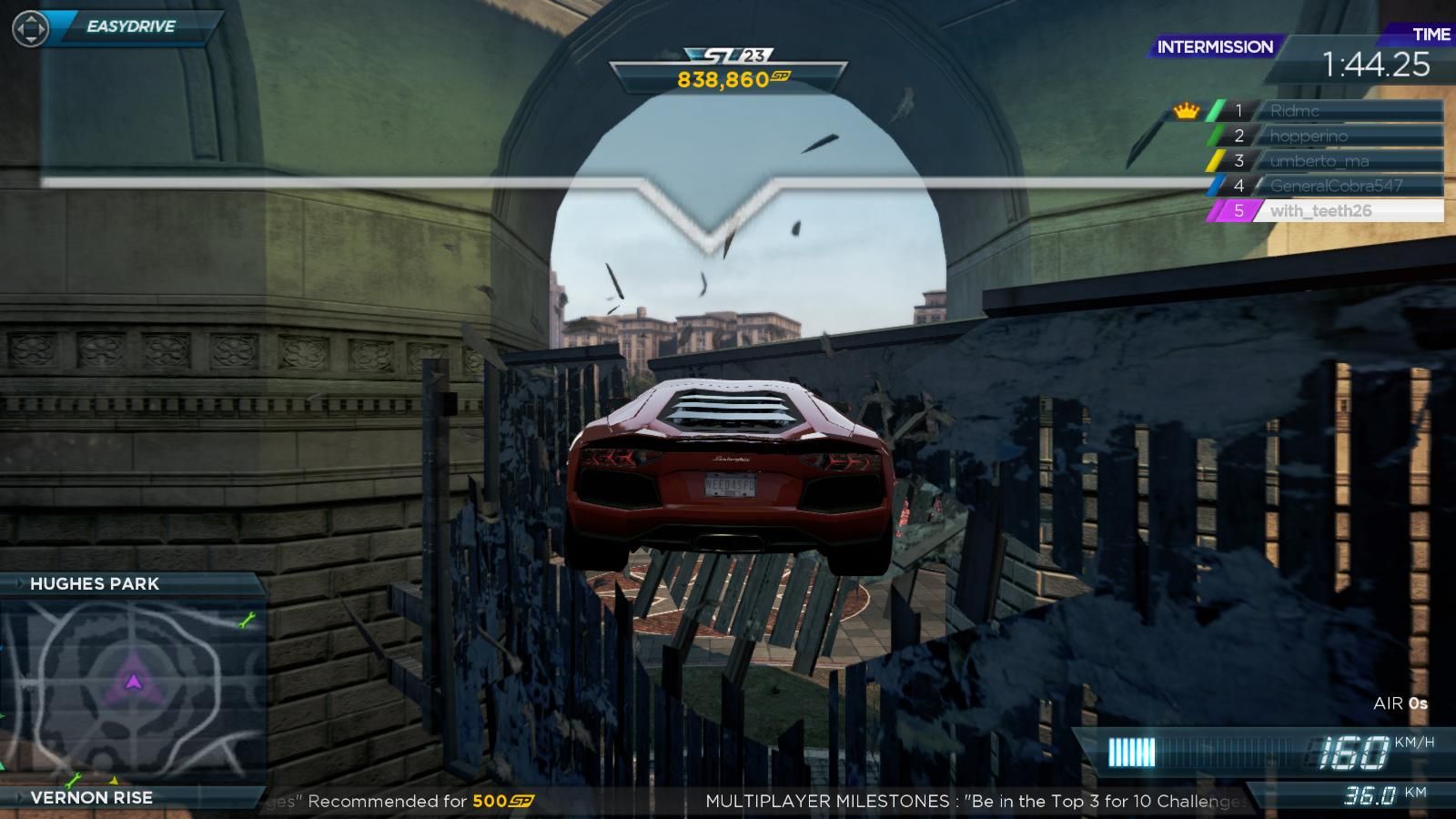 Smashable billboards are placed invitingly in front of jumps
Any time you crash in Most Wanted a painfully long 'crash cam' shows your car spinning through the air as your competitors blast by. You will become very used to seeing these crashes as they trigger frustratingly frequently and easily. If you side swipe a building or car, sometimes you will glance off and continue going, but other times the game will deem it crash-cam worthy and halt your forward momentum while rubbing your face in its inconsistent ability to determine how bad of a driver you really are. An option to turn this crash-cam off, or being able to judge how big of an impact is necessary to trigger it, would help quell the irritation surrounding this feature.
One area where Most Wanted has improved in its open-world racing design is in the routes of the races themselves. Paradise would give you a start and a finish, and let you figure out the route in between by yourself. This lead to many crashes as you would need to frequently look at your map to ensure you were on the correct route. Most Wanted still allows some freedom but gives you a clear path on your map if you want a straightforward route to follow, and has checkpoints that are easy to see and help you navigate without relying too heavily on your map. The routes the game gives you for races are generally very good, with lots of turns and off-road adventures through scrap yards and industrial parks that make for exciting racing without feeling too linear or constricted.
Comments