Kinect Star Wars Review
A mediocre game that fails to deliver on what it sets out to do, and what many fans were hoping for
The other 10% are uninspired space shooter levels that play like a much more simplistic version of The Old Republic's take on space flight. Both arms are held in front of yourself and you pantomime aiming the guns on a ship so close to the Millennium Falcon that it should have been the Millennium Falcon. The gun fires on its own. It is the simplest of target shooting in which you can seemingly shoot as many or as few of the targets on screen and get just as far (taking as many shots as you'd like) until, at certain moments, when missing one specific ship, missile, or visual cue will destroy you instantly, requiring you to re-do everything you've played in that segment of the mission so far. This jarring change in "difficulty" is extremely frustrating; especially during the mode's many scenes that are little more than Dragon's Lair-esque quicktime frenzies requiring you to hit every dodge and duck properly or face instant death.
Jedi Destiny's most rewarding and fun to play moments are the extremely few and far between duels that your character gets into with various melee weapon and lightsaber-wielding foes. This was the only moment in my experience when I felt even the slightest hint of how cool it would be to wield a lightsaber, but even this is bogged down with overly simple mechanics. You block a number of the enemy's extremely slow attacks then you enter a saber-clash with them where you are forced to kick, headbutt, or force push them. Only one action will work each time, although it's seemingly random as you are given no notice on which action will work (visual cues, on-screen guidance, etc.) nor are you punished in any meaningful way for doing the incorrect action. After that, you are commanded by an onscreen prompt to attack the enemy. This process repeats until you win. Like most things in Star Wars Kinect, it fails to be bad or good, instead just sticking for the realm of "okay."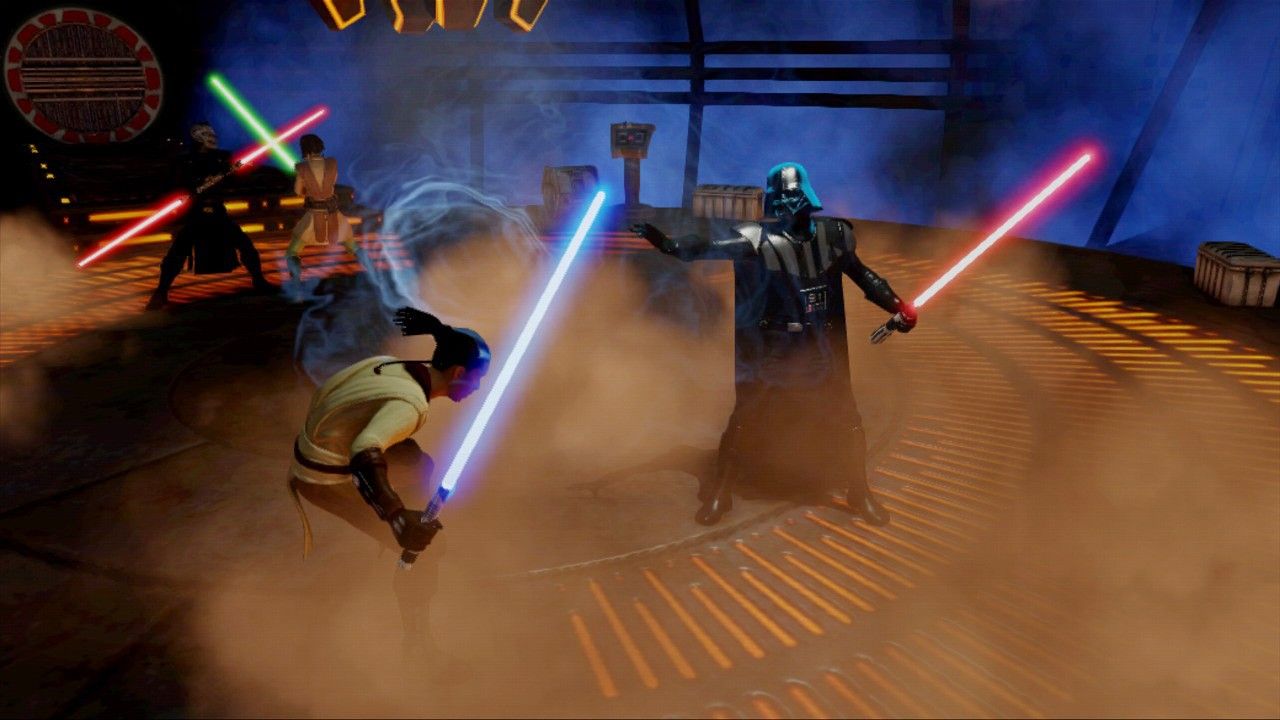 The game's other modes are just as "okay," if not more so. Rancor Rampage is a fun way to thrash about for a few minutes but its leveling system, unlockables, and leaderboards seem out of place for a mode that features so little depth or ways to improve. Podracing requires you to hold your arms out in front of you, controlling one engine with each hand. It works well enough but the tracks and number of laps per track are so long (and the gameplay so simplistic) that I found my arms growing very tired before the end of the first lap. By the time I finished the race (after a little over 8 minutes), I didn't want to continue playing the mode at all. While Galactic Dance-Off is certainly upsetting from a canonical and respect-for-the-franchise perspective, in practice it is a lackluster dance game clone that isn't as fun as alternatives like Just Dance 3 or as good of an experience as Dance Central.
Graphically, Star Wars Kinect is a bit of a mixed bag. A vast number of studios had their hands in the development of this game, and it shows. Going from mode to mode, I noticed a certain amount of graphical disparity. Jedi Destiny boasted the strongest graphics overall, which makes sense considering it is the game's primary game mode. Even at its best though, Star Wars Kinect isn't going to be winning any graphical achievement awards. If I had to come up with one word to describe the game's overall presentation it would be "fine." Nothing all that bad, but nothing special either.
Comments