Game of the Year Awards 2011
New Game Network staff make their annual selections for the best video games of the year!

---
---
Game of the Year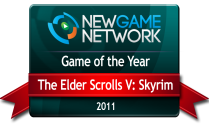 The realm of Skyrim is a strikingly beautiful one. Long mountain ranges jut up from the horizon in all directions leading to stunning, fog-lined vistas, cities carved directly out of the side of mountains, and dank, roughly-hewn dungeons spidering their way far underground. Dwemer ruins make their fortunate return and lead to some of the game's most visually impressive and culturally interesting locations in the game.
Hundreds of hours of compelling content, a better primary plot, and a rich world create one of the best singleplayer experiences ever. The realm of Skyrim is a beautiful and endlessly enticing one. If you enjoy great video game experiences, then you absolutely should not miss Skyrim.
Honorable Mentions:
What a thrilling year indeed! Thanks for joining us, and we hope to see you next year!
Comments