Game of the Year Awards 2011
New Game Network staff make their annual selections for the best video games of the year!
Welcome to NGN Game of the Year Awards 2011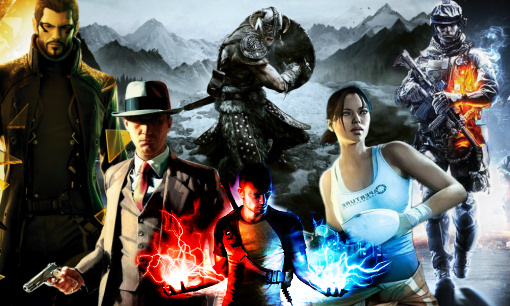 The year of 2011 has been one to remember. We have seen our share of amazing games, from Skyrim to Deus Ex, LA Noire to Forza 4. Both new and existing franchises have made their mark on the gaming landscape, as some old ones have been reborn with renewed brilliance.
But it goes beyond that. Who could have thought that in a single year, PC Gamers would rejoice at playing not one but two titles in the Assassin's Creed Franchise? What wild dreamers could have guessed that Duke Nukem Forever will finally be here, for real this time, and in your unsuspecting hands.
There was a very notable push for mobile and casual gaming this year, with Angry Birds and the lot dominating charts. On a more serious front, persistent services such as Call of Duty Elite pushed the boundaries of what is possible in online communities. Steam made a smooth transition to PlayStation 3, presenting some exciting new console possibilities for the future. EA, meanwhile, stirred controversy with their Origin service, requiring it for all future PC releases and presenting direct competition to Valve's service.
We'd also see the next generation of console from Nintendo, with WiiU, which could potentially escalate the pressure on Sony and Microsoft to update their hardware sooner than expected. In the meantime though, Microsoft has continued to push Kinect, while Sony diverted its attention to the upcoming PlayStation Vita handheld.
It wasn't a perfect year, of course. Downtime of the PlayStation Network shed a very harsh light on the realities of personal information safety within the gaming community. Some studios did not survive the tough market economy, with the likes of Bizarre Creations, Kaos Studios, and Team Bondi closing their doors. Some games didn't fare any better, with the Guitar Hero franchise being put on hold. Oh, and no Half-Life 3 or Diablo 3 either (though, at least the latter looks set for 2012).
But our industry keeps marching on, in the face of adversity and uncertainty over the collective future of our hobby. New Game Network staff have put the words on these pages that highlight the best of the year that's passed. After Red Dead Redemption claimed GOTY of 2010, who could emerge victorious this year?
There is only one way to find out. Read on!
Comments