Ace Combat: Assault Horizon Review
An engaging flight title that showcases the visceral side of aerial combat
Ace Combat: Assault Horizon is the latest release in the long running air combat series with a significant fan following. Focusing on story and gritty combat, this latest release does well to provide quite a few hours of entertainment to all fans of action in the sky. Assault Horizon doesn't offer anything significantly new to the genre, but what's there is fun and decently long lasting. An enjoyable single player campaign, decent multiplayer offerings and often visceral, if perhaps simplistic, air combat make Assault Horizon a worthwhile entry in the franchise.
The plot of the game centers on Bishop, the leader of the Warwolf Squadron of airplanes, which is part of a large multinational U.N. military force composed of NATO and Russian forces. The squadron, along with a few other characters you will get to play as, is sent to Africa based on orders that local rebels have been terrorizing the population in the country and must be stopped. During a routine mission, a large bomb goes off, thus revealing that rebels posses a new type of weapon. Upon further investigation, Bishop realizes that the rebels were supplied with these bombs by a Russian criminal organization which aims to take over its own country before attacking others. Thus begins a plot which actually has some nice twists and takes places in the skies above a variety of world locations. There is also a running subplot between Bishop and his arch nemesis, pilot Markov.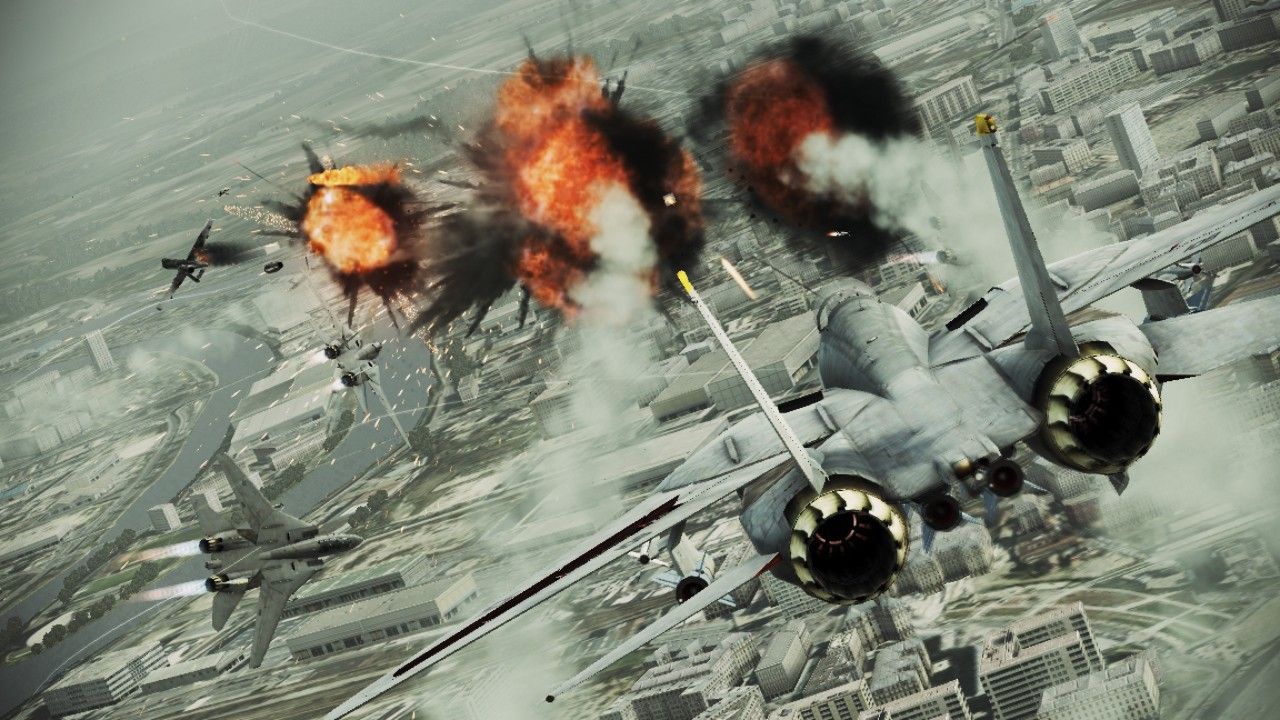 While this may all sound very familiar and can be attributed to almost any modern action game, Assault Horizon's campaign does have a few things going for it. The story is easily more sophisticated and detailed than something like HAWX, with a lot of scenes actually taking place on the ground, as you get to know the names and faces of other characters. On the other hand, nobody has much personality and the dialogue can be very poor most of the time, perhaps lost in translation for the Western release. In-flight, there is also a lot of chatter but it's often lost or ignored because of your preoccupation with the action on-screen. Missions are fairly lengthy, sometimes actually letting you pilot different aircraft within the same conflict, and progress checkpoints can be fairly unforgiving. The campaign can be finished within 5 or 6 hours, but it is indeed mostly enjoyable, and has considerably more impact than the HAWX campaigns.
Ace Combat is all about air domination, and the game excels in this area for the most part. There are opportunities for take off and landing, tons of dogfighting and ground target attacks, and even bombing runs. There is a decently large amount of airplanes in the game, offering stat comparisons and a selection of your choice before most missions. Flying feels good, and very much on-par with other games in the genre. It's standard stuff for a flight arcade these days, but the game runs into a bit of trouble when it comes to some of the core gameplay.
Comments
blog comments powered by Disqus