PowerUp Heroes Review
A nice idea is ultimately unable to save this title from inherent controller problems
However, with some awkard Kinect tracking, what works for a dancing game such as Just Dance 3 doesn't quite work with PowerUp Heroes. Kinect failing to recognize your gestures (which happens too often) leaves your Avatar open to attack, and with no option to block, that's a bad situation. Enemy attacks can be countered with your own moves, but again the motion tracking on Kinect proves time and again to be the major cause of frustration. While other casual titles mostly provide the player with enough leeway in motion tracking, as an action game, PowerUp Heroes often demands too much accuracy from the Kinect tracking to really work.
If single player isn't for you, there are a couple of online modes included. Players can participate in local versus, where the Kinect tracking problems are at least less noticeable, replaced instead in favor of the random arm flailing with another human. If you have a certain desire to crush the fantasies of 10 year olds, you can also go online to play against other Avatars. There are online leaderboards too, but they won't likely become overly competitive.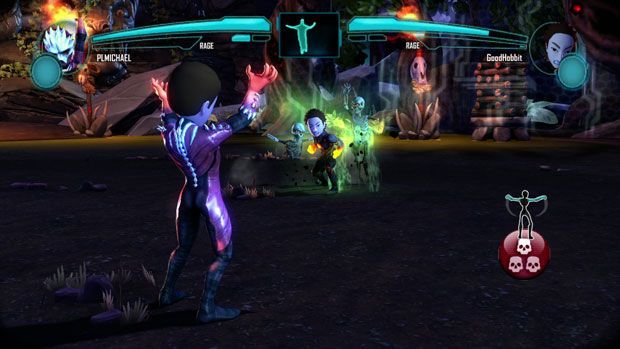 The presentation is often poor, with low quality visuals and very basic environments. Low resolution textures and minimal, cheesy voice acting is about all that makes up PowerUp Heroes. A lot of the effects look well enough, and at least are presented in such a way as not to obscure the on-screen action or the UI prompts. Menu navigation takes an inspiration from Just Dance 3, and thus is easy and intuitive to use.
PowerUp Heroes, released so close to the similarly engineered but ultimately superior Kinect title, Ubisoft's own Just Dance 3, is simply a poor package in comparison. The idea behind the game is decent enough, but the game is fairly short, largely unimaginative in its super powers, and lacks any real replay value. Often dated visuals and minimal voice acting round up what is an unimpressive offering for a retail, albeit lower priced, release. By far, the biggest problem is due to the underlying Kinect technology, which is simply unable to provide the accuracy of input from the players that the game demands. With limited content, PowerUp Heroes is a largely barebones experience that would have been much better off as a downloadable title, after some gameplay polishing and adjustments to compensate for Kinect's inherent annoyances.
Comments
blog comments powered by Disqus