PowerUp Heroes Review
A nice idea is ultimately unable to save this title from inherent controller problems
The latest Xbox exclusive title to use the Kinect technology, PowerUp Heroes from Ubisoft, is a bit of a mixed bag. Unlike all of the similarly designed titles before it, like Kinect Sports, PowerUp Heroes tries to take the gameplay to a more serious, competitive setting but ultimately ends up suffering because of the underlying technology. Earning and using superpowers with your Xbox Avatars is fun, but it's limited entertainment with a host of control issues.
The premise of the game is to take your Xbox Avatar and transform them into a superhero. During the game's relatively short campaign, you take on the invading alien forces of Malignance, the main villain. Most of your enemies are robots rather than humans, thus disposing of them presents little moral consequence for the younger target audience. Defeating enemies earns experience as well as occasionally a new power unlock. A level up system is also present, but it doesn't seem to have any direct impact on the gameplay. You can go back and repeat the campaign for new unlocks and bonuses, with enemies getting some strength upgrades but using the same tactics as before, thus presenting limited replay value.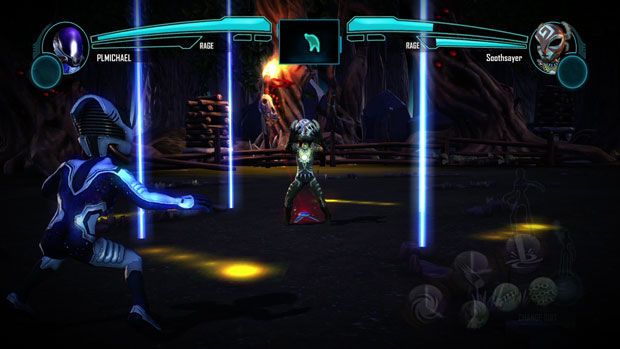 Once your Avatar dawns the superhero suit, there are a number of basic powers at your disposal, such as the ability to dash or use a basic fireball. Featuring around 20 super powers and suits to be collected, the game gradually allows the player to gain new abilities and use them in future battles. The powers are usually powerful but fairly cliche, allowing players to raise the dead, spew lava, or control their enemies with mental powers. Suits are similarly designed to match their special abilities.
It all works in theory, but with Kinect, things don't often go very smoothly. Rather than employing one to one motion capture, the game instead relies on icons which tells players what to do – and then using the resulting pre-animated sequences in the game. If prompts are followed correctly, players can execute attacks and even combos on their enemies with hand gestures, as well as dodge and run forward by body and leg movements. None of the moves are complex and the attack powers are limited, which often makes the combat feel a bit stale.
Comments
blog comments powered by Disqus