Tropico 4 Review
This tropical paradise is great fun for strategy gamers, as long as El Presidente is kept happy
After a successful reboot of the island city building sim a couple of years ago, developer Haemimont Games is back with a full-fledged sequel. Tropico 4 offers much of the familiar tropical island gameplay, with a few new twists and an expanded array of features. It's still a tremendous value on its own, however those who own Tropico 3 and its expansion may want to consider carefully if the new title is worth the price.
Tropico 4 once again provides players with a variety of modes to tackle. The main campaign consists of 20 missions that are fairly lengthy and have a lot of objectives to be completed in order to advance to the next island. There is actually a story this time around, as El Presidente has to overcome many challenges, including rebels and betrayals from foreign leaders during the Cold War, in order to come out victorious (and bring his nation to glory, if it suits him). There are also plenty of events that reflect on the real world, such as a fictional conflict in Middle East, oil spills, etc. The players have a chance to either ignore or react to these events, and the outcomes of each decision are often clear.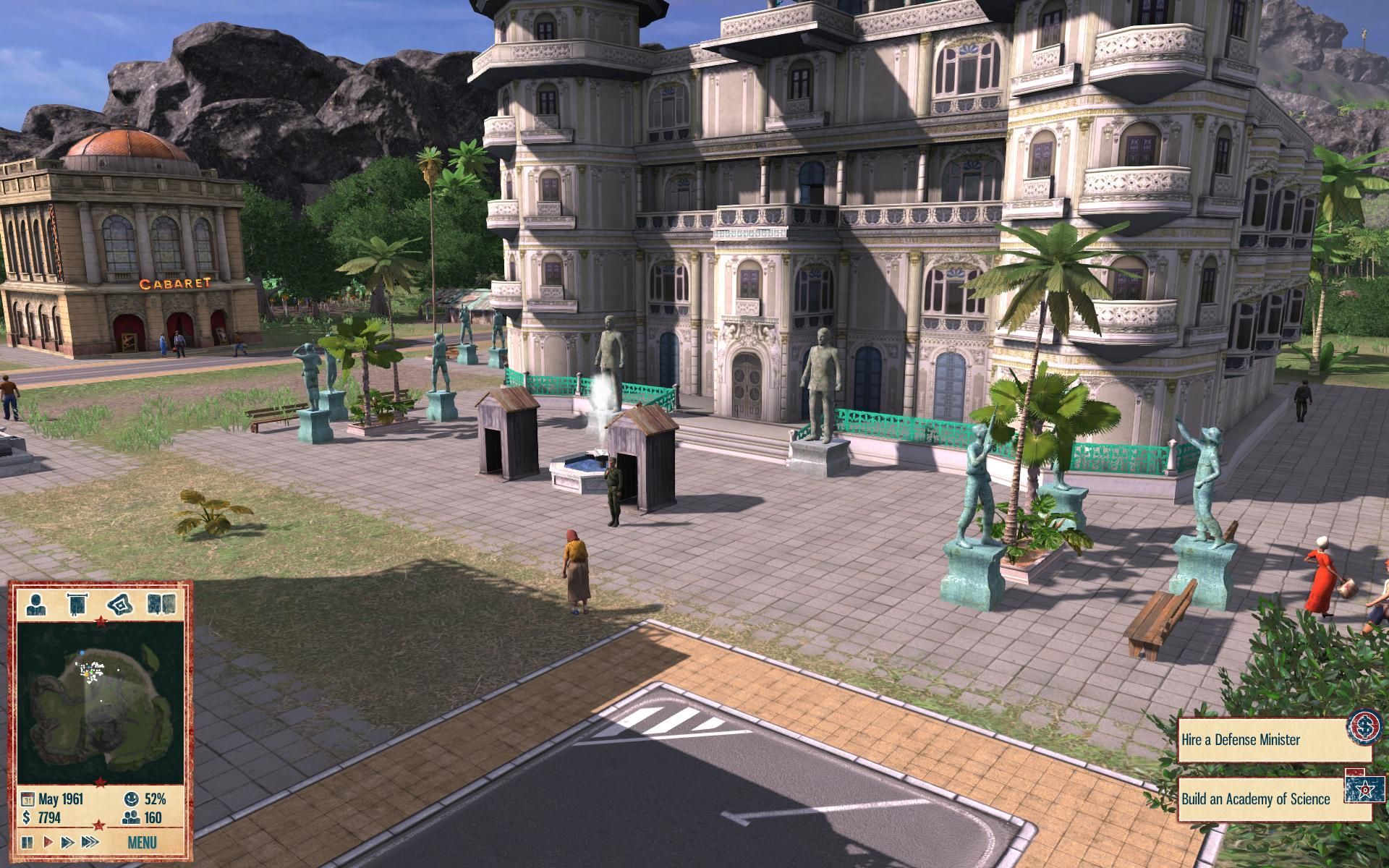 The campaign takes place on 10 new islands, in size on average much larger than those found in Tropico 3. However, it's unlikely the player would ever expand very far from the starting area due to various budget and logistical reasons, so landsize doesn't really come into play except for Sandbox mode. Most of the missions start off like any strategy game, with a set of objectives, varying game conditions, on a bare piece of tropical land. From there players must develop their island and keep the treasury full, as well as their own personal Swiss bank account. The mechanics will be instantly familiar to Tropico players, and newcomers should be able to adjust fairly quickly. Our Tropico 3 review covers the basics quite well.
Once a few buildings are in place, the economy and population growth should take off. Much like before, players can place new structures and must then wait as construction workers arrive on site and complete the work. New, however, is the ability to instant build – by basically paying twice the price of a new building, it's now possible to see new structures go up in seconds. A lot of the buildings are still locked at the start, and users must first purchase a blueprint for an additional fee. It's unclear how the decisions were made in regards to which buildings require a blueprint. But, given that most buildings are quite expensive and the blueprint fee is nominal, it never gets in the way of progress. Also new is the ability for players to allow imports of raw materials to various shops and factories, so that the island is able to create and export products, even if the raw materials needed to create them aren't available to be gathered. Players can also still hire workers from outside the island, but the system has been altered to prevent the common practice of over-hiring in order to boost the island population artificially. Now, players must pay an exponentially increasing fee in order to hire help from immigrants, which adds a great balance to the workforce.
Comments
blog comments powered by Disqus