Puzzle Dimension Review
A well put together game that should keep most puzzle fans entertained
In 2009, Jesper Rudberg, former founder of Game Design Sweden AB and developer of the original PlayStation title Roll Away, co-founded Doctor Entertainment. In the years since, Jesper and his co-founder Anders Pistol have been hard at work for their spiritual successor to Roll Away titled Puzzle Dimension. The game, much like its predecessor, is a puzzle game that puts the player in control of a ball rolling across differing tiles and tasks them with collecting a number of objects while dodging various obstacles. Unlike its predecessor, gravity shifts along with the movement of the ball itself. Out now on PSN, Puzzle Dimension's PlayStation roots are quite apparent at first and some new additions come out of the woodwork as you begin to tackle tougher and tougher puzzles, but is it enough to truly keep you engaged in the gameplay?
Graphically, Puzzle Dimension is fairly impressive, and Doctor Entertainment's proprietary engine certainly well represents everything required by the game and then some. Puzzle games aren't often known for their graphical prowess, but this is one that, especially for a downloadable title, stands above the crowd. While the expansive backgrounds are fairly bland (as is the game's overall UI), the level environments themselves are well-rendered, quite ornate, and very realistic. Your ball is ridged with deep engravings, and it shines with a beautiful golden metal finish.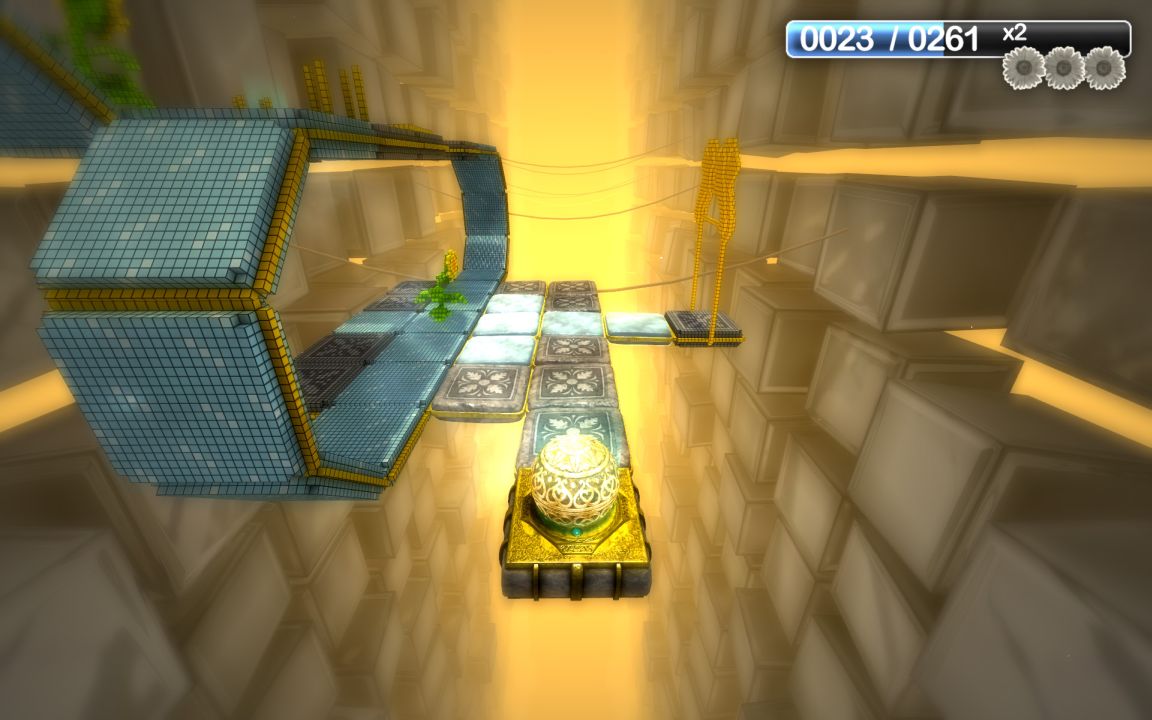 From an art style perspective, the game has an interesting transformation mechanic. Each tile and object are first seem in their simply, pixelated form and then, as you get within a certain distance from them, they transform into high-definition, current-gen versions of themselves. The game claims that this transformation carries over into the music as well, but I wasn't really able to discern any gigantic difference, at least while playing naturally. Although it is a bit of an odd decision (that is to say that it doesn't entirely fit with the rest of the game's mechanic or narrative), this art style does entice you to traverse the entirety of each level in order to see everything transformed.
The game plays like many other ball-rolling puzzle games with one primary addition. While you will be rolling your ball from tile to tile, jumping over gaps, avoiding fire, sliding across ice, and breaking thin stone tiles, Puzzle Dimension's one main addition is the inclusion of gravity that follows the ball's perspective rather than being tied to a traditional up-down mechanic (like most puzzle games or the Earth). This essentially means that you can go up a ramp or around a loop without ever falling because gravity is always pulling you down towards the tile that you are on.
Comments
blog comments powered by Disqus
| | |
| --- | --- |
| #1 Aug 1, 2011 14:12:43 (Aug 1, 2011 14:12) | |




Nechrol

+1

I remember playing Kula World (sp?) on the PS1 years ago and aesthetically it looks like it gives off kind of the same vibe. Also, I'm sure I've seen the gravity manipulation thing somewhere else before but I can't remember.

I always thought of these games like a digital representation of those puzzles with a silver ball in them and you have to guide it round the maze, though a lot of indie titles take cues from old school puzzlers.