Gran Turismo 5 Review
After a lengthy time in development, Polyphony Digital's latest sim racer is finally here
Now let's finally get down to the racing. The driving model behind GT5 is very solid, and provides a simulation racing experience that fans will enjoy. There is nothing revolutionary about it, and it still takes the effects of gravel and grass a bit too far, but overall it excels where it needs to. The controls are steady, and both the controller and a racing wheel can be used – though the game only supports a limited number of wheels at this time The cars and tires behave as you would expect from a sim racer, and the physics engine is solid for the most part. The only real problem with on-the-track experience is physical contact. The contact with AI is described later on, so more specifically the crashes and bumps into railings are what feels generic and unrealistic. Driving a car into a railing from high speeds should cause devastating effects, as other games have already shown us (NFS Shift, Dirt 2, GRiD). In GT5 however, the cars simply bounce off the obstacle in an awkward way like you've hit the car's model bubble. There are no area-specific effects depending on what part of the car makes contact, which makes it feel very basic and arcade-like.
When your car does crash, there should be damage. Don't let anyone fool you that a Lamborghini hitting a concrete barrier at 200km/h is only going to get a scratch. With other developers such as Codemasters leading the damage model innovation, GT5's crumbling of metal looks and feels very basic and uninspired. Heck, the recent Need for Speed Hot Pursuit didn't feature very detailed damage – but it was at least obscured by an overload of flying bits and superior crash momentum. Given that only Premium cars in GT5 can show defects, players will also be disappointed to know that it takes a very long time to unlock full damage in career mode – around A-Spec level 40. That's a lot of gameplay hours. Until then, even the most high-speed collisions will result in nothing more than a few scrapes, perhaps a loose bumper or a broken headlight. If you wish to see the full damage model right from the outset, players can do so by using Arcade Mode. But even then, the damage model is simply not accurate or impressive enough. Given that there is no mechanical damage (which is promised in a later patch), the visual damage is all we have to go by, and things don't look all that great.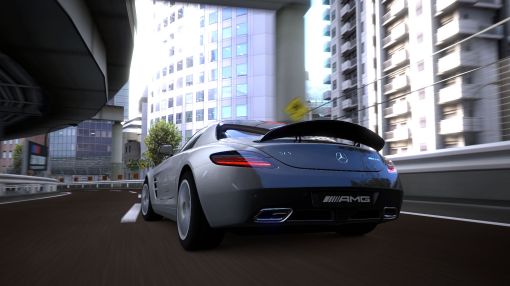 Another big problem on the track in GT5 is the AI. The enemy drivers are set to follow the racing line no matter what gets in their way, including the player's car. They never make mistakes, so unless your vehicle matches theirs click for click and you're able to perfectly stick to the racing line, you won't win many races. The AI in the game has a very heavy feel, so you won't be able to force them off the road or interact with them much at all. And don't dare cut in front of them – at every opportunity, the AI will bump the rear side of your car (ala the police pit maneuver) as they send you into a tailspin and continue on. This will lead to many race-ending crashes, because again as mentioned, unless you possess a significantly faster vehicle, it's impossible to catch up. The only way to negate the AI is to drive a much faster vehicle, but then it just feels like cheating somewhat.
Outside of the career mode racing, the game also has Special Events. These events are a series of unique races that put your skills to a test. The special events vary from the simple and fun go-kart racing to the brutally challenging NASCAR trials. All of the events are locked to certain XP Levels, but beyond that are not connected to the progression of the A-spec campaign. The special events vary in duration and difficulty, and also fun factor. They don't bring a significant amount of XP or cash, so completing them is purely for a diversion.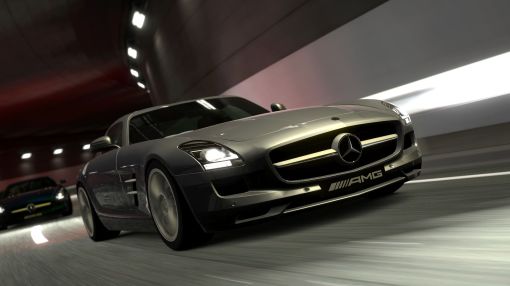 In tradition with the series, the game also features a full set of License Tests, which are also optional and unrelated to the career progression (though again locked away by XP levels). These tests are set to test your driving ability in some very specific situations, such as undertaking a corner or learning to brake in time. The tests are all set against the clock, so completing these is a true skill challenge that's unhindered by AI issues. All of the licenses are relatively easy to pass, but if you want the silver or gold awards, you'll have to try significantly harder. There's nothing more addicting than missing the gold trophy by just a few milliseconds and trying just one more time. Chasing your own shadow from the best-set trial time has never been more addicting.
The other version of the A-Spec career is the B-Spec mode. The two modes share a lot in common, such as the experience system, the cars that are available, and the race events. The twist is that the player is not in control – your job instead is to create a driver (or a team of drivers) and take them through their racing careers. Your driver starts off on a low level, racing the same basic tracks as you did in a car that you've selected for them. The player is able to provide basic commands, such as to speed up or slow down, or overtake their opponent. Upon winning, he gains experience and his skills improve, and overtime he is ready to take on bigger races and faster cars.
Comments
blog comments powered by Disqus
| | |
| --- | --- |
| #6 Dec 7, 2010 09:32:16 (Dec 7, 2010 09:32) | |




| | |
| --- | --- |
| #5 Dec 6, 2010 19:30:47 (Dec 6, 2010 19:30) | |




nutcrackr

my initial impressions weren't great for gt5 and some of the cars look pretty ugly but I'm still playing this a lot. Not sure if its just collecting cars, or the variation in how they drive. Something satisfying about buying a good car and completely dominating the race with it. Licenses are pretty tough as are some special events. Still happy to pick it up

| | |
| --- | --- |
| #4 Dec 6, 2010 17:58:24 (Dec 6, 2010 17:58) | |




kamikaziechameleon

Fair point, I guess I wanted this game to be the model of what all racers should aspire for. I'm just sad I don't see it that way. Not saying it isn't a great game, but rather that it isn't perfect.

| | |
| --- | --- |
| #3 Dec 6, 2010 13:40:14 (Dec 6, 2010 13:40) | |




SpectralShock

I think it is definately the PlayStation 3 alternative to, and at most times better than, Forza 3.

| | |
| --- | --- |
| #2 Dec 6, 2010 13:33:06 (Dec 6, 2010 13:33) | |




kamikaziechameleon

Good review though, Kinda feel silly for not throughing that out there. Thanks

| | |
| --- | --- |
| #1 Dec 6, 2010 13:27:29 (Dec 6, 2010 13:27) | |




kamikaziechameleon

I'm just really sad that alot of what they offer feels it is present to buffer known issues.

I don't care for a game where in the core experience (driving, collecting and tuning cars) is compromised to fit marketing bullet points like 1,000 cars. In the end my impression is that the content buffering only takes away from rather than adding to the premium content.

I would have rather gotten 200 perfect vehicles and a compitent online and paint/tunning feature with some real damage and better track surfaces. In stead of the gimmicks that stand in place of those.

I guess seeing that this game isn't the perfection that was promise only makes me feel more secure in the idea of purchasing forza 3 finally.