Gran Turismo 5 Review
After a lengthy time in development, Polyphony Digital's latest sim racer is finally here
The Gran Turismo franchise has always been a staple of the PlayStation brand, delivering great gameplay and fantastic visuals on every console the company has produced. Gran Turismo 5 marks the arrival of the franchise on the current generation of systems, the PlayStation 3. Though originally promoted as one of the launch titles on the platform, it has taken several more years than anticipated for the game to finally hit the store shelves. After so many years in development, the expectations reached unreasonable levels amongst fans. And while it's true that Gran Turismo 5 is not the revolution of the sim racing genre, it's still a very solid title with enough content to last a very, very long time. Apart from a few nagging annoyances, the game delivers the trademark sim racing to the modern audiences, and it is now more accessible to newcomers than ever before.
At the outset, players are presented with the option to install the game's files to the hard drive. This is highly recommended, since it will improve the game's already lengthy loading times, but more on that later. The install takes around 30-45 minutes, and takes over 8GB of space – so ample hard drive capacity is required. After the installation, the game will actually continue to install files when the player reaches a new menu area or loads a track for the first time. This doesn't present too many issues, but one has to wonder why, if the player already opted to install the game, there are still files that need to be copied in almost all areas of the game. It would have made more sense to make the installation process a bit longer, so that these install-as-you-go sections can be avoided down the road. As it is, the game is very heavy on loading screens – not the ones when you enter a race, mind you. It's all the in-between menu loading that gets to be bothersome. Changing menu screens often takes a noticeable amount of time, and it's simply frustratingly long for a modern game.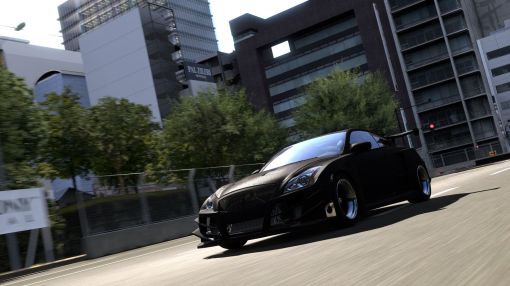 Once the game is ready, the player is presented with the main menu. From here, choices are GT Mode, Arcade Mode, GT TV, and Course Maker. The Gran Turismo TV section presents the players with a viewing theatre where players can see content from various providers such as BBC, as well as the developer team at Polyphony Digital. Some of the content is free, while a few items are considered premium and require payment to view. The content also varies in quality and regional restrictions, so it's difficult to believe that many players will be spending a lot of their time here.
The game's Course Maker is a rather robust tool that's easy to use, but it doesn't have the complexity of something like Modnation Racers. The tool lets players pick a setting to start with, and then creates a sample track. Sliders are provided, that dictate the length of the track and the number of sections in it. Once the length is set, the players can then again navigate various settings such as complexity and length of each section, sharpness of turns, etc. The game then continues to auto-generate the track's sections based on the attributes the player provides. At any time, you're able to jump in and test the track with some AI opponents. The tracks can then be saved, shared and played with friends. It's a neat tool that eliminates any complexities that the average player may have ran into, but it also means that nobody will be able to express any creativity when designing the tracks.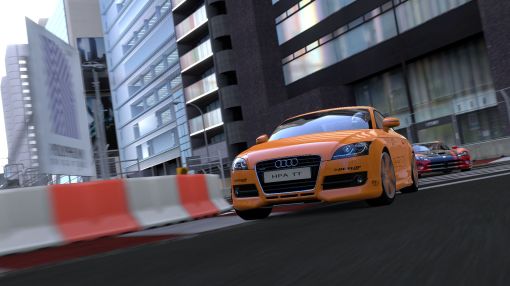 The Arcade Mode is a great way to get racing right away. Players can choose from a few modes, such as a time trial, drift trial, or a single race. A majority of the game's tracks and cars are available for selection right from the start, so it's a great way to jump in and play. All of the cars here are stock, so one does not need to worry if a car is properly suited for the race track selection. Players are also presented with a difficulty level, so this could be a great way for new players to practice their skills and learn a specific car's handling or track. It's a pickup-and-play mode that's quick to get started and to enjoy.
The core of the game's experience lies with the GT Mode. This is where most players will spend a very long time as they progress through their careers, unlocking new cars, tracks, and events over time. The two basic modes of play are A-Spec and B-Spec. In A-Spec, players get behind the wheel and try to win as many races as possible. With each win, players earn experience and cash. Experience is used to unlock new events and progress your career, while cash helps develop your garage offerings. There are a number of race tiers in the game, from Beginner to Extreme, that offer events with varying amount of races each. Each tier and race are locked behind a level restriction, so the player must first reach a certain level (via experience) before they can race in later events.
Comments
blog comments powered by Disqus
| | |
| --- | --- |
| #6 Dec 7, 2010 09:32:16 (Dec 7, 2010 09:32) | |




| | |
| --- | --- |
| #5 Dec 6, 2010 19:30:47 (Dec 6, 2010 19:30) | |




nutcrackr

my initial impressions weren't great for gt5 and some of the cars look pretty ugly but I'm still playing this a lot. Not sure if its just collecting cars, or the variation in how they drive. Something satisfying about buying a good car and completely dominating the race with it. Licenses are pretty tough as are some special events. Still happy to pick it up

| | |
| --- | --- |
| #4 Dec 6, 2010 17:58:24 (Dec 6, 2010 17:58) | |




kamikaziechameleon

Fair point, I guess I wanted this game to be the model of what all racers should aspire for. I'm just sad I don't see it that way. Not saying it isn't a great game, but rather that it isn't perfect.

| | |
| --- | --- |
| #3 Dec 6, 2010 13:40:14 (Dec 6, 2010 13:40) | |




SpectralShock

I think it is definately the PlayStation 3 alternative to, and at most times better than, Forza 3.

| | |
| --- | --- |
| #2 Dec 6, 2010 13:33:06 (Dec 6, 2010 13:33) | |




kamikaziechameleon

Good review though, Kinda feel silly for not throughing that out there. Thanks

| | |
| --- | --- |
| #1 Dec 6, 2010 13:27:29 (Dec 6, 2010 13:27) | |




kamikaziechameleon

I'm just really sad that alot of what they offer feels it is present to buffer known issues.

I don't care for a game where in the core experience (driving, collecting and tuning cars) is compromised to fit marketing bullet points like 1,000 cars. In the end my impression is that the content buffering only takes away from rather than adding to the premium content.

I would have rather gotten 200 perfect vehicles and a compitent online and paint/tunning feature with some real damage and better track surfaces. In stead of the gimmicks that stand in place of those.

I guess seeing that this game isn't the perfection that was promise only makes me feel more secure in the idea of purchasing forza 3 finally.