DJ Hero 2 Review
A fun music title that will let everyone take control of the dance floor
DJ Hero 2 is a music rhythm video game and a sequel to DJ Hero, which was released a mere year earlier. Everyone familiar with Activision's other big music franchise, Guitar Hero, may be rightfully worried that the sequel arrived too quickly and packed few new additions. However, rest assured that DJ Hero 2 is a great follow up to what was already a fun and unique music game that still feels as a fresh take on the genre. From expanded solo play and local multiplayer to the online battles and megamixes, this sequel is well worth checking out, even for those still new to the franchise.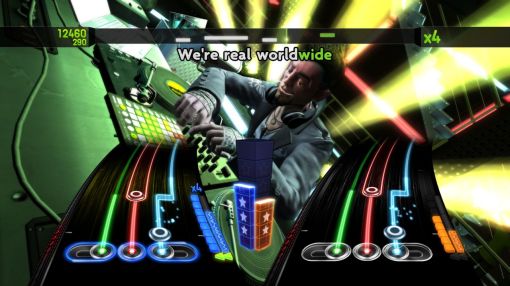 Much like the original, the basic gameplay in DJ Hero 2 focuses on simulating the performance of a DJ mixing one or two songs using a special turntable controller. Anyone who has played a music game in the past will be able to quickly get into the game, as the mechanics are rather similar. The player's goal is to match the beats and notes that are coming down the track on the screen, and the music is dynamically adjusted during successful alterations. From the basic note hits to crossfades and scratches, the gameplay is fun but can be challenging. Depending on the difficulty setting, the game saves the most complex moves (such as spikes and directional scratches) to the Hard and Expert difficulty settings, which is an interesting decision. That way the players are not only challenged by the amount of required inputs on higher difficulties, but are also having a significant impact on the song they are performing, which is great.
There are also mechanics that add variety to the basic gameplay, such as the Euphoria meter. This meter acts similar to the "star power" from Guitar Hero series. The meter can be filled by hitting all the notes perfectly during certain highlighted sections of the track – and can then be used to temporary boost the score multiplier as well as cross-fade automatically. After getting a note streak, the player also gains a rewind power, which backtracks the song to the previous set checkpoint, and lets the player attempt the section again with double the multiplier. The star rating system is also implemented, but does not affect the gameplay very much. There's also no way to fail a song in the game – simply, a lane of the music track is temporarily faded until the player recovers, which makes for a further player-friendly experience.
Comments