FIFA 11 Review
Take to the pitch for yet another soccer season, and this time the goalie is coming with you
Online play remains a strong point of the game, with Pro Clubs ready to take the pitch and compete for the monthly championships. To speed things up this year, teams are able to assign positions and tactics for their players before they begin search for another club to play, so there is a reduced waiting time to get the game started. As mentioned earlier, human goalkeepers may be a concern in Pro games, though with Clubs players are hopefully loyal to the team so problems should be non-existent. Head to head play remains entertaining as ever, and the skill point system continues to ensure that matches are fair, at least after the game has had a chance to estimate your skill level.
There are other additions to the game package as well, such as the Creation Center. This web-based tool lets you create various players as well as teams and then import them into the game for various modes of play. It is a neat addition, since the web interface allows for much more fluent interface and tons more customization options than would have been available in-game. Another new feature is the Music and Audio import system, which allows very quick and detailed customization of all the sounds heard in the game, from arena music to goal celebrations to the main menu tunes. It all works well and is easy to implement. New Theater tools provide a much-needed interface for all the saved replays and screenshots in the game to be viewed and uploaded at any time.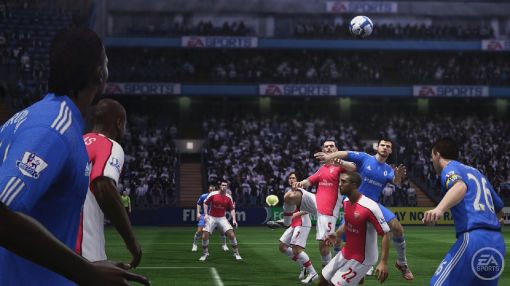 If there is one area in the game that remains uncertain, it's the presentation. This year's game features updated player models, a vastly enhanced interface menu system and many new great looking stadiums. During the course of the game, there are often updates (as well as at half time) about other matches going on, which is a very welcoming addition. The music is still an excellent mix of worldwide hits, and the commentary remains solid, if a little repetitive. These are all good updates, but there are also problems. There are some new cutscenes in the game, and one in particular seems to be very misplaced. There is a scene where players are running away from the action slowly, as if a great chance was just missed. It's a good scene, however for an odd reason it is used to bring in a substitution, making it feel awkward. Other problems in cutscenes exist, such as players disappearing or glitching into one another. Still, a lot of good can be said about a game where the bigger problems are those in cutscenes – but we still wish EA Sports would work these things out.
With the addition of goalkeeper play, FIFA 11 has really reached a pivotal point in the series. No game before it has come this far in terms of gameplay on the pitch. The football here is solid as ever, with some physics tweaks and new player Personalities adding a new element to the gameplay. Perhaps it is not innovative, but it works in moving the series forward with significance. The new offline Career mode brings all of the game's single player into one neat package, offering the freedom to progress from one stage in a player's life to another. Player mode is improved with more realistic coach behaviour and player attributes. Manager mode offers a robust set of tools to help with transfers and a much better AI system to really make you work towards creating a great squad. The presentation, especially on the pitch, remains hit or miss, through it's mostly been improved where needed. Even with a few stumbles, FIFA 11 is easy to recommend to all those who are ready to pick up a controller for the new season.
Our ratings for
FIFA 11
on PlayStation 3 out of 100 (
Ratings FAQ
)
Comments
blog comments powered by Disqus
| | |
| --- | --- |
| #2 Oct 5, 2010 19:58:36 (Oct 5, 2010 19:58) | |




| | |
| --- | --- |
| #1 Sep 30, 2010 12:11:00 (Sep 30, 2010 12:11) | |




Phatcat1987

Nice review PC.

2 Questions:

1. Is the Norweigan Premier League featured in the game?

2. If so, did Honefoss BK make it into the game? They were just promoted to the Norweigan Premeir League this year, so I wasn't sure.